Intrepid Women: Carol Evans, CEO, SHARE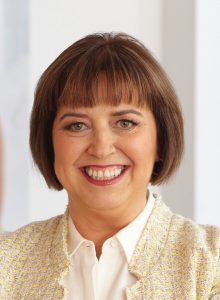 "Failure will help you advance in your career if you examine it carefully and accept it as an important teacher. Failure never lets up. It's not about doing things wrong. It's about learning and re-learning all the lessons that a challenging career offers."
Carol Evans, Intrepid Woman, Pioneer and Advocate for working women shares her insights on what she wished she knew early on in  her career journey. She continues, "Failure will always be with you. Be not afraid of it."
Carol started her career in advertising in 1976 and worked on the test issue of a new magazine called Working Mother. Evans loved the idea of this  magazine because her own mom went back to work when she was 12. " It was the best thing that ever happened to my mom and to us, her children! Working mothers were the fastest growing segment of the workforce, and I knew how to help this new demographic because of my own mom's career." In her 10 years as publisher Evans took Working Mother magazine  from a test issue to a full blown  success with over 2 million readers.   Ready to move forward in her career, she left Working Mother to join Stagebill magazine for the performing arts in a bigger role as President.
"Stagebill was amazing: Lots of opera and Phantom of the Opera, meeting famous singers, dancers and actors.  I was a partner to the executive directors in the challenge to print programs nightly for 110 arts organizations."
In 1996 Evans joined  Chief Executive magazine as COO.  "Meeting all these Fortune 500 CEOs made me feel that I could take on that role. They were just people–not gods!  They were almost all men, which made me mad!"
Six years later Working Mother magazine came up for sale and Carol decided to put her career to the test.  She went to 35 possible funders to acquire Working Mother, getting turned down 35 times. Then she met the CEO of MCG Capital and made a deal to buy the magazine and form Working Mother Media. It was August, 2001.  Evans relays how the first order of business was to survive the terrible days after 9/11. She adds,
"We then built Working Mother Media into a powerful for-profit advocacy organization that took on the advancement of women as our guiding cause. We focused our magazine and websites, conferences and research  on the needs of working moms, women lawyers, women of color, executive women, hourly workers and other segments of the female workforce. "
In 2015, Evans  retired from Working Mother Media to co-found Executive Women for Hillary, which grew to a force of 2400 women nationwide working on Hillary's primary and then presidential campaigns.
In late 2019, after 38 years in the media business, she joined the non-profit sector as CEO of SHARE, an organization started in 1976 by breast cancer survivors that now helps 200,000 women every year. SHARE brings women newly diagnosed with breast, ovarian, uterine and metastatic cancer together with women who have survived or are living with these cancers. Through group meetings, helplines and webinars SHARE  creates a giving circle of support, knowledge sharing and community. She states,
"I'm excited about starting a new career!  Leading a non-profit focused on the women who are so often overlooked in the battle against cancer as money flows to research but not to human beings is deeply meaningful to me."
She continues that the non-profit world is new and fascinating to her..
" The sense of purpose is exhilarating and the work is rigorous. Non-profits have had to navigate the digital revolution as much as for profits, and have come out stronger in most cases. SHARE combines digital savvy with face to face support for women who have entered a club that no one wants to join.Many of the volunteers at SHARE had big careers that they had to or chose to leave because of their cancer. SHARE gives them a challenging and deeply healing way to give back to new members of the terrible cancer club."
The new thing  she is working on now is fundraising on Facebook through individuals taking up SHARE's cause on their birthday or their mother's birthday.  "We are excited to reach out to the millions of women whose lives have been touched by female cancers to support our organization."
Risk, Reward and Achievements
When asked about achievements that she is most proud of she cites her new job as well as saving Working Mother magazine from certain death in 2001.
"Launching it (the magazine) in 1979 and being a successful CEO in a world where few CEOs are women is a great source of pride to me.   Having the foresight to launch Best Companies for Working Mothers in 1986 and the bravery to launch Best Companies for Women of Color in 2002 is my most enduring contribution to women."
Carol has certainly taken calculated risks and she recalls that when she left her very wonderful job as VP Publisher of Working Mother in 1989 to work for an entrepreneur it was because she wanted to become an entrepreneur. She states,
" It was a gamble but it paid off when 12 years and 2 jobs later I was able to acquire Working Mother and form my own company, Working Mother Media."
Outside of Work
Carol states, "My family is everything to me. Robert was born 9 years after we launched Working Mother and Julia was born just after I joined Stagebill.  I loved being a working mother, with all the challenges and all the ups and downs.  My husband Bob made it all work by encouraging my career at every twist and turn. He still doesn't fold laundry the way I like but he's been a great dad and partner."
We congratulate Carol in her new venture and proudly bestow her theglasshammer mantle of being an Intrepid Woman.