Intrepid Women: Sandy Chaikin, Co-Founder of Chaikin Analytics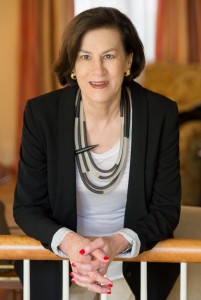 From cosmetics to commodities to travel and tourism, Sandy Chaikin has successfully re-invented herself and her career.Starting in marketing roles, she fine-tuned her skills to open her own consulting firm and a Bed & Breakfast in Connecticut.When the stock market fell in 2008 and she lost 40% of her investments, Chaikin decided it was time to transform once again. After co-founding Chaikin Analytics in 2009, she is now helping other women re-invent themselves as confident and profitable stock market investors.
After graduating from the University of Denver with degrees in Sociology and Psychology, Chaikin moved to New York and started her career in the cosmetics industry.She held senior marketing roles at L'Oreal and Elizabeth Arden. Chaikin then moved to her home-town, Philadelphia, and took a marketing role at The Franklin Mint.
"Marketing a service or product is the same formula in any industry – identify your audience, have a unique product, know how to promote, package and price your service," she said.
In 1995, Chaikin moved to Connecticut and opened her own marketing consulting firm. It was also around this time that she segued into the travel and tourism business by opening a Bed and Breakfast.
"My personal experience owning a B&B attracted other inns and before I knew it, my consultancy was 100% focused on travel and tourism.You have to be immersed in something to market it and that's why I was so successful, because it was my business, too.I was an innkeeper and I knew from my own experience how to market an inn – I knew what worked and what didn't – which I then applied to my clients' businesses."
During her days as an innkeeper and marketing consultant, Chaikin invested in mutual funds.
"As my consulting business grew so did my 401K plan and I didn't feel I had the inclination or knowledge to manage this myself," she said. "On a recommendation, I met with a portfolio manager and hired a professional."
When the markets fell in 2008, Chaikin became concerned about her investments.
"I asked him repeatedly if we should make some changes to my portfolio," she recalled. "I remember calling him several times but he advised me to hold on to the investments. I didn't have the confidence to over-ride his judgment."
Chaikin ended up losing 40% of her 401K.
"This was a devastating turning point because I thought I was doing the right thing," she said. "When you need advice, you go to a professional so I was upset this professional didn't help me.I took the money out of his control and was determined to do this on my own.I put my money in Vanguard and started investing it myself."
The Birth of Chaikin Analytics
Sandy's personal losses in the stock market using a financial advisor was the inspiration behind the launch of Chaikin Analytics. She knew there was a need in the marketplace for novice investors like herself to have access to investment tools that professionals used so she could take control of her own investments.
Partnering with her husband, Marc Chaikin, a 40-year Wall Street veteran, they founded Chaikin Analytics.
"Before he retired, my husband Marc created tools for institutional investors on Wall Street.In 2009, he watched as millions of dollars were coming out of brokerage firms and into self-managed accounts like mine," she explained."We decided to take the tools he created for the pros and apply them to individual investors."
The Chaikin Analytics model takes into consideration 20 different factors that professionals analyze when looking at a stock and boils everything down to one easy-to-understand rating.The ratings categorize a stock as bullish, bearish or neutral.The Chaikin Power Gauge model is also one of the only models that blends technical indicators with fundamentals. Most investors use either technical indicators OR fundamentals – Chaikin's blends the two.
"I spend about 15 minutes a day monitoring my account and only invest in about 8-10 stocks at a time," she explained."I started investing in Comcast and Ebay, both had a bullish rating, and they went up 40-60%, so I was off to a good start. I also picked the two best-performing stocks in 2014, Southwest Air (LUV) and Skyworks (SWKS), and found them early on. I also knew when to get out at the top. 90% of my investments are in individual stocks."
Chaikin said that if she can manage her own investments with no prior experience, other women can do this too.
Empowering Women in the Stock Market
While Chaikin Analytics is for all types of investors, she targets female baby boomers as well as emerging women.
Focusing on female investors is a smart move.According to BMO Wealth Institute, women currently control 51%, or $14 trillion, of personal wealth in the United States and are expected to control $22 trillion by 2020.
Chaikin Analytics is collaborating with NASDAQ to present frequent webinars educating their audience, of all levels, on how to invest in the market. Her curriculum includes knowing what to buy and sell, timing the ideal exit and entry points, how to avoid common pitfalls as well as how to shed insecurities about investing.
Chaikin cited a study done by Fidelity that only 28% of women feel confident making decisions about their financial investments on their own.This means that 72% of women don't feel they have the knowledge to participate in the stock market.
"I have found that women are overwhelmed with financial information and find the stock market off-putting, which is believable because I found the stock market like that too. This is why we created this system, it puts everything together in one neat package…. I break it down to following 5 simple steps to build a killer portfolio."
Besides collaborating to produce webinars, NASDAQ asked Chaikin Analytics to create 3 indices for the Exchange; the NASDAQ Chaikin Power US Large Cap Index, the NASDAQ Chaikin Power US Small Cap Index and the NASDAQ Power US Dividend Achievers.All the indices outperformed in 2014 by 52%, 77% and 49% respectively.
"We took the stocks that are in those funds, overlayed the Chaikin Power Gauge model, and then removed the non-performing stocks," she explained. "We re-balance once a year."
Chaikin e
xplains that the NASDAQ webinar collaboration is a pilot program and they hope to expand to other investor communities soon. Her most recent webinar has attracted about 900 attendees.
"Just like marketing an inn, you have to immerse yourself in the stock market if you want to be credible.This is why my webinars are so powerful," she explained."I use stocks I invest in as examples – I am one of them."
Most Proud Accomplishment
While Chaikin has been able to reinvent and transform herself successfully throughout the years, she said conquering her insecurities about stock market investing is her greatest accomplishment.
"This was the one area of my life that I felt I didn't manage successfully," she said."It's great to have a profitable portfolio and to be making money investing. However, the benefit you can't put a price on is the tremendous amount of confidence that you get by managing your money and your future."
Chaikin will continue to produce webinars and help women gain the knowledge and confidence to manage their own investments.After re-inventing herself and her career throughout the years, she believes other women can transform themselves as well.
"It doesn't matter how old you are," she said. "Never stop learning and transitioning."
By, Jessica Titlebaum