Movers & Shakers: Barbara Edwards, Counsel, Shearman & Sterling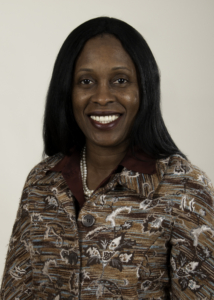 Barbara Edwards has spent nearly the entirety of her career at global law firm Shearman & Sterling, where she is now counsel in the Finance Group, focusing on complex international and U.S. leveraged financings. The story of how she achieved this level of professional success is a remarkable one – from humble beginnings to Wall Street finance lawyer.
Originally from Guyana, Edwards was the first member of her family to emigrate to the U.S. She attended Brooklyn College, and when she started was a bit uncertain of her future plans. But all that changed when she experienced what could only be described as a political re-awakening while protesting the New York city-wide public university tuition hikes and participating in the anti-apartheid college movement. That got her thinking about a career in law and in particular, impact litigation. The rest, as they say, is history.
Except that the road to success was not easy. Prior to college, Edwards worked as a live-in nanny and housekeeper. This experience, she says, often goes uncited when discussing her path to becoming counsel, but the skills she acquired during this time have been incredibly helpful both professionally and personally.
"Working as a live-in reinforced the value of hard work and demanding hours, helping to hone skills of flexibility and adaptability to effectively navigate the needs of different constituencies. I believe these are all skills which underpin my success as a lawyer and in particular my strong client management skills," Edwards said.
Giving & Receiving
Throughout her career at Shearman & Sterling, Edwards has been a mentor to a multitude of associates, a role which she considers very important. She takes pride and pleasure in helping others learn, grow, and progress in their careers. Many of these mentoring relationships have been informal and her biggest challenge, she says, has been ensuring that she's striking the right balance of being professional mentor and coach, "therapist" and friend to her mentees.
"Investing in people makes my work so vibrant, but I have to be intentional in how I approach it. It's important to make sure the help you provide is translating to both professional and personal growth," she said. While Edwards doesn't seek out recognition for the support she provides to colleagues and especially younger lawyers, she likes to tell the story about the time when a group of women she worked with, all from diverse backgrounds and religions, entered her office around Christmas to thank her for her time, guidance and the significant impact that she had on their work experience, giving her a gift card to designer shoe store Manolo Blahnik. It is a memory that will always resonate with her.
"I love shoes, but it wasn't just about the shoes," Edwards recalled. "It was a profound moment for me because I felt that my efforts had really made a meaningful difference to these women. There's no replacing that feeling."
Edwards has also given back on the pro bono side, working with women – often minority women – on initiatives related to economic empowerment. Most notably, she represented the women founders of Harlem Lanes, the first bowling alley in Harlem in 30 years and the only one in the country to be built and owned by Black women. The project was one of the William J. Clinton Foundation Urban Initiatives and the former president attended the ribbon-cutting.
Shearman & Sterling's global platform and pro bono strength intersect nicely with Edwards' passion for traveling the world. She spent two years in the firm's Singapore and Hong Kong offices, working across Asia, as well as a secondment with one of the firm's clients in Germany. Edwards is also one of the few counsel and partners at Shearman & Sterling who has participated in the firm's work for the International Criminal Tribunal for Rwanda (ICTR), a partnership that the firm has had for over 14 years. She traveled to Arusha, Tanzania for a one-month externship at the ICTR. It was an experience she says was life-changing.
"The ICTR work is not abstract. It has real, tangible outcomes and I'm proud to have been a part of it and to have made a useful contribution."
On the Cutting Edge
In her day job at Shearman & Sterling, Edwards has had the opportunity to work with a who's who of international clients.
One of her most unique clients is IntercontinentalExchange Group, Inc. (ICE), the leading global network of exchanges and clearing houses. Shearman & Sterling has provided important legal counsel to ICE for a number of years, and last year the firm advised ICE in its $11 billion acquisition of NYSE Euronext, a transaction on which Edwards played a significant part.
Edwards said she particularly enjoys the work with ICE, saying it feels like being on the cutting edge of change within the financial services industry.
"ICE is a very successful company with smart, interesting people and working on the NYSE Euronext transaction was extraordinary," Edwards said. "ICE's clearing house model is the wave of the future, and the company's operations are global. But ICE began small and grew to buy an iconic organization like NYSE – a journey with which I can identify. The closing of the ICE-NYSE transaction, celebrated on the trading floor, was phenomenal. Working with ICE is electric and I'm excited to see the role they will play in the future."
Be Prepared to Lead
As a leader, Edwards believes it is important to have the judgment and the confidence to make decisions, especially tough and unpopular ones. The key to doing that well, she says, is treating others the way you would like to be treated.
"You have to understand that your decisions as a leader have real-life impacts," Edwards said. "There will be times where you have to make decisions that have unpleasant consequences, but it's all in the way that you approach it. Treating people with respect is paramount and it is the code by which I lead."
By Tina Vasquez