Movers and Shakers: Lanaya Irvin, Vice President, Global Banking and Markets, Bank of America Merrill Lynch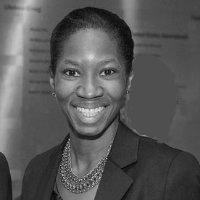 Lanaya Irvin, Vice President, Bank of America Merrill Lynch, believes the financial services industry can only serve to benefit by moving toward greater diversity and inclusion.
"The glass ceiling is still very much a real thing. The industry continues to be male dominated at senior leadership levels. Sexism exists in some places just as racism exists." But, she continued, the industry is evolving, and old stereotypes are giving way to more inclusive cultures. Industry leaders are working to change those perceptions, transform culture, and some of the legacy that may create hurdles for women and other groups. Our firm has been proactive in driving a culture of inclusivity."
She believes this evolution is is, in part, a response to the challenges that the financial services industry has faced in recent years. After all, diversity provides the unique viewpoints and solutions that companies need today to gain an edge in an increasingly competitive marketplace. "At a high level, what's particularly interesting to me is the positive shift the industry has been able to make. The domestic and global economic environment has required adjustment. Our strategy has been to refocus on our clients, and maintain that laser focus on the ways we can deliver value to them. Companies need diverse, talented professionals to do that."
Irvin is leader of the Bank's LGBT Pride Employee Network for Metro New York and the first female co-chair of Interbank Roundtable Committee, a consortium of 29 banks and financial services firms working together to share best practices around LGBT diversity and inclusion.
She believes that, as a group that represents multiple facets of diversity, LGBT women may face additional challenges when it comes to advancement, but she encouraged LGBT women to own their identities and stay true to themselves. "There is the complexity of having multiple minority identities. I think lesbian, bisexual, and transgender women in the workplace face many of the same challenges as heterosexual women, but silence around that identity can be more difficult."
"For LGBT women, I would say, make your presence known," she advised. "Our firm has made it clear that those perceived barriers should not exist and need to be disrupted. These barriers are not insurmountable."
Career Path
After graduating from the University of California at Santa Cruz, Irvin held business roles biotech and pharmaceuticals before going back to school to get her MBA at the University of Texas. She joined Bank of America Merrill Lynch working in debt underwriting, and then began managing clients. Now she works in treasury and liquidity in the GTS line of business.
Irvin says she is proud of what she has achieved in her professional roles at the bank. "I'm working on several interesting deals and I'm excited to partner with our clients as they expand globally and execute strategy," she commented.
But what brings her the greatest sense of achievement has been her work with diversity and inclusion. She is the leader of Bank of America Merrill Lynch's LGBT Pride Employee Network for Metro New York and she is also the first female co-chair of Interbank Roundtable, a Consortium of 29 banks and financial services firms working together to share best practices around LGBT diversity and inclusion.
"We're working on signaling that our industry is leading when it comes to diversity and inclusion. I only get to do it because we have a firm that is doing such fantastic work," she said.
"We are now competing for talent with technology and other industries. In order to attract and retain the best and the brightest, we must first ensure our industry a place talented and diverse people actually want to work Our focus has to be attracting and retaining talent and ensuring our industry is where talented people want to work and demonstrate the best of their abilities," she said. "We're at a pivot point – everyone has had to adapt to make this industry better and to refocus on talent and client relationships. The focus is now on what matters – people."
Advice for Women in Financial Services
Looking back, Irvin says one of the things she wishes she had learned earlier was the importance of mentors.
She said, "Seek out mentors early – it's never too early. If someone takes an interest in your career, let them. Mentors often transition into sponsors, who can help you take off in your career. I benefit from that every day."
She encourages young women to take ownership of their careers early on. "Perform to the best of your abilities, engage a mentor, and stick around. This industry is difficult in that it requires resilience, and I would love to see more young women spend time in the industry and see exactly what some of the more senior roles and opportunities are. There is a great opportunity to drive the culture of the industry."
She added, "Don't be afraid to ask for what you want and ask early on."
Diversity at Bank of America Merrill Lynch
Irvin is part of the Global Banking and Markets Women's Leadership Council. "It was established a few years ago, and programming is focused on business and leadership development separate and apart from the bank's Women's employee network."
She also participates in the Lead for Women Employee Network, which hosts fireside chats with senior executives and seminars on career development.
"Leading the Pride Network has also been a benefit to my career," she continued. "I've spent a lot of time being part of the dialogue on diversity and inclusion, and presenting to our global diversity council and leaders at the bank who are driving the tone and the culture from the most senior levels."
She continued, "It is visible internally – the work we are doing in diversity has really made a positive impact on the people who work here."
In Her Personal Time
Outside work, Irvin is extremely involved in her community. Beyond her work with Interbank Roundtable, she sits on the Advisory Board for the Catalyst Network Foundation, a youth empowerment group, and she is also on the economic development committee for her district in Brooklyn.
She added, "I also love to travel and to write. I'm a poet."
Welcome to Pride Week on The Glass Hammer — we'll be profiling successful LGBT business women all week long!
By Melissa J. Anderson (New York City)