Voice of Experience: Gillian Emmett Moldowan; Counsel in the Compensation, Governance & ERISA Group; Shearman & Sterling
By Cathie Ericson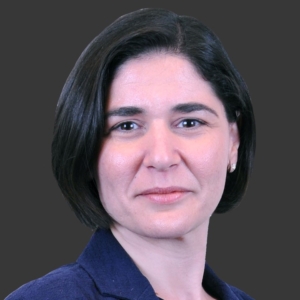 If you don't ask for what you want, you're not likely to get it, says Shearman & Sterling's Gillian Emmett Moldowan. "There's less informal mentoring for women in law firms, and it can be harder for women to just ask for what they want, but if you fail to do so, it's unlikely people are going to seek you out to offer what you need," she notes.
In fact, one aspect of Shearman & Sterling she has appreciated is the strong, visible female leadership, where female partners hold key firm committee positions and regularly participate on panels as subject matter experts in all types of topics, not just those related to women. That visibility has helped her identify mentors in the firm, an important part of any career path. She finds that taking control of your own career is critical, a theme that has resonated on her own journey.
Forging Her Own Path
After graduating from law school in 2007, Moldowan took a job at the firm where she had summered, Davis Polk and Wardwell, spending eight years there, and eventually being promoted to counsel. While there she worked on a number of transformative deals, but one that stands out to her was representing Comcast in the acquisition of NBC from GE. "It really made an impact on me to have an integral leadership role in that transaction, even though I was more junior at the time."
Moldowan eventually left Davis Polk for a role at another firm. However, while working there, she realized it wasn't the right long-term fit and started talking with Shearman & Sterling, a firm that was the clear "right fit " ever since she started in April. "It feels familiar, but new," she says, with the type of work she loves to do combined with new challenges and a culture that fits her style.
"I was willing to go outside my comfort zone and take risks, leaving a very stable environment, but ultimately finding something that was the right fit," she says, admitting that goes against her
personality as a lawyer, a group not normally know as risk takers. She enjoys the variety inherent in her position, where she might work on more than a dozen matters a day, from securities offerings to M&A transactions to executive entrances and exits on both sides. "The constant challenges keep me excited and on my toes, which is why I picked this specialty in the first place," she says.
And, she sees that the industry is on the cusp of even more innovation, given the trend toward more activism by shareholders, who are increasingly interested in governance, compensation, workplace diversity and gender pay gap considerations.
Most notably, she sees that new tax reform could be transformative in terms of executive compensation and provide the opportunity to learn something new and be innovative. She likens it to the new regulations in executive compensation of a decade ago, when, as relative newcomer to the profession, she was given the opportunity to learn novel concepts alongside more seasoned professionals who were also coming up to speed.
Achieving Work-Life Integration
While the buzz of the moment is all about work-life balance, Moldowan chooses to embrace the spirit of integration by instead looking at life from a more holistic view. "If you love your job like I do, it's part of your life, which makes it hard to box it separately and focus exclusively on your most immediate goals—instead you look at the long-term big picture," she says. Of course, she notes that can be hard as a junior associate coming directly from an academic structure where everything is segmented into semesters, necessitating a focus specifically on what's directly ahead of you.
"If you're in a job with that mentality for too long, it becomes defeating," she says, especially at law firms where there used to be a known trajectory in terms of timing, and it was possible to put parts of your life on hold until it happened. Now, she says, there's so much more variability that associates need to integrate work into their overall life.
That's why she encourages others in the profession to find something they love to do, which means that even when your schedule is crazy, you won't feel like you're suffering. At the same time, she encourages women not to feel disappointed in themselves if they don't want to strive for more. "No one should ever feel stuck or perceive that they haven't done as much as they 'should'," she says.
With two kids—a second grader and a kindergartener—Moldowan focuses on spending all the time she can with them. They love to explore the city; having grown up in an urban environment, they are used to walking everywhere, so she finds bringing them to the city for the day is an excellent adventure in museums and Broadway shows. They love to listen to music at home and both kids are involved in theater. Since she herself did a lot of costuming in college, their Halloween costumes are epic. Always one to lend a helping hand, Moldowan is also on the board of trustees at their school, acting as chair of the audit committee.