The Long Hours Game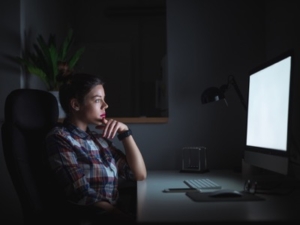 By Aimee Hansen
The 24/7 hour work week marches on and on. The get up and go and keep on going. The long hours game. We all do it from time to time.
How can you have a healthy, sustainable lifestyle and build your career?
The action-packed day of the executive continues to be a glorified image of leadership, and arguably one that is dangerously unsustainable and at best questionable in effectiveness. At theglasshammer, we've covered how the 24/7 work week is not only disastrous for gender equality on a whole, but also diminishes your personal leadership effectiveness and your health.
The Atlantic has noted the tendency of elite, wealthy American men to be "the workaholics of the world," but just because long hours are the status quo doesn't mean it's the key to successful business or career development.
It's a rising argument in the context of today's information age workplace, in which we tend to be knowledge workers conceiving of and implementing ideas, that a five hour work day would be a business hack for more productivity and profitability.
So what's with the persistence – and over-valuation – of long hours in the corporate world?
A Man's (Ego) Game
According to Professor Joan C. Williams in HBR, the long hours fascination is underpinned by an elitist male value system based on class, status and morality. As sociologist Michèle Lamont states, ambition and a strong work ethic are "doubly sacred – as signals of both moral and socioeconomic purity." Along these lines, commitment is "'singular' devotion to work," where it must be the central focus of one's existence.
Within this elitist moral construct, "being consumed" by one's work is both a status symbol and moral badge. As Williams writes, "'being slammed' is a socially acceptable way of saying "I am important." Whereas fifty years ago, the elite working class showed their status by displaying their abundant time for leisure, today it's about displaying your extreme schedule.
Research has found that the long hour craze is also yet another masculine test of endurance and perceived heroism. When it comes to what's really behind the persistence and glorification of putting in the midnight oil, Williams writes: "It's not productivity. It's not innovation. It's identity."
So what does this ego-driven identity booster do for business, really?
Productivity or Priorities?
Across a 9.4 hour work day, we often only do 2-3 hours of real work, while working excessive hours hurts our productivity. After 50 hours, our productivity decreases and it plummets at 55 hours, with studies showing no discernible effect between working 56 hours and 70 when it comes to creating results.
As David Bolchover writes in an FT thought leadership piece, a decade long McKinsey study found that when senior executives were experiencing a 'state of flow', they were five times more productive than during other work hours. Senior level leaders felt especially more productive when they achieved flow.
Flow is akin to being able to immerse, focus, and apply your core abilities to a given goal or challenge, but most people only feel they are in that space 10% to 50% (at the very high and rare end) of the time. Sleep deficit or screen fatigue is not conducive to having an immersive focus. Bolchover writes, "Clearly, there is an inverse relationship to exploit: more focus for fewer hours."
In fact, an over-abundance of time and resources can actually be a downfall for business. "When you spend too much time on an activity, just as when you have too large a budget, your priorities can become murky. You risk losing the precision and focus that come from having limited resources," writes Chairman of JetBlue Airways, Joel Peterson. Peterson argues it's not the hours we have, but the clarity of priorities we set, that drives productivity.
Worse for Women
While there are many studies showing how overworking adversely impacts health on a myriad of measurements for everyone, a recent study involving 7,500 people over 32 years from Ohio State University found that working long hours is far worse for women's health than men's.
Within the study, "fifty-six percent of the people studied worked 41 to 50 hours a week, 28 percent worked 30 to 40 hours per week and 16 percent worked more than 51 hours per week."
Working 60 hours or more per week on average for three decades was found to triple the risk of diabetes, cancer, heart trouble, and arthritis for women. Risk increased after 40 hours, and became heightened after 50 hours, for women, but not for men.
The researchers hypothesized that this was reflective of the multiple roles women juggle and disproportionate pressure at home. In fact, when men worked moderately longer hours (41 to 50 hours), they had lower risk of heart disease, lung disease, and depression than men who worked under 40 hours, at least when it comes to early onset disease.
However you feel about the results, it's yet more proof that chronically playing the long hours game is no path towards gender equality or thriving personally. "Being consumed" – even when it comes from a place of intrinsic motivation – often ends in burning out.
The Smart Hours Game
If not by playing the long hours game, how can you strategically use your time to build your leadership qualities?
What you could do, rather than work endless hours, is model a leadership strategy of carving out prioritized, focused time. Here's a tip based on top leaders such as Bill Gates and Oprah Winfrey: spend an hour or day (or five hours a week) in some way engaging in active learning – whether reading, listening, experiencing, experimenting or reflecting.
The long hours game is too often misguided. It's time we moved from the long hours game to the smart hours game. To do this, we need companies to get "it" and according to Inc., it's the difference of valuing improvement (not just productivity and not just presenteeism) that will set you apart as a leader.