Men Who Get It: Jamie Broderick, CEO, UBS Wealth Management, UK Jersey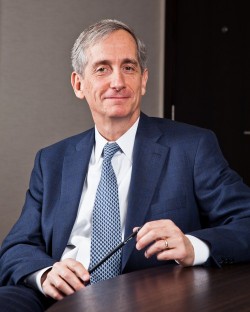 While there are many different motivations for championing diversity, such as political, emotional, social, or even a sense of justice, Jamie Broderick of UBS Wealth Management has chosen to focus on business success as the key factor
"When considered as a business issue, it illuminates diversity and inclusion as a topic that everyone should be concerned about, not just those with a personal passion," he says. "When framed as a business imperative, it enfranchises everyone, including men. You don't have to be PC, progressive or female; you just have to be a business person."
Broderick joined the firm three years ago, previously, serving as CEO for JP Morgan Asset Management Europe where he worked for 19 years.
"You can't create a successful business unless you have an inclusive culture, which encourages a workplace where people can thrive," Broderick says. And when he talks about diversity and inclusion, he doesn't just think about gender, but other areas such as LGBT, disability or ethnicity.
He speaks from experience, having transferred to the financial industry from academia 30 years ago. "Not that many people would have looked past the mainstream qualification profile to hire me," he acknowledges. "It's probably not a coincidence that the team I moved to was led by women. In an industry dominated by men, they were able to see the potential in a non-mainstream profile."
Diversity as a Business Issue
Broderick points out that by creating the business case, companies will start to track progress and create targets, just as they treat all other business challenges. "There is no other business issue that people would have let drift for 10 years," he says.
"You must involve men, as they are half the workforce and most of senior management," Broderick says. "Diversity and inclusion has an impact on the ability to create a high-performing organization where people remain, thrive and grow, but to shift the dial, you must involve men.
One key way to address the issue is to raise awareness through training in unconscious bias, which he believes should be a component of all line manager training.
He says that most workplaces won't find overt examples of disparaging remarks or the like, but that biases can creep into everything we do, which offers frequent opportunities to challenge one another.
"Unconscious bias training shows you the extent to which the behaviors that hold people back are pervasive," he says. "We need to have a broader understanding of diversity of styles and constant support to think about how we do things and how we can improve. There are plenty of opportunities for introspection."
For example, he suggests texting a meeting leader to ask them to consider the dynamics in the meeting they are holding. He says that meetings need to be constructed so that everyone gets a chance to voice their views, even those who aren't naturally assertive.
He explains that there are always those who are just as smart and have ideas just as good, but they prefer to hold back and not grab the podium. They may be waiting for entry points that never arrive, and meeting chairs who are sensitive to this dynamic can help create those points of entry.
Extending Diversity to Mentoring
Broderick highlighted the female mentoring program he runs which takes a reciprocal approach, requiring senior women mentees to also act as mentors for more junior colleagues, thus driving the culture of coaching deeper into the organization. This intergenerational approach ensures those who receive also give.
He also recognizes the mutual benefit for mentors. "When I act as a mentor to a female colleague, I help one person progress better. But if she reverse mentors and gives me insights, as a senior manager, that ends up affecting hundreds of people who are now being managed in a different way."
This is just one component of the Diversity and Inclusion program he sponsors in his UK business. A Women in Wealth networking program was created to focus additional attention on the benefits of connecting women and helping to network more effectively.
"Leaders need to provide more than emotional and moral support. They must incorporate diversity into their business and make sure the business takes it seriously."
Broderick's perspective and support for diversity and inclusion was recognized recently when he was named "Champion of the Year" in the CityWealth PowerWomen Awards 2016.