Mover and Shaker: Lindsay Drucker Mann, Vice President, Goldman Sachs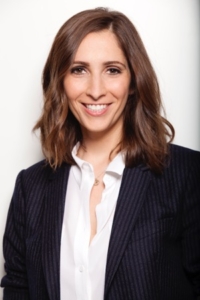 "Taking the easy and popular route often doesn't add value," says Goldman Sachs' Lindsay Drucker Mann, who advises professionals to trust the skills they know, even when it can feel uncomfortable.
Drucker Mann says her start in finance was a happy accident. Though she had earned a Bachelor of Arts degree in computer science from Brown University, she was unsure what she wanted to do professionally, aside from knowing she wanted to move to New York. She nabbed a research role at a hedge fund and then joined Goldman Sachs working in Global Investment Research on the beverage team. From there she moved to a senior analyst position in agribusiness and now covers branded apparel and accessories, including companies from Nike to Tiffany.
Smart, Bold Moves Pay Off
"When you love research, every sector is exciting," Drucker Mann says, adding that she took the unconventional step of moving to a few different teams to reach her current positon. A more typical path is to begin on a team as a junior analyst, and stay on that team, advancing to a senior analyst in that sector. "It felt risky and uncomfortable to change teams, but looking back, all the moves helped me grow to where I am today."
The confidence she gained from working on different teams bolstered her when, early on in her current position, she put a controversial Sell rating on a company that was well-liked by investors. "It was a tough way to start a franchise, by telling people one of the names they really liked is something we thought they were going to lose money on, and that we had a different point of view."
The analysis turned out to be correct, and ultimately it was making that bold, unpopular call that helped her quickly gain credibility as a new analyst with a fresh, smart point of view.
Currently Drucker Mann is enjoying her work with the "Millennial Insights" project, a body of research that looks at how the next generation of consumers is changing consumption. "It's empowering because the next generation is truly innovative and influential, and will pave new paths instead of just settling for what a brand or business tells them they should do," she said. "At the end of the day, you're seeing behaviors and consumption turned upside down, with unbelievably far-reaching effects."
A Culture of Acceptance at Goldman
Drucker Mann, who had come out in college, harbored the fear that she might not be accepted in the corporate world if she was out, and it might make her career more difficult. She didn't know many people who worked on Wall Street so only had "urban legend" on which to base her decision, as well as the mixed advice she received, including advice from some people who told her to hold off on being out in the workplace.
"But I knew that I couldn't operate if I was hiding," Drucker Mann says, expressing relief that it was a non-issue with her co-workers. She's been pleased by all the support she received when she took on a leadership role in Goldman's LGBT network and when she got married and started a family. "The firm has been outspoken in support of same sex marriages, and it has only gotten better with time," she says, adding that she feels fortunate since not everyone is able to work in an environment where people are supportive or where you feel like you can be yourself.
Drucker Mann has been active in the LGBT network since starting Goldman, noting that it presented her with a way to form relationships throughout the firm. She also served as a co-head of the committee for Pride Month, which coincided with the legalization of same-sex marriage in New York, making it an even better celebration. "Working on these events reinforced for me the caliber of people in all different areas of the firm."
"Marriage and family planning were very special to my personal life, and through this network, I was able to speak to people at the firm who had gone through that. This unbelievable network of advocacy has had an important impact on me personally and professionally," she says.
Sponsorship as a Career Cornerstone
Drucker Mann says that the Goldman Research division has a strong tradition of sponsorship and believes that it was a critical component of every opportunity she has had. "I feel very fortunate that I have had a few very senior sponsors who took an interest in my career and offered advice and perspective, becoming important advocates as I progressed."
While she says that some aspects of finding a sponsor is luck and the quality of people you work for, at the same time you don't get sponsored if you're invisible. "You have to have a voice and realize that any interaction you have with senior professionals creates lasting impressions."
It's a skill that has always come naturally to her; though she's not cavalier, she's never been afraid to ask for opportunities and put herself out there. "I've always asked a lot of questions – there's nothing worse than not having answers when you need them."
A Busy Family
Drucker Mann married in 2008, and she and her wife are parents to three boys, ages five, three and one. "With two busy careers, we do a lot of balancing, but we spend every second we can with them. We just have a great time together."