Voice of Experience: Donna M. Parisi, Partner and Head of the Asset Management Group, Shearman & Sterling LLP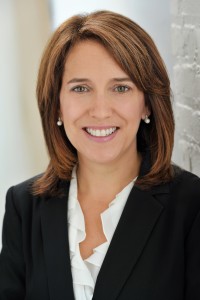 "People sometimes ask me, 'If you could do it all over again, given your practice focus in the financial services area, would you be a banker as opposed to a lawyer?' I would be a lawyer. This is a particularly exciting time to be a lawyer, with all the regulatory changes, and my clients rely on me to provide counsel and advice," said Donna M. Parisi, Partner and Head of the Asset Management Group at global law firm Shearman & Sterling LLP.
Parisi's practice deals globally with derivatives, structured products, securitization, capital markets and commodities, as well as regulatory, risk management, and compliance counseling. It is an area of great interest, and her advice is in high demand.
She explained, "My clients need help navigating complex regulations– especially in light of Dodd-Frank. We're in a period of great change. There's a lot happening out there."
Parisi received her undergraduate degree from Vassar and studied law at Boston College, graduating in 1993. "I came to Shearman & Sterling in 1997," she said, "and made partner in 2001."
Her day-to-day work has never been more challenging than right now. Parisi said one of the most interesting things she's working on now is representing Bank of America Merrill Lynch with respect to its worldwide, cross-border claims against Lehman Brothers. Another fascinating part of her job, Parisi said, is advising her clients on new regulation. "Dodd-Frank is changing the face of the way derivatives are regulated in America and around the globe," she added.
At this time of great change and upheaval in global financial services, Parisi likes to believe that she, too, is evolving, growing and learning. She said, "In five or ten years, hopefully I will continue to do what I love to do – which is my current practice. I would love to see more women in this area of law – financial services – and I would like to continue to help that along."
Managing the Practice of Law
Parisi said that it's critical for lawyers to understand the importance of networking. "In law school, you learn to be an excellent lawyer – it's hard work. But you also need to appreciate the importance of forging personal and professional relationships and connections. I wish I had known earlier the importance of that part of the practice of law."
She also thinks law students and associates should be better prepared to view law as a business. She explained, "I think there's not enough discussion of 'work-work balance.' As I became more senior, I was acknowledged for my firm contributions by receiving management and leadership roles, but I soon realized that becoming a senior manager would require that I further develop this important skill set. How do you keep up your personal practice while running a business? You have to stay on top of new legal and business initiatives, remain client focused, as well as turn a profit."
Parisi continued, "Today, I manage a robust, market-recognized asset management group and am asked to focus on P&L, HR, motivating and leading a team… all while maintaining a successful personal practice focused on the complex world of derivatives and structured products."
"You learn along the way to ask questions, share best practices. There's not a lot of attention to it, but it's very important to the advancement of one's career. You've got to learn how to be a good manager."
Advice for Success
Parisi was emphatic about the importance of self-promotion – something she said she learned from working closely with other women partners – and practice and firm leaders – at Shearman & Sterling. She said, "Women are very uncomfortable self promoting – talking about ourselves and our achievements in a context when it's entirely appropriate."
She explained, "You have to strike a balance. Hard work is not enough. What I've learned over the years is that raising your personal professional profile is essential to success. Hopefully this increased emphasis on establishing a personal profile will continue to grow as more women enter the industry. Ten years ago, I was the only woman in the room – now women are in key decision making roles."
She continued, "Work/life balance is a constant challenge. It changes throughout your career and personal circumstances. At any time, one or the other will need more attention."
She recalled how, earlier in her career when she was pregnant with her first child, she was concerned about going on maternity leave. She said, "I had a client – a woman who had been in the financial services industry for a number of years who had advanced very high. I was concerned about going on maternity leave. She told me that having a child, a family, makes you a better lawyer. I didn't completely understand or appreciate it at the time, but she was absolutely right. Balance can give you a better sense of judgment."
For young women entering the practice of law, Parisi advised, "Ask for what you want. Be very direct up front. People are very happy to help you along the way, but they can't read your mind. Don't be shy."
Shearman & Sterling, which has been named a Working Mother & Flex-Time Lawyers Best Law Firm for Women, also provides networking opportunities for its female staff. Parisi welcomes opportunities to act as a mentor to women lawyers at her firm. "What we've found here at Shearman & Sterling is that women partners meeting regularly is a must. Besides internally, you have to network with colleagues and clients outside the firm – carve out time to do that as well."
Parisi also mentioned a group at Sherman called WISER, a group founded by the firm's women associates. She said, "They put out a weekly newsletter with articles and happenings in the city. They ask for career advice. The women partners are more than thrilled. This is a very good thing for our women lawyers and for our firm."
By Melissa J. Anderson (New York City)