Voice of Experience: Kathy Matsui, co-head of Economics, Commodities and Strategy (ECS) Research in Asia, chief Japan equity strategist, Goldman Sachs Japan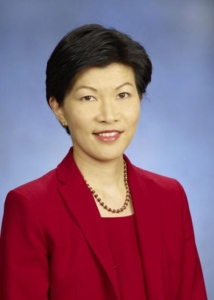 Welcome to The Glass Hammer's Spotlight on Asia Week. We'll be featuring profiles of successful business women working in Asia all week long!
Although she was born and raised in the United States, Kathy Matsui became interested in living and working in Japan while she was there as a Rotary Scholar after finishing college. When Matsui returned to the US to attend graduate school in Washington D.C., she decided to focus on Japan Studies in order to expand her knowledge of the Japanese economy.
During graduate school, Matsui had the opportunity to return to Japan as an intern at a large Japanese bank. She recalled, "It was a tremendously eye-opening experience to work in a Japanese institution and I gained an interesting perspective on what it was like to work in a domestic organization." Matsui continued, "After this experience, I decided that I did not want to work for a traditional Japanese company, mainly because I was concerned about how long it would take me to get to the level I knew I wanted to be at."
Career Path
After graduate school, Matsui relocated to Japan and began looking for a job in an organization where she would be evaluated based on her performance. "I started in Japan's financial industry in 1989 at the peak of the asset bubble and I was fortunate to have received several job offers," said Matsui. "I accepted a job in the research department at Barclays de Zoete Wedd Securities where I was one half of a two person team," she added.
Matsui has always worked in research and has always been based in Tokyo, which makes her career path unique compared to many other senior people in the financial industry who often work in different business divisions and different markets. "I love doing research," said Matsui, "And this is where I enjoy working the most."
In 1999, Matsui authored a landmark research study around the theme of "Womenomics" in Japan that had a major impact on her career and the Japanese business culture. In her research, Matsui outlined ways in which the Japanese economy would benefit as a whole by including more females in the labor force. She argued that if Japan could close its gender employment gap, it could boost the level of GDP by as much as 14-15 percent.
She said, "I picked this subject because I thought it would be an interesting topic to write about, and all of a sudden the research took off and I was being invited to speak about the topic frequently both inside and outside the industry." Matsui continued, "In many ways, coming to Japan as a foreigner allowed me to gain insight into aspects of the economy and culture that I might not have had otherwise."
According to Matsui, given the severe demographic pressures of a rapidly-aging society, there is a growing emphasis on getting more women to participate in the workforce in Japan. While Matsui still focuses on women's empowerment through her research, she spends most of her time analyzing the Japanese economy and stock market, as well as helping to manage a macro research team spread across the Asia region.
Advice for Women in the Workforce
"My client base here was pretty homogenous when I first started working in Japan, in that it was mostly Japanese men who were twice my age," remarked Matsui. She continued, "At the beginning, I felt like I had three strikes against me because I was female, foreign, and young. But this was really a perception that I put upon myself because professionally, nobody actually treated me differently based on my identity." Matsui explained that she spent a lot of her early career trying to prove herself by producing original research about topics people weren't really thinking about at the time.
Matsui feels like the financial industry could benefit from improvements in the area of work/life balance. "As an industry we can be doing a lot more in terms of more flexible work arrangements for both genders. This is an issue that comes up frequently among young recruits and in order to remain an employer of choice for high quality talent, we definitely need to rethink the way that we do things."
"No career path is linear, and for women, the life cycle is particularly unpredictable," Matsui said. "While it is natural to plan for your future in terms of getting married and starting a family, women also need to focus on building their professional skills so that when these life events occur, they are easier to cope with."
This is advice that Matsui can attest to firsthand. In 2001, Matsui was diagnosed with breast cancer at the age of 36. "For myself, this was the biggest wakeup call I had regarding work/life balance. Facing your own mortality at a young age really forces you to think about your priorities in life," Matsui said. "Many people encounter potholes in their lives and things often do not go as planned, but if you are passionate about what you do, the bumps and bruises along the way are easier to overcome," she continued.
One of the things Matsui encourages young people considering careers in the industry to do is participate in an internship program that gives them the opportunity to explore the area of finance they are most interested in, and develop critical knowledge and skills early on. "There are many opportunities within organizations," explained Matsui. "At the end of the day, you are going to be measured by skills, your performance. So when you build more experience and a deeper knowledge base, you make yourself more marketable in the long run."
Diversity and Inclusion
"In order to become the employer of choice for talented young women and men, you need to create an inclusive work environment with a fair evaluation and promotion system," said Matsui. According to Matsui, Goldman Sachs embodies an inclusive culture and it is evident in many of their practices. For example, Matsui noted that Goldman Sachs is one of the few private sector companies in Japan that has its own dedicated childcare facility to help working parents.
Matsui added, "Beyond mentorship, the firm has been proactive and forward-thinking in terms of sponsorship. There is an emphasis on identifying talented young women and diverse employees early on in their careers and assigning them sponsors who take some ownership over the career path of these high potential individuals."
"I volunteer my time to speak at a wide range of Japanese and foreign companies in Japan about why diversity is important," said Matsui. "Initiating this dialogue within these organizations leads to key decision makers in the company taking action. It's very gratifying to see some of those needles being moved," she continued.
Outside of the Office
In her spare time, Matsui enjoys doing things with her husband and two children. She also serves on the board of the Asian University for Women Support Foundation, which is an organization dedicated to educating women leaders across Asia. "AUW graduated its first class in May which consisted of more than 120 girls from twelve different Asian countries and the Middle East," said Matsui. She added, "In many of these countries, if you educate a woman, you also educate her family and her community. In other words, the return on investment in women's education is extremely high.
Matsui is very dedicated to the causes of women's education and women's empowerment. As a breast cancer survivor, she works to help raise breast cancer awareness through different non-profit organizations. Matsui said, "Time is at a premium, so I try to pick the causes that I am most passionate about and where I think I can have an impact."
By Michelle Hendelman, Editor-in-Chief