Voice of Experience: Jennifer Barbetta, Managing Director, Chief Operating Officer, Alternative Investments & Manager Selection, Goldman Sachs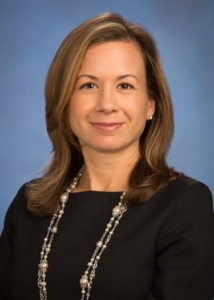 "You should look at your career as a marathon, not a sprint," advised Jennifer Barbetta, Managing Director and Chief Operating Officer for the Alternative Investments & Manager Selection business at Goldman Sachs. That's one piece advice she said she likes to share with her junior team members and those she mentors.
In fact, Barbetta said, "Watching those I have mentored find success is one of my proudest achievements." She believes in having candid and honest conversations with her team and mentees. "These conversations provide them with the tools to help lead them down the path to success."
A Career in Asset Management
When Barbetta was preparing to graduate from Villanova University with a degree in finance in 1995, she faced a tough decision. Her father, a stock broker, wanted her to get involved with his business. Barbetta, however, thought it would be a good idea to at least interview with one firm before going into the family business. She recalled, "So when I saw the opportunity to interview with Goldman Sachs, I figured I couldn't pass it up."
She continued, "Then I got the job. I struggled with the decision initially – I didn't want to let my father down."
But after talking it over with her father and a professor, she said, "It became obvious that I should seize the opportunity to join Goldman. That was sixteen years ago and I'm still happy with my decision."
Barbetta entered the Finance division and worked on Merchant Banking products. Then in 1997, she got a unique opportunity, to join Goldman Sachs Asset Management's (GSAM) Private Equity Group which was forming a new fund of funds business.
"I gained a tremendous amount of invaluable experience at a young age," she said. "As the business grew, so did my responsibilities."
Barbetta became Chief Operating Officer of the Private Equity Group in 2003 and Managing Director in 2006. In 2008, GSAM moved the private equity, hedge funds, and long-only equity third party manager businesses into the newly formed Alternative Investments and Manager Selection (AIMS) group. Barbetta became the COO for the larger AIMS business. In addition, her responsibilities expanded to also work with the Global Portfolio Solutions business, a new group that provides multi-asset class solutions for institutional and individual investors. Currently one of the most exciting projects Barbetta is working on is participating on the team that is developing a strategic infrastructure plan to support the division's growth. "This is a great opportunity for me. Our division leadership is showing a strong commitment to this plan and I am meeting and working closely with colleagues across the division that I had not previously worked with in the past."
Barbetta said she also counts her experience in developing the careers of members of her team among her proudest professional achievements. She explained, "Seeing the people I've hired or mentored grow and develop into good managers of people – seeing them become leaders and mentors themselves. It's hands down the greatest thing to see."
She added, "It's only right that I share with others the tools that were shared with me by my mentors "
LGBT at Goldman Sachs
"I wasn't out during my early years at the firm," Barbetta began. "Not because I thought it would have a negative effect on my career. I just personally wasn't ready."
She continued, "But I had a conversation with an informal mentor, who made a comment about trust that really resonated with me. He said, 'If you truly bring your whole self to work, people just get to know you better which will lead to building a trusting relationship. And if people trust you, you will most likely have more solid personal and professional relationships.' I really took that to heart."
She continued, "I truly think [coming out at work] has only helped me professionally. You don't waste energy hiding who you are, which allows you to focus better at work and also helps to build stronger relationships with colleagues."
Barbetta now serves as an advisor to the firm's LGBT Network. She continued, "Goldman Sachs places a huge emphasis on diversity. For Pride month in June, the firm hosts various events. And our Ally program, where we encourage senior straight employees to act as champions to the Network, has been a huge success. The Co-Chairs, Julie Harris and Brian Saluzzo, as well as members of the steering committee, have had a significant impact on the growth of the Network in recent years."
Advice for Women in Investment Management
"The industry demands a high level of commitment to be successful," Barbetta explained. "You really have to enjoy what you do. If you don't, the demands of the job are hard to justify."
She continued, "As you start to juggle more priorities, especially if you have children, the demands make it even more challenging."
"An open dialogue with your spouse and your boss is really the most critical thing," she advised. "There are times when you have to really commit yourself to keeping your priorities straight – picking your battles, so to speak."
Barbetta's advice for women beginning their career is to make sure to learn the basics. "Ask a lot of questions. Absorb as much as possible."
For more senior women, Barbetta advised, "Don't be afraid to continue to take risks or let what seems like an ambiguous job throw you off. That ambiguity often means you're leading up to bigger and better things."
Barbetta is also an active participant in the firm's women's initiatives. "I'm a member of the firm's women's network and I co-championed the women's career strategies initiative in my division last year," she said. The initiative works to develop and mentor top performing female associates.
In Her Personal Time
"There are many things I enjoy during my personal time but my family time is my most favorite time. What can I say, I am a proud mom and my wife, is a proud mom, we are proud parents," Barbetta said. "My wife Victoria and I have a two-year old son, Lucas, and we are expecting our second little boy who is due at the end of this month. This is an exciting time for us – our family is growing."
Barbetta said she enjoys golfing, skiing, and spending time with her family in Vermont.
"I'm also very involved with the Point Foundation," she said. Barbetta serves on the New York Board of Trustees of the non-profit, which provides scholarships, mentorship and leadership training to LGBT youth. "Being a part of such a great organization has been inspiring," she said.
To celebrate Pride Month, The Glass Hammer is featuring profiles of several senior lesbian professionals – in the hopes of inspiring and empowering more LGBT women to bring their full selves to work, and to encourage more firms to build open, inclusive cultures.
By Melissa J. Anderson (New York City)