Why Negotiating and Networking Go Hand in Hand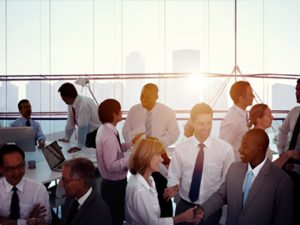 On Tuesday, The Glass Hammer hosted our latest event on career management. Sponsored by Accenture, Bloomberg, and Sungard, the event discussed how women can build professional negotiation skills, and provided tips on networking and how to navigate tricky office politics.
Panelist Carol Frohlinger, Principal at Negotiating Women Inc. and co-author of Her Place at the Table, commented, "Women often suffer from the tiara syndrome – we work hard and wait for someone to place a tiara on our head." But, she said, in today's environment, we can not wait for someone to notice hard work or reward it appropriately.
"We must proactively negotiate for the conditions of our own success," Frohlinger said.
The event's panelists included Frohlinger, Anne Erni, Head of Leadership, Learning and Diversity, Bloomberg; Camille Mirshokrai, Global Director of Leadership Development, Accenture; Linda Descano, President and CEO, Citi Women & Co.; and Kathleen Weslock, Chief Human Resources Officer, SunGard. The discussion was moderated by Selena Rezvani, co-founder of Women's Roadmap, Washington Post columnist, and author of The Next Generation of Women Leaders.
Negotiation Pointers
Frohlinger opened the event with a discussion on negotiation. "We are always negotiating," she said.
"Most people think of negotiation as a formal process." She explained that these are "Big N" negotiations. "But there are 'little n' negotiations every day," she explained. These could include leading projects, getting resources in the office, or getting time off, "and impact your career satisfaction and your career success."
She continued, "Both men and women expect that women will negotiate differently than men do. Women walk a thin pink line." What might be seen as assertive when a man does it can be seen as aggressive when a woman does it, she explained. At the same time, being collaborative can be seen as being "weak or wimpy."
How can women navigate the "thin pink line"?
Weslock discussed the importance of "socializing ideas" to get buy-in. She advised making a "stakeholder chart." She explained that once you map out how many stakeholders there are in a particular project, you can better think about your approach.
Erni agreed. She said, "What's in it for them? Really figure out what's going to draw other people [to your idea]." She advised to think very broadly about stakeholders, considering how your idea will affect both senior and junior individuals.
"Be prepared for a give and take," said Descano. "Think of questions that person is going to ask." She recommended coming up with answers in advance, and even doing a mock meeting. If you don't know the other person, "get a sense of their style," she said, recalling how she had recently prepared for a big meeting by watching videos and reading memos by the other individual posted on her company intranet.
Erni pointed out that sometimes you are thrown into a quick meeting or unexpected opportunity. When that happens, she advised, "that emotional intelligence needs to come into play." Look for cues as to what the person is like based on their office or appearance. "Read the person and connect in a different way."
Mirshokrai said, "As women, one thing we are great at is engaging in conversation." Mirshokrai encouraged individuals to build on their personal strengths to engage the other individual. "It's important to listen more than you talk," she said.
Building Networks
One way that women can become better negotiators is to build stronger networks. With stronger relationships and more information, you will be more aware of what exactly is at stake when you are negotiating, and improve your terms and outcomes.
When it comes to personal connections, Descano said, "it's not about the quantity. It's more about the quality."
Mirshokrai also advised women to seek out mentors. She said, "Early on in my career, I had mentors. And I still have mentors. They help me and ground me." She also advised having more than one mentor, within and outside your company.
She explained that once you have a network of mentors, you will be surprised at "how small the world really is." Your mentors will know other senior individuals, and will be able to open up opportunities for you. She continued, "I love being able to help other women. It's important that you help other women – I want you to do that for the next generation of women."
Frohlinger agreed, emphasizing the "importance of reciprocity." She explained, "Think about how you can help [your mentor]. You'd be surprised at the way you can help people who are even very senior. Be creative on how you can give back." She said, with a laugh, that it could be as simple as explaining Twitter to a senior member of your organization.
Erni recalled something she was once told, "Men run in packs and women don't. Go create your pack." She said women would benefit from building their own "packs." How to start your own? Internally, in your company, Erni said, "Think about what you need to get done, who you need to work with and share information with to get it done." Externally, she said, build networks with people who are passionate about the same things you are – sports, charity work, etc.
Descano continued, "It's not just about business. It could be about you personally." She advised, "But you have to feed it," and build networking relationships over time. It may take a while, she explained, but, but when the right opportunity comes along, those relationships do pay off.
Negotiating Compensation
An audience member asked the panel how to ensure they are being compensated fairly, and how to negotiate for better compensation.
Erni pointed out that many women are uncomfortable negotiating. She mentioned a study showing that more men likened negotiation to a ball game or sport. Women, on the other hand, compared negotiating to going to the dentist.
A former labor relations professional and lawyer, Weslock explained, "This is something men get – if you're going to play the game, make sure you know the rules and learn how to keep score."
She said to make sure you do your homework, use the right vocabulary, and find out the salary range for the position in question. She said, "If you're looking at salary.com, you are in the wrong place."
She continued, "Don't be afraid to ask for more money than what you are currently earning. New employers and headhunters expect it and will have more respect for you if you do." She also said that if you are working with a headhunter, to ask the salary range and the bid/ask – after all, their job is not to get you the best salary – they work for the company, not just for you, she said. And finally, she advised, if you are asking for more money than what you currently earn, explain why and back up your "ask" with facts. She also advised participants to take into consideration current economic factors as well as an individual's own "market brand," which is how they are viewed in the market. "It's basic labor economics."
Mirshokrai commented that it is not always appropriate to discuss salary ranges with your colleagues. "I have an integrity issue with talking about salary in the workplace. This is a personal conversation between you and your supervisor." She said to ask them what exactly you need to do to get to the top of the range.
Frohlinger said that during the tough economy, compensation may not be strictly monetary. "Be creative. Don't get me wrong. Money is very important, but also think about other things you can get in this economy – things that are important to you but don't cost the company money, like a title."
Watch the entire video here:

By Melissa J. Anderson (New York City)