Voice of Experience: Avis Yates Rivers, CEO, Technology Concepts Group International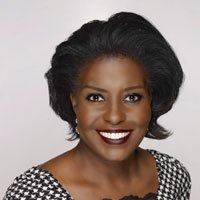 Avis Yates Rivers, CEO of Technology Concepts Group International, has spent her career in the technology sector – and after 25 years running successful companies, she says one of the most important things she's learned is "put the right people in the right seats."
Staying ahead of shifting technology, she said, means "hiring the right people with knowledge about the field. They stay on the cutting edge of new technology and know what it means for us and the customer. I wouldn't be able to do that on my own," she explained.
"I'm very heavily involved in civic engagement," she said, pointing to work with the government and politics, as well as non-profit leadership, such as the National Minority Supplier Development Council, the Women Presidents' Educational Organization and other organizations working to increase opportunities for small, minority and women-owned businesses. She sits on the board of the National Center for Women in Technology.
She continued, "If you're entering the technology field, understand that your contribution is very much needed and commit to it."
Advice From a Seasoned Tech Entrepreneur
"I began my career at Exxon Corporation in New York City," beginning with a paid internship in an administrative function. Soon she was promoted to manager of orientation for new employees in HR.
"In 1980 Exxon launched a new technology company: Exxon Office Systems Corporation, and I was promoted into it," into sales.
The business was sold in 1985, and at that time, Rivers launched her first company. "I've been an entrepreneur for 25 years – it makes me tired just thinking about it!" she joked.
"It takes a lot more money than you think. Bootstrapping is not as easy as you think," she said, "but 25 years ago, that's all there was as a first generation business owner."
Now as CEO of Technology Concepts Group International, Rivers' career continues to evolve. She explained, "This company has as its major focus equipment service and leasing. In five years. when our revenue exceeds $100 million, "I will look to be acquired as my exit strategy. It's been a long time."
"It's important to plan your exit." She continued, "Actually, don't get stuck in the middle, always plan your next move."
As a supplier, she says, she has to keep track of many aspects of business – her side, and her clients' business needs.
"I had to learn the leasing business, and because we work in financial services, basically that whole industry," she explained. Currently she said, her company is working on a portal that will track technology products that have been leased "from us and elsewhere," she said. Previously, major companies would have had to track their leases across different portals. "As a major corporation, you may lease from three, four, five major entities. We're able to provide a single view. It's new in the marketplace."
Over her career, Rivers has come across many opportunities, but has managed to choose the right ones. "A lot of projects I choose because they are interesting," she said. For example, she pointed to a new project she is working on with Verizon, helping convert offices with paper-based transaction processes (like applying for hunting licenses, she explained) to automated, digital ones.
"Being from corporate America, I understand the needs of the business. But I also am blessed with the vision and foresight." She continued, "I'm able to apply my creativity to long term engagement."
Diversity in the Technology Sector – Advice for Female Leaders
Besides starting several successful companies from scratch, Rivers said, she's most proud of her advocacy work. "I served as a delegate to the White House Conference on Small Business in 1995," she said. "I had to really negotiate for the position and issues we wanted passed."
She continued, "I would like to see more diverse suppliers get involved in larger ways. The majority of the diverse technology field is in staffing. I would like to see us get beyond staffing and into innovation."
And this means companies need to find more ways to be open to women. "Studies have shown that too often women feel isolated in their roles. As you move up the career ladder, senior technical women are more likely to be managers. That means they're losing the sense of innovation." She continued, "Everyone has to move up the ladder or opt out."
Another issue she said, is that "there are not enough mentors or sponsors for women to become Individual Contributors. Those who stay in feel they've got to work around the clock to stay current."
She continued, "I would say a lot has to do with one's personality. There are some technical women who want to be technical ICs. You need to find the environment to foster that. For women who have the vision or leadership – we need more CIOs in corporations. Find a mentor and let your interests and desires be known and have someone pushing you along the way."
Rivers is enthusiastic about mentoring – and being mentored. "I'm currently being mentored formally at Accenture by Andre Hughes," as part of an 18 month program.
She said, "The best advice had to come from Andre – he helps me stay focused, and said to get specific about what I want and to ask for it. At this stage in my career I'm polishing that skill."
At Bank of America, Rivers credits Brian Powers as a supporter. "He helped me launch the leasing business." And, she said, "Early in my career, my sales manager Shirley Paton. For one thing, she made sure I was always appropriately dressed. Under her tutelage I got my first set of pearls. She was a wonderful all-around coach."
She also emphasized the importance of mentoring women down the line. "I have mentored many people, mostly women," Rivers said.
"NCWIT really fills that role for me. I advise women in technical roles, and serve on the Board of Directors. I also chair the Development Committee. I'm always at meetings with senior IT executives about how their organization is receptive to women, what programs they have in place to foster the right environment from the beginning of their careers throughout."
As part of her work with NCWIT, she spends a lot of time with senior level executives in the IT field, discussing the importance of gender diversity in technical roles – and says she's optimistic about what she's experienced. "I love doing that, because CIOs get it. I haven't met one who doesn't."
Work/Life Balance for Women in Tech
"My life is extremely full. It's hard to keep it all balanced but I manage – sometimes better than others!" She explained, "I'm married with four children and six grandchildren, who unfortunately do not live very nearby!" And, she said, "I like to travel – I'm attending conferences frequently to support and advocate for diverse suppliers across the country."
"In today's world, I think [work/life balance] is a little easier," Rivers said. "When I was young with young children, I was traveling a lot. Technology makes you more accessible."
She also mentioned how technology facilitates the growing popularity of flex-scheduling. "If you do have children you can split your workday up."
"There are more advantages today, but with that said, the more access people have to you, the more you get pulled on. It's important to set boundaries." Still, she said, "I may do more of my communicating at night. It's nice to be able to work when you can, or when you want to."
Despite her busy schedule, Rivers manages a full personal life as well. "I spend a lot of time in Church related activities. I chair the ladies committee for our annual ladies day." Additionally, she said. "I'm also an avid golfer – I played this morning with my women's golf league."
By Melissa J. Anderson (New York City)