Voice of Experience: Bola Oyesanya, Managing Director at Citi Private Bank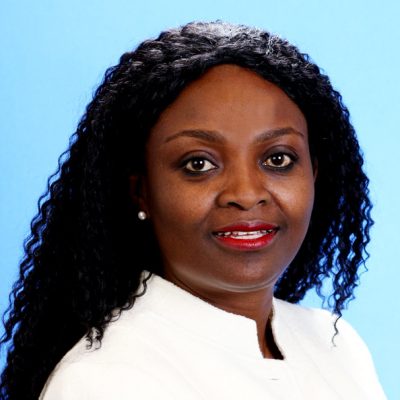 By Cathie Ericson
Don't let your inner critic get the best of you, advises Citi's Bola Oyesanya.
"Confidence is so important, so embrace who you are because it's what makes you unique," she says. She herself learned this firsthand, when earlier in her career she regarded her Nigerian accent as a potential issue, which even led her to talk herself out of some client-facing jobs. Her colleagues had assured her that her accent was an advantage as it made her memorable, but a defining moment came when a client mentioned that she liked her voice. "Don't ever tell yourself that the things that make you different are a problem," she says.
Finding Her Niche
Although she was trained as an attorney, Bola pivoted and began her career in Nigeria in banking, including doing a stint with the oil and gas industry group within a bank. She came to the United States in 1999 and started with Citi, where she has spent the past 20 years in a variety of roles from customer service representative to junior banker. She became a private banker in 2008 in Citi Private Bank's Law Firm Group, where she remains today, working with law firms and individual attorneys, as well as institutions that work with the legal industry.
"Nothing gets me more excited than being my clients' advocate; of course, it's my job, but I love it," she says. "As long as I have my clients' best interest at heart, everything will fall into place," she says, noting that you need to carry your team along to get the best for your clients. "There's nothing better than when we are all aligned."
Bola was promoted to managing director this year, a milestone achievement of which she's very proud, noting that it was both exciting and humbling – exciting to see hard work recognized, but humbling because she knows that her recognition opens the door for others and serves as motivation for younger bankers.
Channeling Her Passion for Diversity into Action
In her other role, Bola is part of the Citi Private Bank diversity leadership team, whose mission is to recruit, train and retain employees, making Citi the employer of choice for new and seasoned talent. She finds the diversity philosophy at Citi organic, rather than top down, with a good mix of levels from managing directors to junior analysts who all have a voice.
She says the group prides itself on starting the year with a blank slate to come up with new goals and the paths to get there. The leadership then helps build teams around these ideas to start implementing them.
One recent initiative was Citi Coffee Chats, which allowed colleagues to get to know senior leaders beyond their work success and professional bio, with questions focused on a more personal angle, such as their family and philanthropy interests.
The group works on skills to help manage careers upwards, but also down and sideways, taking into account peers and direct reports.
Having always been personally passionate about diversity and inclusion, she finds it exciting that the topic is now a priority. "We used to have to convince people to consider diversity, and it's refreshing that now even clients are asking what we're doing on that front," Bola says, adding that it's no longer just a "nice to do."
"It's who we are, and it isn't just about gender or culture, but also includes diversity of thought. The more diverse we are, the better we can meet our clients' needs," she says, adding that the firm's many locations and cultures means they can leverage the power of their global reach.
Proud of Citi's success in retaining women talent, she has realized that while it's easy to assume that all firms are as committed, the numbers show that Citi is quite far ahead in the industry: Forty percent of the leadership of Citi Private Bank in North America are women, including the CEO, and the overall diversity numbers climb to 60% when you include LGBT, cultural and ethnic minorities.
Giving and Receiving Mentorship Has Contributed to Career Success
While diversity initiatives are important, Bola also believes in the power of combining them with mentoring programs, which will double the networking and connection potential. She advises other women to look for people who are genuinely interested in them and will offer candid feedback. "If they care about your career, they will offer advice on both sides of the coin," she notes.
Bola herself felt particularly supported during a diversity leadership program in 2010, which was focused on developing midlevel diverse employees. "What was so powerful was that each participant was the agenda, with one-on-one coaching tailored to exactly what you needed to build a career," she says. Among the most valuable aspects were sessions devoted to developing your brand and your executive presence — lifelong skills that helped the employee but also ultimately Citi as a whole.
Recently someone asked her what she would do if money was no barrier, and the answer came to her immediately. "I would be a motivational speaker," she says. "I love to inspire others and do a lot of one-on-one mentoring. So many senior women and men have invested in me, and the best way to say thank you is to pay it forward."
In fact, she frequently recommends that her peers remember what it feels like to be sidetracked and commit to helping and encouraging each other. For her part, she enjoys working with younger professionals and often reminds them to be patient and know they will eventually get to the destination. "There might be detours, but you have to see them as learning points. Then don't waste your energy and emotion focusing there, but rather on how to get back on track."
While her work and diversity efforts are important, there is one aspect of her life that takes precedence – her family. Bola says her most precious time is spent talking and spending time with her eight-year-old daughter and husband, particularly when they are traveling and meeting people and learning new cultures together.