Voice of Experience: Helen Cook, Counsel, Shearman & Sterling
 By Cathie Ericson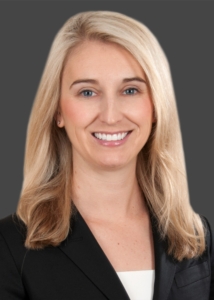 Helen Cook describes her career as a jagged line veering all over the place. A native Australian, she first started at a law firm there, but took a job in Dubai sight unseen after being bit by the travel bug. Working on energy and infrastructure projects in the Middle East region, she developed a specialty in nuclear energy, which she took to Pillsbury Winthrop Shaw Pittman and then to Shearman & Sterling, where she is a counsel in the Washington, DC office. Today she focuses on international nuclear law, a field she never dreamed of entering, particularly given that Australia has no nuclear power plants.
Harnessing the Opportunities in Nuclear
"Had I known I would eventually enter this field, I might have combined my law degree with an engineering or science degree; because as a nuclear lawyer you have to understand the basic technicalities of nuclear energy, but I've done my best to learn on the job and from people in the industry," she says.
In fact, along the way she even wrote a legal textbook, The Law of Nuclear Energy, not long after she had ventured into the nuclear sector. After complaining that there were few useful resources available for lawyers starting out in the area, a former mentor encouraged her to write the book she would have found useful. The resulting piece was published in 2013, and a second edition is currently in the works.
Since there are relatively few new nuclear new build projects in the world today, she considers herself extremely privileged to be working on the largest – a deal that is close to being finalized after a two-year investment of time in the Middle East. In addition, she is working on two in the UK and one in Turkey.
Nuclear is a complicated industry, but despite its challenges she believes that the focus on climate change in global energy policy should see enhanced recognition of the benefits of nuclear energy. "The nuclear industry also needs to more clearly and credibly articulate the potential of nuclear energy to help achieve global warming goals," she says, adding that its emissions are comparable to those of wind power and hydroelectric power.
Challenges and Opportunities in Conquering the Industry as a Younger Woman
The generational imbalance in nuclear industry started around in the 1990s when people left the industry after Chernobyl, so she says there's a lot of gray hair at most major nuclear conferences – and it's mostly on men. "It's probably hard to find a more male-dominated sector out there," she says. And, a lot of her work is in the Middle East, where being a professional female can be more challenging.
Her hope is that more young women will be interested in a career in the sector, but she acknowledges they have to be willing to be bold and challenge themselves to do things that might seem out of step – citing the book she authored as an example. "If my boss hadn't suggested I write it, it wouldn't have occurred to me, but it helped establish my personal brand and reputation in the market," she notes.
At Shearman & Sterling, she considers herself fortunate that there are many strong women leaders in the project development and finance practice and throughout the firm, as well as male mentors, who are willing to push you forward. "It's crucial that men will put you in a room full of other men and not hesitate to give you the lead negotiating role. There have been a number of male partners who have been instrumental in pushing me into leadership roles, which have had tremendous impact on my success as a woman," she says.
Since her work most often entails a weekly grueling international flight or two, she realizes more than most the value of coming home, where it feels like a vacation as soon as she walks in the door. Her ideal vacation at home? Going for a run around the Georgetown waterfront and cooking a meal with her partner in the evening.