Voice of Experience: Vivian Flynn, Managing Director of Investor Relations, Pomona Capital
 By Cathie Ericson
"You have to keep things in perspective throughout your career," says Pomona Capital's Vivian Flynn.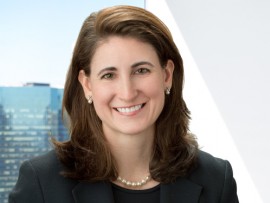 "A career is not a sprint. It's a marathon, and each stage is about learning, developing and adding to your foundation. You have to expect to make mistakes, but it's important to learn from them,"
She adds that, "Successful professionals will remember the fundamental importance of staying true and honest to yourself. By recognizing and embracing both your strengths and weaknesses, you define the unique tools you bring to the table. Be confident and know that you belong. Own your accomplishments and celebrate your achievements, and don't be afraid to go outside of your comfort zone."
A Front Seat to Industry Evolution
Vivian describes her path as atypical, having attended law school rather than business school like many of her counterparts. The decision paid off. Her legal background provided an incredible foundation to develop skills, such as problem solving and negotiation, she knew she would need regardless of what role she accepted.
Her first job out of law school was in equity operations at Deutsche Bank. She soon parlayed that experience into a role in Goldman Sachs' Pension Services Group, which was her first introduction to capital raising and investor relations. In this role she developed a niche focusing on real estate private equity and soon moved onto Goldman's real estate team.
She joined Pomona, which has a strategic partnership with Voya Financial, in 2010, where she became part of an established, yet entrepreneurial, organization. Vivian says that this position offered her "a clean sheet of paper" to help reorganize the business development function. The autonomy and ability to work with a small group of less than 50 people was an excellent opportunity that offered an environment where she could strategically and thoughtfully use her skillset that had been developed throughout her career.
Vivian has now spent 17 years in the alternative space working with both hedge funds and private equity funds, which she calls, "challenging and rewarding — both personally and professionally." "Building long-term relationships and trust with our investors is what makes my job so fulfilling," says Vivian.
"Being a part of an environment that changes every day is exciting and forces you to always be on top of your game."
While some professionals in her field might name their most important accomplishment as their title or how much capital they have raised, Vivian says that she is most proud of how she has controlled various steps throughout her career and navigated through unexpected circumstances while remaining true to herself and never compromising her values.
Vivian appreciates the latitude she's had with Pomona; while many firms divide investor relations and business development into two groups, she's always preferred having them together because she believes that the two roles go hand-in-hand. "Relationships with investors don't end once you get their commitment," she says. "You have to be able to articulate a product or strategy, but you also need to be able to connect with investors and understand their unique needs to provide solutions." She finds that the consultative approach she learned at Goldman has helped her along the way.
Over the years, Vivian has witnessed the evolution of investor relations and business development. When she first started, it was not uncommon to raise a multi-billion-dollar fund in a matter of months, but now, it is not uncommon for an investor's due diligence and decision-making process to take 6 to 12 months, a trend she sees continuing. Additionally, she has seen both the investor relations and businesses development components emerge as important and critical parts to any firm in the industry, a progression that she is excited has occurred.
Addressing Women's Challenges in the Industry through Support
While fewer women tend to enter and stay in the finance industry, Vivian sees this as an issue that starts at a young age and how different genders are steered in their educational development and rewarded for their behavior.
"We need to encourage young girls to pursue studies in areas where boys tend to be seen more prominently, such as in science, technology, engineering and mathematics. It won't happen overnight, but it can make significant difference down the road," says Vivian, noting that although the finance industry has made strides, there's still more to be done.
To that end, Vivian believes that women at senior levels have a fundamental responsibility to act as role models on a daily basis, including displaying confidence and encouraging junior women to seek their place at the table. "We need to inspire young women and provide guidance and opportunities that push them and encourage them to step out of their comfort zone."
At her firm, she is proud that senior women are represented broadly. Women make up nearly half of the employees, and 1/3 of senior leaders, including two partners.
One of her first career memories was an early mentor who, no matter what, would thank the team and treat everyone equally, and even roll up her own sleeves to achieve success. "This simple approach left a huge and lasting impression on me. I try to practice it every day and set an example for others," Vivian says.
"It's important to say thank you and let everyone know how hard the junior staff worked when you accomplish a goal."
The daughter of Greek immigrants, she appreciates that her parents were ahead of their time in educating her and providing her with the same opportunities as her two brothers.
"Now that I have my own daughter, I hope to show her the endless possibilities I felt, and impress upon her that, with hard work, she can accomplish anything," says Vivian. "My own success is not just for me; it's also for my daughter in providing her with an example of going after what you want and achieving your goals."