Voice of Experience: Sandy Rubinstein, CEO, DXagency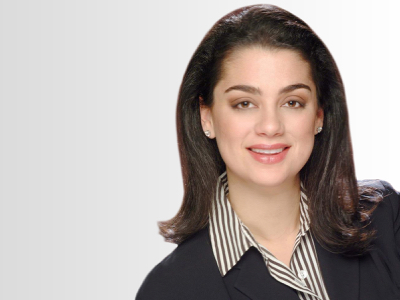 A second-generation immigrant from Chile, Sandy Rubinstein grew up in a close-knit Hispanic community in Miami with a family and heritage which had a sizeable influence on her career.
Her parents arrived in the country not knowing English, and her mom learned it along with her while they watched Sesame Street together. In fact, her mother wouldn't speak Spanish outside the house, because she felt that the family was here and should conform to this country's norms.
Rubenstein saw they came to this country not expecting anything, and that philosophy has stuck with her. "My parents instilled in me the mentality that you have to make your own path; you can't expect anyone to hand anything to you."
From Music to Advertising
A classically trained opera singer, Rubinstein attended college to study music, but also earned a companion degree focused on marketing and business administration.
"My parents were so excited that I was studying music — part of it was that they believed I shouldn't waste an opportunity — but I assured my mom I needed to also take business courses to have something to fall back on," she recalls.
And once she took an advertising and marketing class, she was hooked. "Part of it was the performer in me; I wanted to make people feel something, and advertising has the power to do that," she says.
After 20 years in television marketing, she joined DX in 2009 out of a desire to get more involved in the digital realm. For several years she had been recommending media plans with more focus on digital initiatives, but when she received little traction she realized it was time to do something different and has never looked back.
As marketing evolves, she has noticed that clients are once again investing in email, which she sees as a smart tactic that she is thrilled is coming back in a big way. And since video continues to be a medium that will grow, the agency recently added a video studio for its clients.
Mentoring Brings Important Lessons to Others
Although she's achieved much work-related success launching new products and supporting brands, Rubinstein says that her proudest moments have come from her mentoring efforts. "It only takes one person to change someone's life, and nothing else has the same long-term impact as making a difference in someone's career," she says, noting that she has had a mentor almost from Day One who still guides her. She hosts interns in her office and also helps at the local high school which has a track with a marketing focus.
The lessons she teaches young women range from the practical — "Dress for the job you want, not the one you have" — to the philosophical, such as knowing themselves before they expect others to know them. "It's difficult for people to view you how you want to be viewed if you don't see yourself that way," she notes.
She also warns women they are likely to have to work twice as hard as their male counterparts, especially if they choose to be a mom and have a thriving career. "I knew that I would have to make certain sacrifices, but it was worth it to work twice as hard at work to cover everything so I could focus on my babies at home." She notes that women will have tough times personally and professionally but they have to work to build the career that allows them to achieve what they want.
Over the years, Rubinstein has learned the wisdom of not taking everything so seriously. "You have to laugh at yourself and stressful moments," she says, citing the importance of perspective. "Unless you're a doctor in the NICU, the issue is probably not as critical as you perceive it to be, and once you get out of the vortex and whirl of negativity, you're likely to have better judgment regarding a given situation."
Although she has never felt that being a woman has held her back, she notes that women do have common stereotypes with which they'll be labeled, especially as they become more successful. A passionate woman will be called emotional, and a strong one will be seen as bossy.
"That's not going to change but what has to change is that women have to say 'So what? Move on. I don't care if you see me as bossy.' As women we are constantly looking to please everyone because it's in our nature. But we have to start by pleasing ourselves too."
She also believes that women need to have each other's backs. "Be nice. Prop each other up, rather than tearing each other down," she says. "Women tend to get in each other's way, and we need to build each other up instead."
Instilling Values in Her Children
Rubinstein has made sure that her twin boys, now age 14, have always embraced philanthropy. At every birthday, for example, they choose a charity and have their guests bring a donation to support it. Over the years they have raised money for a "Cookies for Kids" cancer program and their local fire station, which had lost its Jaws of Life in the 9/11 tragedy. "My kids had just learned what Jaws of Life were when they visited the station, and that year they wanted to help replace them."
She models the behavior herself, having started a non-profit education foundation to raise money for STEAM grants for local kids in kindergarten through 12th grade, and has raised $130,000 thus far.
The family also loves to travel, having just returned from Italy, but relish any time they are together. "My kids went to summer camp, and we couldn't wait to have them home so we could have adventures together," she says. "The four of us are thick as thieves."