5 Negotiation Tactics Women Can Use to Fight the Gender Wage Gap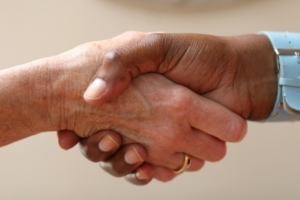 Guest Contributed by Sierra Skelly
Negotiation seems to be the best way to fight the gender pay gap. In general, it has been shrinking in recent years, according to a glassdoor study, the current status of the wage gap in the US is still at about 21%, which figures into women making an astonishingly unfair .79 cents for every dollar a man makes in aggregrate. We understand that each company and each industry differs in efforts to remedy this historical issue, but one thing is clear at the current rate it will take about 40 years to reach an equitable pay scale, according to the Institute for Women's Policy Research.
Negotiation Tips for Women
Potentially the number one weapon in the arsenal against the gender pay gap is improved negotiation tactics for women. According to a recent Harvard Law article, studies surrounding the negotiation of salary demonstrate that male candidates tend to use tactics that achieve better results than women. Deeply ingrained societal biases surrounding gender roles prevent traditional male-centric negotiation strategies from being as effective for women as they might otherwise be. However, there are ways that women can significantly affect the gap by educating themselves in tactics that work well, combating gender biases and stereotypes.
University of Münster's Jens Mazei and colleagues studied the strengths women had when compared to men in negotiation in a paper called "A Meta-Analysis on Gender Differences in Negotiation Outcomes and Their Moderators" published in the Psychological Bulletin. They discovered some intriguing ideas that indicated how women could leverage strategies that would narrow the gender pay gap significantly. Here are five findings to use in your negotiation approach:
1. Reframe the conversation: Mazei's research indicates that due to a societal understanding of women as nurturing, women in negotiation are more effective when they consider the idea that they are working on behalf of someone other than themselves. When women come into a negotiation with a supportive notion that they are fielding a larger purpose, such as getting more for their team or even fighting gender inequality so that the next generation will get a fair shake, they tend to be more effective in negotiation.
2. Get used to the bargaining table: Like anything else, negotiation takes practice. Because, perhaps, gender bias perpetuates the attitude that it is unseemly for women to engage in negotiations, men generally have put a great deal more time into it. This lack of experience, however, is a large factor in the imbalance between men and women in this area. Getting as much negotiation experience as possible will help even the odds significantly. Practicing bargaining with others in simulation on a regular basis can have a very positive effect on the real process.
3. Informational gathering including salary transparency: Having all of the facts surrounding a position may be even more crucial for women in negotiation than it would be for a male candidate. According to Glassdoor, when women know the specific salaries, for example, of those that work in comparable positions, they have an improved ability to negotiate more equitable compensation. Indeed, companies that practice more transparency in salary have been shown to more actively lessen the wage gap in their workplaces. In addition, Mazei mentions, not only do women feel more confident in negotiation when they have this kind of information, because it is not subjective, it is easier for women to reference a concrete number without facing adverse reactions from men who might otherwise feel their authority challenged.
4. Control your visual cues: Understanding how you are presenting yourself when in an interview is obviously very useful. Some tactics that have been suggested when it comes to body language that helps women in negotiation is to make regular eye contact. Also, make low broad gestures that originate from the shoulders instead of at the elbow; this is something that expands your body allowing you to take up space more effectively. Making sure you are presenting yourself in a position of strength is something that male negotiators do regularly and should be a common practice for women as well.
5. Think about your word choices: According to executive speech coach Darlene Price, aspects of vocal inflection like upspeak can undermine the idea that you have confidence in your statement. So can putting qualifying words on the ends of otherwise concrete statements; it creates the impression of hedging. If you find you are adding phrases like, "Do you agree?" or "Right?" unconsciously to the end of statements, it is not supporting your cause and promotes the idea that you require validation for your thoughts.
It's unfortunate that women need to work harder than men in the current system to achieve something as basic as salary equity, but many do. Employing negotiation tactics like these can help women to reach this desired reality more quickly.
About the Author
Sierra Skelly is a creative writer and marketer from San Diego. She loves red wine, black coffee, and chilling murder mystery novels with a strong female lead.
The opinions and views expressed by guest contributors are their own and do not necessarily reflect those of theglasshammer.com