Mover and Shaker Q&A: Alpa Lally, Vice President of Data Business, Experian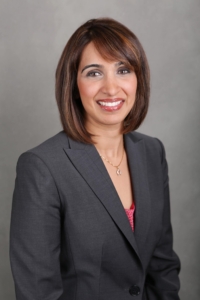 Alpa joined Experian in 2012 as an MBA program participant after initially working in the civil and structural engineering field in Canada and the US. After completing her program rotation she joined Experian's North America Consumer Information Services (CIS) business as a Director of Prospecting. In 2015, Alpa joined the Global team as a Vice President of Strategy and in 2016, she joined the EITS organization to lead the Application Programming Interface (API) Centre of Excellence team. Most recently she joined the Experian Consumer Information Services to run the Data Business in North America, where she is responsible for product management related to Experian's core and alternative data assets, including credit scoring models and tools. Additionally, Alpa is the Women in Experian (WiE) EITS ambassador, the sponsor of the Namaste Employee Resource Group (ERG) and is considered a thought leader in the industry by participating in speaking engagements globally. We caught up with her to learn how she is helping consumers gain access to the financial services that they need in her role at Experian.
TGH (theglasshammer): What are you working on right now?
AL (Alpa Lally): I oversee the products and scores at Experian. I feel lucky to be helping people access the credit they need while helping lenders make smarter decisions. We recently launched Experian Lift, a new scoring model that helps lenders score credit invisibles and people with a limited credit history. For the 40 million people who are currently viewed as unscoreable to a lender, this is a big deal. People who are new to this country, just getting their financial feet wet, or are recovering from a significant life-changing event may not have the traditional credit history typically used to assess creditworthiness and Experian Lift is our latest example of our commitment to help them get access to the financial services they need.
TGH: Where does your passion for this topic come from?
AL: My passion for improving financial access really comes from my own personal experiences and challenges that I have faced with credit access. I'm originally from Canada and immigrated to the U.S. When I moved, none of my positive credit history came along with me, so I had to start building my credit history from scratch. Proving you are a good credit risk to a lender when you have no traditional credit history is a real challenge and it's a reality many people face.
Later in life, I also went through a major life-changing event: I got a divorce. This meant I was removed from joint credit accounts and was facing a lot of new debt. Because of these major life events, there were times that I had to rely on alternative forms of lending with high interest rates since I did not qualify for traditional, more affordable credit. My experiences fuel my passion to help people get the financial services they need when they need them.
TGH: What is the biggest challenge you face in your mission?
AL: One of the biggest challenges we face in the mission to improve financial health is that there is still a certain level of hesitation people have in sharing their own data. From where I sit, I've seen the benefits sharing data can have on a person's ability to access many of the things we take for granted in life, such as qualifying for a loan for a new car.
As our technologies continue to evolve, I am able to see firsthand how sharing additional data has impacted many of the one million customers who have signed up for Experian Boost since we first launched six months ago. With this new product, for the first-time people have the opportunity to contribute information directly to their credit report. I've seen how many have boosted their score instantly by adding their positive cell phone, cable, utility and mobile phone payments to their report. As this trend continues and we see new tools like this creating a meaningful impact, I think more and more people will understand the value sharing data can create in their own lives because it not only has the potential to increase your credit score, it can allow consumers to get better access to credit for things they might need, like a car or personal loan.
TGH: What is your most recent success?
AL: I'd have to say my role in helping launch Experian Lift and its go to market strategy and the continued support of Experian Boost are my most recent successes. I feel good about these initiatives because an individual has never been able to directly impact the information included on their credit report until Experian Boost. Being a part of this groundbreaking tool was a proud moment for me both personally and professionally. Because it was such a new concept, there was a lot at stake, and we were unsure how people would respond. The results we've seen to date confirm that when we put financial health the heart of what we do, we have an opportunity to make really amazing things happen for people and businesses.
TGH: What is the one thing you know now that you wish you had known when you were first starting this endeavor?
AL: It is okay to stumble, and you will. No launch, pitch, or new innovation goes off without a hiccup or two so your ability to push forward is vital. To achieve this, you need to have constant feedback and a team that is in it together.
TGH: What is your advice for other women who have a challenge they wish to pursue?
AL: Go for it! I think as women we tend to overanalyze and overthink our actions. There's never going to be a perfect time to pursue a challenge or a new endeavor. Women should also feel empowered to look for mentors and successful professionals in the industry and ask their advice. I've gained a lot from being mentored and mentoring others. In either situation, I always have key takeaways that I find help me both personally and professionally.
I also recommend getting actively involved at your organization. At Experian, we celebrate the diversity of ideas and backgrounds across our company. I have actively embraced our Employee Resource Groups and participated in events and initiatives such as International Women's Day, Diwali, Lunar New Year, Hispanic Heritage Month, Pride and Veterans Day, among others. These employee groups are a great place to feel a sense of belonging and connect with people across the company with different backgrounds. It can be really beneficial to have these networks and relationships in place throughout your career as some of these people will be the ones you go to when you hit roadblocks and need help or advice.