Voice of Experience: Kimberly Smith, National Co-Chair, Private Equity, Katten Muchin Rosenman LLP
As Kimberly Smith has moved up in the legal profession, she's also advanced her belief that along the way, it's vital to be true to yourself.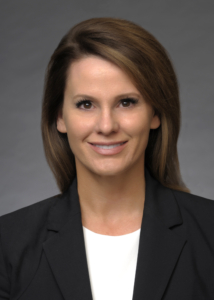 "When I started my law career I often heard this advice, but it took years of experience as a professional woman at a law firm to truly appreciate it," she says, adding that she has seen situations where people were trying to be someone that they thought they should be, and the lack of authenticity was clear. And, as she has learned, success is not just about being smart and working hard.
Owning her Career
Of course, Smith is both those things.
Smith first joined Katten as a summer associate with a passion for the law. Upon graduating from Georgetown University Law Center in 1998, she returned to Katten as an associate and became immersed in the dot-com bubble and the funding of IPOs in record time for internet startup companies.
And then the bubble burst. She credits her "trial by fire" experience in the dot-com world with teaching her how not to approach deals. Now, she prefers to dig in to discover and address her clients' long-term objectives, not just their immediate needs. In the aftermath, Smith easily transitioned to M&A work in many industries, including healthcare.
Her success led her to be promoted to partner in 2006. After a five-year stint at another law firm, she rejoined Katten in 2015 as co-head of the nationwide Private Equity practice. "There were many compelling reasons to return to Katten. It provides a strong platform with phenomenal specialists with robust experience, and one of the strongest healthcare regulatory practices in the industry," she explains. Smith has been back three-and-a-half years, enjoying the intellectual charge of working on complicated deal structures and working closely with tax partners to find new ways to accomplish client goals that might seem impossible at first glance.
"My clients are under a lot of pressure to get the deals done quickly, and in cases where the other side won't budge, I need to figure out how to bridge that gap," Smith says, adding that one of the best parts of the job is the relationships she has built with repeat clients.
"I might work with an entrepreneur very closely as they sell their business and then I'm finished working with them. But with a private equity fund, I might work on their deals for 20 years so we get to know each other and work together well. Time and again I come back to the fact that the intellectual challenges and personal relationships are what make my job so wonderful."
Taking Advantage of Every Opportunity
Smith shares that she came in to the working world with mindset familiar to many—that if she was smart and worked hard, she would be successful. "I wasn't prepared for the fact that in every organization, it takes more than just hard work. In order to really start climbing the ladder you need take advantage of every opportunity from mentoring and networking to developing business to seeking out leadership positions."
"It was when I started to engage myself at every level of the firm – with my clients, the leadership, my peers, and younger associates – that I started to get more traction in terms of advancing my career."
Along with that, you have to learn to be comfortable with self-promotion, because it's necessary to put yourself out there and tout your hard work. When she returned to Katten in an authoritative role, she realized that her words carried more weight.
"Women should not be shy about self-promotion. It doesn't mean you have to go on about how great you are. You can keep it very factual and state something that isn't an opinion or a boast. In law, both women and men have to make sure that people appreciate their value," Smith says. So, for example, if you're a litigator who just won a big case, make sure others are aware of your accomplishment.
Integrating Balance
Smith enjoys her position on the firm's Women's Leadership Forum National Mentorship Panel, which consists of more than a dozen women partners who counsel other women with professional and personal advice. Each mentor is profiled so rising attorneys at the firm can choose whomever is the best resource for a particular topic—everything from how to balance work and family to how to develop business.
Outside the office, Smith spends time with her husband Stephen and their two daughters—Victoria, age 11, and Natalie, age 5—and recently enjoyed a vacation to Orlando with them.
She's also recently discovered a new hobby, when last year one of her clients invited her to be on their team to compete in the Spartan Race, an obstacle course that involves four miles of climbing walls, jumping over fire, carrying sandbags and crawling through muddy trenches. "It was a great way to develop a deeper connection to my client, but I was terrified of an obstacle course," she admits. She began training and embarked on a rigorous fitness program that she acknowledges she might not have otherwise started. Although she completed the race a year ago, she's maintained the workout regimen because she realized how much better she felt being active and strong.
"It presented a great turning point for me to make time to take care of myself. A lot of good has come out of that," she said. And Smith adds, nothing bonds you more with a client than being covered in mud. "If I can be a warrior on the Spartan field, navigating the battle field of a transaction should be a piece of cake."