Voice of Experience: Laure Châtillon, Partner and Diversity Leader, PwC France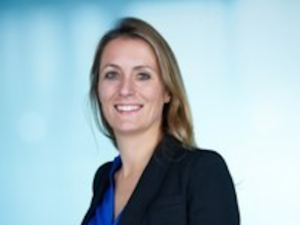 There is a famous book by the French Minister for European Affairs Nathalie Loiseau called
Choisissez Tout (Choose Everything
), where she underscores that women don't have to make sacrifices. There is no standard in life: You don't have to be ambitious
or
start a family, but you have to try before giving up. That has been an important theme in Laure Châtillon's career, as she believes that anything is possible if you do it your own way.
"Early in my career, I had talked with women who said I was a dreamer to imagine that I could have a fulfilling career as well as several kids even if I already knew it was possible," she says, citing her current reality as a partner at PwC France and a mother to four children. "I would love to talk with them and tell them how my husband and I made it work," she says.
Building a Fulfilling Career
That quest to have it all began when Châtillon was attending a French management school and joined PwC France as an intern. After her last year of school she decided to start her career there, joining the valuation team where she valued intangible assets and companies. Except a short time in the leveraged finance division of Royal Bank of Scotland, she spent almost her entire career at PwC France. "I had my four kids within PwC, and it has never been an issue for my bosses," she says.
She was promoted to partner in 2017. "We are transforming business, and we know that business is different every day so I enjoy the constant challenge," she says. Additionally, she was asked to take on the diversity and inclusion subset within PwC France, a new role that has offered an exciting complement to her position as partner in valuation.
A Focus on Diversity
Diversity is a focus Châtillon has always had. "It's not just a matter of philanthropy; our societies are more and more diverse and we really have to be more inclusive if we want to stay up-to-date."
Although companies are increasingly finding that a robust focus on diversity is vital to retain talent, better meet client needs and foster innovation, there is still much to do. Châtillon feels that one way to encourage diversity is to become an active sponsor, as building a group of supportive women will help to retain more in top management levels. Sometimes it can feel like an uphill battle, she says, as she herself has seen many women who attended school with her choose to downshift their careers. "Stereotypes don't come from men only," she notes.
Of course, the ability to juggle work and family is never easy. "The most significant challenge is time, but you learn to find space in your agenda for what matters and then couple that with the trust you can build on your teams," she says.
Furthermore, there is not just one path to success. "Define it for yourself and find your own path to get there," she says. "Never be afraid to think outside the box and do things differently, more innovatively."
One of her most recent accomplishments as diversity leader was starting a women's incubator with soft skills workshops and a mentoring program, along with inspiring events such as hosting speakers like the French Minister of Equality. Châtillon also launched an initiative for gay, lesbians and everyone else, with the hope that it will ease inclusion for everyone working in the company. Lastly, she started different initiatives to attract more people from different backgrounds within the company, with the purpose of being more representative of the society as a whole.
Châtillon's ability to prioritize and juggle has led to her fulfilling career. "My proudest accomplishment is that I've been able to share my enthusiasm for our industry with my clients and team, and still balance a busy family," she says.