Forget Work-Life Balance – Try Work-Life Harmony Instead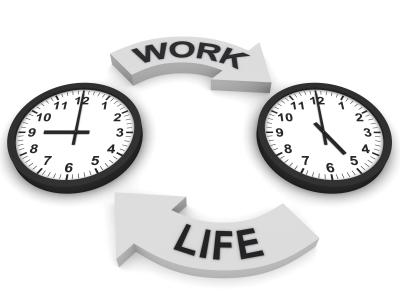 Guest contributed by Rae Steinbach
More than ever, the importance of finding and maintaining a healthy work-life balance is being talked about.
However, at times the somewhat elusive goal of perfect equilibrium between our work and personal lives can seem to be unobtainable, especially in a world where we are constantly connected and always available via various forms of technology.
This availability and connection can obscure the line between work and play. Are you working when you check your emails over a morning coffee before making your way to the office? Is attending to personal needs during work hours your prerogative?
These days, delineating where work ends and your personal life begins is even more difficult. However, you can also leverage the transforming expectations and more easily integrate work with life, and vice-versa. Instead of being concerned with how taking a midday break to go to a workout class will affect your performance appraisal, be more comfortable in embracing how this is important in maintaining work-life harmony and stay later at work that day if necessary.
Explore What Harmony Looks Like
According to some experts, achieving a balance between work and the rest of your life has little to do with an equal distribution of your time. Rather, it is about prioritizing achievement and enjoyment each day. Instead of treating your job as a strictly metered necessity to pay for the other elements of your existence, try aiming for harmony. This means working more when needed to achieve business goals, and switching focus and energy to yourself and family when necessary.
Many of us are already taking this tactic to reduce stress and get more out of each day. A recent survey by Randstad found that around half of us deal with personal matters during work hours and work responsibilities in our personal time. Furthermore, more businesses are happy for their workers to do this, as long as the work gets done.
By allowing for the fluidity of life, we are able to find a more harmonious flow to our day that is also a benefit to the company. For example, prioritizing a morning exercise class can keep our minds sharper in the office, and attending to emails in the evening once our house is quiet ensures we are ready for the next day's priorities.
The Ideal Life
Thanks to social media platforms like Facebook and Instagram, it's easy to think that almost everyone you know is living the dream. The truth is, most of us present our best side to the world and the less attractive parts of our existence are glossed over or completely left out.
While many of us curate the content we expose about our lives, research has found that more than 75% of people on social media lie about their lives. It is helpful to keep in mind that the carefully curated images and updates from others' lives leads to negative self-comparison, and the extent of social media interaction can undermine our meaningful, real-life experiences.
To avoid the negative impact of aiming for perfect balance in our lives and competing with misleading social media updates, it is important to focus on the important things: creating harmony between our work and personal lives, making time for fun, achieving our goals, and acknowledging that the rhythm of our lives has little to do with the lives you are viewing through the filtered lens of social media.
Don't get hung-up on a perfect work-life balance. Instead, dance to your own tune of work-life harmony. Integrating the two creates a healthier coexistence that will let you thrive more easily in both aspects of your life.
Disclaimer: The opinions and views of guest contributors are not necessarily those of theglasshammer.com