Voice of Experience: Elizabeth Martin, Partner, Goldman Sachs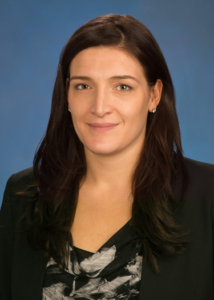 By Cathie Ericson
"You have to be the author of your own path, and realize that you are going to do your best work when you are passionate about your goal," says Goldman Sachs' Elizabeth Martin.
Throughout her career, she tended to take career risks by shifting towards emerging problems or business trends versus following the more traditional banking path that had been successful for her predecessors. "It's about ensuring you can make yourself relevant as the markets change, so you can maintain your career trajectory."
Building a Career on Variety and Risk Taking
Martin joined Goldman Sachs in 2000 as a lateral hire from a different bank. "It felt like a big risk to change jobs, but I wasn't being stretched in my first analyst role. I wasn't learning from my manager and colleagues," she says, adding that she realized early on that if your manager is not invested in advancing your career, you're wasting time. "Since that point, I've recognized the importance of working for people who see your success as a measure of their personal and commercial success as well."
Martin got her job in what you might call "the old-fashioned way," passing out her resume on the trading floor at Goldman Sachs' New York headquarters. Proving that even previous managers can be sponsors throughout your career, she was offered a role after receiving a review from her boss at a past internship with a competitor of Goldman Sachs.
For eight years, Martin worked in derivatives trading, a role she loved because derivatives give you the ability to constantly innovate solutions to new challenges facing clients. "Some women shy away from trading roles because they don't see role models in the seats," she says. But she notes, "Trading is about becoming an expert in how to value an asset and predict how the price may change over time. It's a job that facilitates a huge amount of freedom to learn about different markets, asset classes, and emerging global trends, and also trains you in how to take calculated risks in life and in your career."
During the financial crisis, her experience with derivatives and emerging financial regulations led her to shift to working alongside senior leaders to identify and implement a forward-looking strategy to address changes in the operating environment. She enjoyed being in strategy, where she had a seat at the table in adapting the business model to maintain a market leading position for their Equities business. The role also allowed her to engage with people across all divisions of the firm. "Investing in a broad network is critically important to your career. You make better and faster decisions if you have a broad set of perspectives upon which to draw."
Two years ago, Martin joined Goldman Sachs' electronic trading business, where the firm uses technology and quantitative analysis to decide when and where to trade a stock. When an opportunity arose to move to London last year, she jumped at the chance to work and live internationally.
Her career at Goldman Sachs has been varied – from New York to London, with roles in trading, derivatives, management and execution. "If you embrace change, Goldman is a great place to have a career," she says.
Managing through Change in your Career and Life
The changes continue today: Like every other industry, the use of technology and data has altered the role of Goldman Sachs in the markets. Increasingly, trading occurs through a global network that connects clients to the firm and to marketplaces all over the world. She explains that technology has also allowed Goldman's clients to reach places where they do not have a physical location – a game changer in accessing new markets around the world.
Martin notes that following the introduction of MiFID II, Europe has gone through "some of the most transformative market regulations in history," and the result has been large investments in equities and electronic trading to ensure they earn the trust of clients to provide the best possible experience when executing trades at Goldman Sachs. "Markets change all the time. We never have a lack of interesting, global, technical problems to solve."
Just like the markets have changed, so did what Martin wanted from Goldman Sachs throughout her career. "At the beginning of my career, I was more focused on short-term milestones, like the performance of my business that month," Martin says, "but over time, I learned that what I really cared about was the cumulative impact in my life – my career is an important aspect of my life but not my only priority."
Making partner was one of her greatest achievements "because it recognized my contributions to the firm over my career, but also because it happened just after I had three amazing daughters in five years. I'm very passionate about my career and my family."
Martin also knows the value of a family who supports her career. "Having a partner who is empathetic to the challenges of working women and fully supports my ambitions… even if that means he needs to take a share of school drop offs…has certainly been a key ingredient in striking some balance in my life."
A result of her childhood outside of Boston, her favorite way to spend family time is skiing, particularly now that the Martin family can venture across Europe. "Most of my favorite childhood memories are skiing with my family. Exploring the mountains with my kids is exhilarating."