Voice of Experience: Susan Reid, Global Head of Diversity and Inclusion Morgan Stanley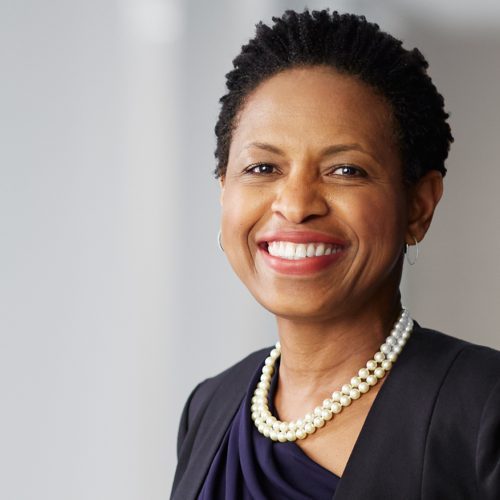 By Cathie Ericson
At this point in her career, Morgan Stanley's Susan Reid says that she understands now more than ever how important it is to build relationships – and that she wishes she had had a more concrete understanding as a new professional.
"Like many younger people I focused quite a bit on building technical skills and getting the work done, but if I had an opportunity to start over, I would focus on cultivating relationships earlier and sustaining those relationships over time," she says.
It's just one of the lessons she eagerly shares with younger women she mentors, as she lends encouragement to their climb in the important financial services industry, emphasizing its role as a significant contributor to global economies.
Various Roles in HR Led to Her Passion of D&I
Reid's early career was in education; in fact she was thrilled to join her alma mater, NYU, as a full-time employee immediately after graduating to help build an office designed to help students of color successfully complete their college education. Looking back, she can pinpoint that experience as the start of her interest in diversity and inclusion. Stints as an HR professional in recruiting and D&I in various industries followed, and she joined Morgan Stanley in 2008 as an HR Coverage Officer for the Investment Management Business.
Reid joined Morgan Stanley during the financial crisis and says that her ability to help the firm through those challenging times is the professional achievement she's most proud of today. "As an HR professional, you are called upon most during challenging times, and I am proud that I was able to contribute to helping our leaders and our employees successfully navigate that time period."
Today, Reid remains excited about her role leading diversity and inclusion efforts. "It is not a cliché to say that our talent is our most valuable asset because they are," she says. "The work that we do in D&I to help the firm hire, retain and advance a diverse group of individuals who can help the firm succeed while enjoying successful careers is extremely meaningful."
Right now, Reid finds the shifts in demographics that workplaces are experiencing to be of particular interest, based on the implications they have for clients and colleagues of the future. Employees of the future will have different expectations about work and workplaces, and to grow the firm they constantly have to think ahead about who their clients will be and how to best engage with them. "We are in very dynamic times, and we all have the challenge of keeping pace and getting ahead," Reid says.
Helping Women Carve Out Success
Reid is a believer in financial services as an important industry for women. "We offer challenging roles and contribute to economic growth, while also providing individuals with the wherewithal to give back to various communities," she says.
But, she notes, it is also an industry that requires an intense commitment of time, energy and attention, and the many additional demands that women often deal with can create particular challenges.  However, she hopes that as society continues to shift towards greater equity in family dynamics, women will find it easier to have a sustained career in the industry, while continuing to meet their outside obligations.
On that note, Reid mentions her pride in Morgan Stanley's Return to Work Program, which was launched several years ago to support talented professionals who take career breaks but want to return to work.  The program offers women and men the opportunity to spend 12 weeks in the equivalent of an internship and to convert to full-time hires if it makes sense for both parties at the end of that experience. "We have had great success hiring participants into various parts of the firm," she notes.
Reid underscores that it is incredibly important for young women to join the industry and advance to leadership roles. "We simply cannot be on the sidelines of this important field," she urges.
And she reminds her peers that those currently within the industry have a responsibility to help support and advance younger women – to reach out to women of color, LGTBQ women and other women in the "minority" and to intentionally drive their success. 
Reid has a number of passions outside of work, including her family, reading and running – a pursuit she admits she has been doing far less of recently but wants to return to.  She serves on the board of a private tuition-free school in her adopted hometown, Harlem, N.Y. (she is originally from Jamaica), where she and fellow Morgan Stanley colleagues spend time mentoring the seventh and eighth grade girls.
"This experience has reminded me of the challenges that girls, and in particular, girls of color and girls from poor communities, face navigating the world and how important it is to get involved and to stay involved with our local communities and with young people," Reid says. "We have a responsibility to help shape the future, and this experience shows that we can all start right in our own backyards."