Personal Branding Strategy: Why Strong Careers Begin Here
Guest contributed by LIz Harr, Partner, Hinge
You know them. Executives who secure all the media mentions, deliver keynotes at top conferences and attract the best clients. Interestingly, most of these experts aren't much different from the rest of us. In fact, many of them admit that they aren't the smartest or most knowledgeable people in their fields. They weren't born writers. They weren't born orators.
Instead, they climbed to success by developing personal branding strategy with a very specific set of tools, trying and discarding a host of techniques along the way. My firm has produced some powerful research around what helped these individuals reach their respective levels of success and I'd like to share with you what really works – and what doesn't – so you don't have to endure the experimentation others have had to.
What Is a Personal Branding Strategy?
At the heart of their success is a strategy. A personal branding strategy. This is essentially a plan to take your reputation and career from relative obscurity to high visibility. It describes where you stand today and what level of visibility you want to achieve in the future. It lays out the tactics, tools and skills you will need to attain your goal, including the daily content calendar you will follow.
The Five Levels of Visibility
In our research on how personal brands can catapult a professional to higher levels of visibility – and career success – we identified five progressively more visible levels of expertise:
Level 1: Resident Experts. These experts are well respected within their firms and by their clients, but they have little visibility outside of those audiences. Most Visible Experts start their journey here.
Level 2: Local Heroes. These individuals are beginning to become known outside of their firms. They are more active in their local business communities, often speaking at business functions and blogging. They may even bring a little new business to their firm.
Level 3: Rising Stars. These experts have developed a regional reputation. They are fairly well known among peers in their area, and they speak and write frequently on their area of expertise. Rising Stars tend to bring in higher-quality business and higher fees.
Level 4: Industry Rock Stars. These names are well known across the nation for their niche areas of expertise. They attract premium clients and fees. As a result, they become significant assets to their firms.
Level 5: Global Superstars. The world's elite experts, Global Superstars have broken out of their niches and household names. They command the highest fees, and firms around the world want to be associated with them.
Your first job is to figure out which of these levels describes you today. Then you need to decide what level of expertise you would like to achieve.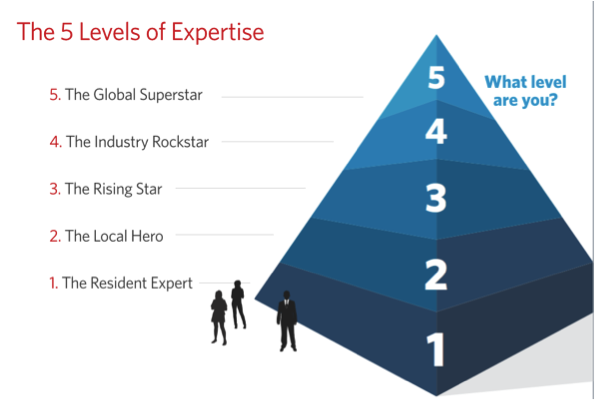 The Benefits of a Strong Personal Brand
As you'll see in a moment when I go over specific tools for building a strong personal brand, it's not for the faint of heart. But there are some very tangible benefits that these experts have realized. For starters, their earnings are higher. The chart below shows the relative billing rates for each Visible Expert level.
Figure 1. Relative Hourly Rates Buyers Will Pay, By Visible Expert Level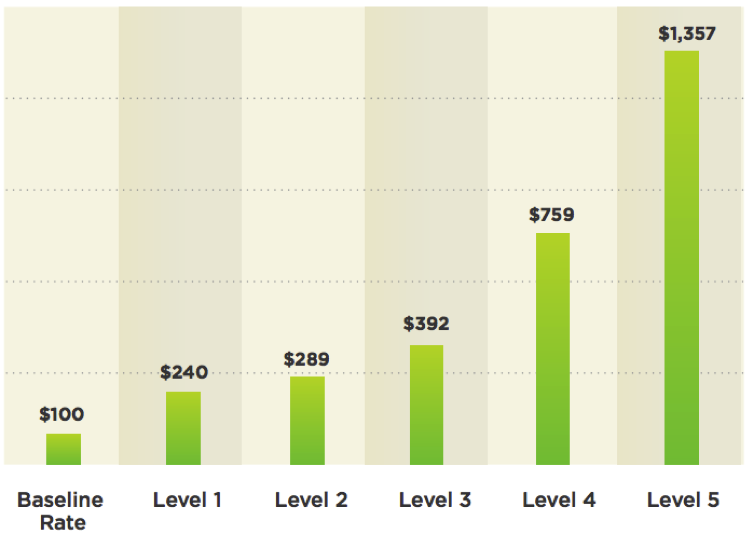 Our research showed that buyers are willing to pay over 13 times more for a Global Superstar than an average professional. But even Level 1 experts hold a significant advantage over their undistinguished brethren.
The reason? Buyers are willing to pay a premium for the confidence that a Visible Expert will solve their problem more quickly and with greater precision. Higher billing rates aren't the only benefit. Here are a few others:
Highly visible experts attract more media attention. When a reporter needs an authoritative quote, they reach out to the experts most closely associated with the issue at hand.
Well-branded experts also are able to secure valuable partnerships more easily, and with more desirable organizations.
They attract better quality clients. In some cases, clients will seek out an expert — cutting out the competitive proposal process entirely.
Experts with strong personal brands also benefit their firms. Their strong reputation often spills over to the organization she works for, which in turn can have a very real effects on a firm's brand and business development prospects. According to our research, about two-thirds of Visible Experts on average have this remarkable effect on their firms.
The 7 Critical Tools for Personal Branding
One of the most important things we learned from our research was which marketing tools have the greatest impact on an individual's personal brand. Here are the top tools from our study, rated on a 1 (least impactful) to 10 (most impactful) scale:
Figure 2. Total Impact of Tools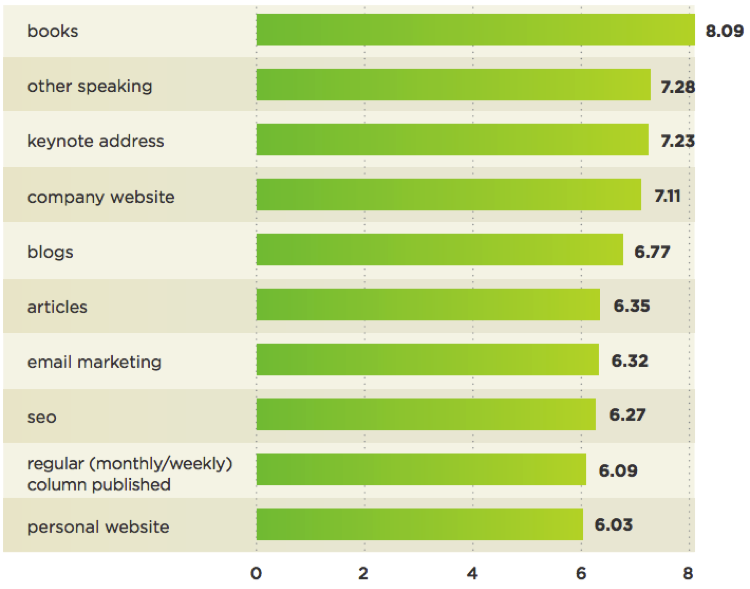 I recommend you prioritize around these seven as you build your personal brand:
A book. Whether you do it yourself or enlist a ghostwriter, you will need to produce a book that addresses your area of expertise. A book is a critical credibility builder and can be traditionally published or self-published. A book can be a heavy lift, so don't feel like you have to tackle it right away.
Speaking engagements. Public speaking is an important platform for building your reputation and personal brand. Audiences are predisposed to trusting anyone who stands at a podium, so just getting there is half the battle.
A website. If you are part of a firm, you'll want to focus at first on your bio page. It should present sufficient credentials to convince people that you really know your stuff.
A blog platform. Every expert should be blogging. It's the most accessible way to demonstrate your expertise. It's also one of the easiest ways to start building a loyal following.
Email marketing service. Email marketing is how you turn people into loyal followers — even raving fans. Using offers to download valuable educational (never promotional) content such as guides and whitepapers, you can entice a certain percentage of your blog readers to opt into your mailing list.
Search engine optimization (SEO). SEO is the tool that connects you to the people who are intensely interested in the problems you solve. And you would never meet 99% of them without it.
A media kit. Experts get requests for bios, credentials and photos all the time. So it makes sense to have those things ready to go at a moment's notice. Even better, put them up on your website bio page where interested parties can find them without asking.
This list, of course, just scratches the surface. There are dozens of tools that you can use to engage your audience. Webinars can be used as a different take on public speaking for example.
One last tip. Our research showed a clear correlation between specialized expertise and length of time it takes to groom yourself as a visible expert. Specialization eliminates the clutter like nothing else, and allows you to forge ahead without the noise that generalized knowledge brings to the table.
Disclaimer: The opinions and views of guest contributors are not necessarily those of theglasshammer.com