Voice of Experience: Jitania Kandhari, Head of Global Macroeconomic Research and Portfolio Manager, Morgan Stanley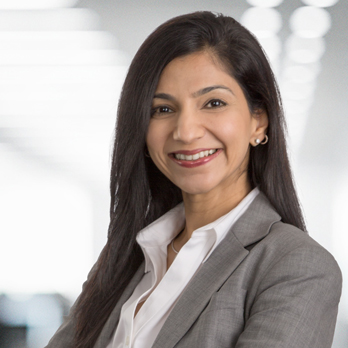 By Cathie Ericson
In the male-dominated world of finance, Morgan Stanley's Jitania Kandhari finds that women's voices can often get muffled in their constant quest for perfection. "Women tend to speak up less as they search for the ideal solution or just the right words, but it's something they can and should overcome," she says. "It's important to have faith in yourself — just join the conversation and own what you say." An encouraging environment with the right leadership and colleagues can be a big factor in the success of women, and in her case, she says that she is very fortunate to be part of a wonderful team at Morgan Stanley that has a strong culture of open expression.
Carving Out a Valuable Role
Jitania hit the ground running, beginning her career as a trainee at the peak of the Asian crisis at Morgan Stanley in India. With jobs in short supply, she moved to another firm that covered Indian equities and subsequently became a private wealth manager for ultra-high net worth individuals, where the seed of her interest in global economics — the linkages between global macro and asset classes — was sown. She worked at another firm in the United States, consulting on Latin American markets, and then came back to Morgan Stanley where the person with whom she'd done her first-year rotation was head of a team.
She joined them as the sole analyst in an emerging market fund and has since carved out a role and built a team doing what she is most passionate about — heading global macro-economic research and recently co-managing the Breakout Nations fund, which is a highly active country allocation fund that invests in both emerging and frontier markets
"Being named as head of macro-economic research for the team was a huge lift in my career and has produced a steep learning curve, which I love," she says. "I have learned more than I have ever learned in any role in my career." For her, one of the most important lessons has been the value of good leadership which goes hand-in-hand with building a high-quality team, along with the more strategic functions of her position.
While active management versus passive management is currently getting a lot of attention, Jitania is confident that active management will reassert its importance. "In my group, we pay a lot of attention to country allocation, as well as stock allocation," she says, adding that their philosophy is that in the developing world, getting the country call right matters as much as the stocks. "We first identify the best countries and then the portfolio managers buy stocks to reflect that country view," she explains.
While she has a mentor, Jitania wishes she had had the benefit of one from the start of her career, having seen the valuable role it has played in shaping her career and helping her identify strengths and weaknesses. She also advises women to keep an eye out for a sponsor, noting that women are adept at working horizontally but shouldn't overlook the need for someone higher up to be guiding and watching out for them.
Advice That Resonates
Jitania has three pieces of advice that ring true at any career stage.
The first is to be a voracious reader, which she says will help you connect the dots in your investment career and better understand the world as one macro environment.
Second, she advises others further along in their career to keep reinventing themselves, as the only constant is change.
And finally she says, "I tell my kids to work harder than anyone else around you, and the rest will follow."
Through internal workshops and networking, she continues seeking advice on her own career, including a recent series on communication training, which has further bolstered her interactions with clients and peers, as well as her own team.
Threading Her Global Interests To All Areas of her Life
Complementing her work with global and emerging markets at Morgan Stanley, Jitania extends that focus throughout the other facets of her life. In her spare time, she enjoys Indian classical singing and dancing, activities she has pursued since she was a child.
Her husband is on the board of the Afya Foundation, a medical supply recovery organization that collects supplies that would otherwise be wasted in the U.S., and ships them to less-developed countries that are experiencing calamities. She would like to take her children, ages 7 and 5, to their warehouse to participate, as a way to bridge her work and philanthropic interests. "I want to make a difference and extend my knowledge and reach to these countries and help a bigger cause," she says.
And the thread continues in her travel with her family, whom she takes to one emerging market each year. They started with India and will visit Egypt next. She is gratified that her kids have inherited her interest in thinking globally. Recently her daughter's class completed a New York neighborhood study, and Jitania was delighted that her daughter selected Greenpoint specifically because it was a Polish neighborhood, where her daughter knew she invested and visited.
"My goal is to give them those experiences that I live and breathe," she says.