Op-Ed: What I've Learned as a Woman in Technology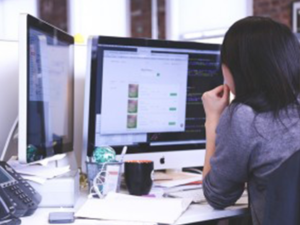 By Avis Yates Rivers
As a woman and leader in technology over the past 30+ years, I have seen a lot. I have witnessed and experienced the tremendous progress we have made. Yet we still have a long way to go to reach an equitable playing field in attracting and retaining more women in technology. Not to mention, leading!
It is undeniable that women leadership has had a successful impact in the world of business. Currently in the US there are just over 9.4 million women-owned businesses generating revenues of $1.5 trillion — up 79% in nearly a 20 year period. According to Dow Jones Venture Source, analysis of more than 20,000 venture-backed companies showed that successful startups have twice as many women in senior positions as unsuccessful companies. Tech companies led by women delivered higher revenues using 30-50% less capital. They were also more likely to survive the transition from startup to established business.
Yet, the overall percentage of women in technology is woefully low. In 2015, women made up 25 percent of computing-related occupations. The retention rate is even more troubling. In the high tech industry, the quit rate is more than twice as high for women (56 percent) than it is for men.
The sad and hard truth is that Women in STEM also were more likely to leave in the first few years of their career than women in non-STEM professions.
I was fortunate that early in my career I got involved with technology. I worked for Exxon Corporation in NYC in various staff positions and then made the jump to sales — selling Exxon's line of office technology on Wall Street. I immersed myself in the technology, early as it was, and found that I had a natural affinity to it.
More than any other role, Sales prepared me for 31 years as an entrepreneur in so many ways —-it taught me to be courageos and fierce every single day!
These qualities serve me well in my current role as the Chief Executive Officer of TCGi. It is my responsibility to craft the vision and strategy for the firm. I also am chiefly responsible for cultivating and managing excellent client and partner relationships.
Life as a CEO keeps me on the go 24/7, but it is the giving back that completes the circle. Sharing the experience of my journey, lessons learned, successes and failures with women who are entering the field will help them tremendously.
Being a successful woman leader in technology inspires me to want to see more women of color participate and succeed in this field as well. My work with NCWIT (National Center for Women & IT) supports this desire. I am an active Board Member as well as the National Spokesperson for the 'Sit With Me' Campaign.
Early education is key to attracting more girls, women and people of color to Tech. Another is mentorship and advocacy. Senior Leaders must actively advocate for and sponsor diverse candidates for leadership positions within corporations. With too few women in tech positions and tech leadership roles, it is impossible for girls and women to aspire to positions or cultures where they see no one who looks like her.
Women have made great strides in the workplace today, and we shouldn't downplay this progress (0 CEOs of Fortune 500 in 1996 and 20 years later there are 21). But we need to accelerate progress—and I believe progress in increasing women in leadership goes hand-in-hand with increasing women in technology.
Conclusion
Technology is still a very male-dominated industry. What that means is the technology being invented by largely homogeneous groups (White and Asian males) isn't as deep and rich as it could be. Once women and people from all cultures, ethnicities and backgrounds begin to fully participate in the invention of technology, we will solve societal problems in a mighty way and ultimately change the world!
Avis Yates Rivers is the President and CEO of Technology Concepts Group International, LLC, (TCGi), an asset, expense and procurement management firm. Ms. Yates Rivers has worked tirelessly to increase the development and utilization of minority and women-owned businesses in both the public and private sectors. She has held leadership positions in various supplier diversity advocacy organizations. Ms. Yates Rivers is also a staunch advocate for increasing girls' and women's participation in Information Technology. She is on the Board of Directors of the National Center for Women and Information Technology and serves as the spokeswoman for the organization's Sit With Me campaign.
You can learn more about the lack of women in technology and Avis Yates Rivers by purchasing her book 'Necessary Inclusion: Embracing the Changing Faces of Technology' which will be in bookstores and online in early December.
Save