Voice of Experience: Daria Rippingale, CEO, BillPro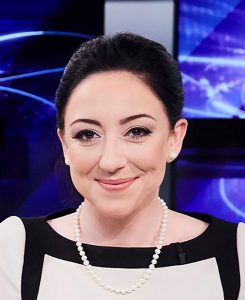 By Cathie Ericson
"When you're first starting out, knowing the people above you have much more knowledge and experience can feel intimidating," acknowledges Daria Rippingale, CEO of Australia-based BillPro. "But I realized at a young age that one of the best ways to really learn is to dive in and give it a go. When looking back, I feel this has been a significant factor to the acceleration of my career."
If ever faced with a task where she may feel daunted, Rippingale says her strategy is to just jump in. "Experiencing fear or anxiety about taking on a new challenge is not a weakness. It's what you do about it that defines you. Holding yourself back is not beneficial to anyone. You need to be focused; stay in your own lane; and be aware of your individual skills and contributions. Then push yourself forward with confidence," she says.
Jumping in To Build the Career She Wanted
Rippingale has definitely never hesitated to jump in. She always knew she wanted to be a business leader, having grown up with a strong role model in her mom, the National Director of the Health Department in Australia. She started as a digital marketer in the gaming industry exploring metrics, and then moved to the payments department where she managed the money coming in and out of games.
"I realized how much I enjoyed working in finance and wanted to stay involved with payments. So I found a payment startup, knocked on their door and introduced myself, and that was the start," she says.
By the age of 26 she was promoted to CEO, overseeing 14 men, all of whom were older than her. "I was aware that taking on this position at my age would come with certain challenges, but I'm a solution-oriented person; I knew I would figure it out," she says. And that she did, expanding into Canada, Hong Kong, the United States and throughout Europe, transforming the company into a global financial institution.
Over the years, the industry has expanded, in large part because of the ubiquity of social media as well as the global nature of business. "It used to be a big leap to think about doing business with someone in the U.K., but having everyone connected has had a huge impact on business." For example, she now works with lots of U.S. companies, where even three years ago, the prospect of billing internationally sounded like a logistical nightmare. "Geographical boundaries are disappearing as a barrier."
Success is Never Based on Gender
Rippingale has been aware of gender barriers over the years, but believes most are self-made. While she sees how women may be intimated, that's never been an issue for her; in fact, she says she relishes these perceived "gender barriers" because of her personality. "I enjoy when a man is condescending; it makes me instantly know they lack self-confidence, and I won't waste my time with them," she says.
Women have to stop thinking about gender and just focus on their capabilities. "In my company your value is in what you contribute. We don't have men and women; we have a team of ambitious and intelligent individuals who each contribute to the positive corporate culture we've developed. It has nothing to do with gender."
Although today's payment companies are in many ways the new iteration of male-dominated banking, the men she deals with now are "younger and hipper." That means that while it's still a "boy's club," she finds this younger generation to be easier to crack as a woman — dealing with peers who are more enlightened than the gatekeepers of old.
"When I started in the gaming industry there were 53 guys, and three women: the "model," someone in customer service and me doing analytics. I spent three days feeling diminished and decided I was done with that: I was here to achieve and moved on to do that."
Women Uniquely Qualified for Startups
Women and startups are an ideal match because of natural personal traits that women exude, from their capacity for multitasking to their propensity to display grit – the ability to bear and get through challenging situations.
Where others see inequality, she is impressed with the amazing strides women have made: Considering that women in her grandmother's generation didn't even work, she views as incredible the rise in stature women have achieved, with essentially a history of only 50 years in the workforce.
"The women I have hired are all very successful and very confident; I tell them to be empowered by that success, to always remember how they got to where they are."
A Role Model and Champion
Active in a Women in Payments group, Rippingale is also highly involved in one-on-one mentoring to help women just starting in the industry.
She also is an avid supporter of the fact that it need have zero impact on a woman's career when she has a child. "We are a digital business, and I have built the company to offer great maternity and paternity leave, with multiple options for how we make it work."
Some women might want a home office to help them get back in the groove before they return and others may need increased flexibility. The company offers a reintroduction program and employees are encouraged to stay involved as much or as little as they want while they are out.
"I've been on the journey with friends and family when they were making this life-altering transition. I can only appreciate just how hard it would be to take your head out of work mode, care for a baby and then jump back in. I have great respect for any woman (or man) who is juggling the work-life-family balance. As a CEO, I think it's imperative to set the standard by providing the required support and flexibility to allow them to continue a thriving career alongside their new family priorities."
Making Friends Wherever She Goes
With all the travel she does for work, Rippingale enjoys developing friendship circles around the world. "I love meeting people and learning about their culture, their stories, and the nuances that make them unique." In what little spare time she has, she enjoys learning languages and experimenting with cuisines of the world. "I am obsessed with vegetarian meals and love cooking ethnic foods; it's the perfect complement to my affinity for all things global."