Voice Of Experience: Beth Campbell, Senior Vice President, Citadel Securities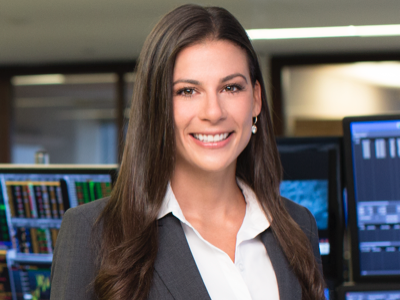 Beth Campbell has spent her career listening, learning and leading. She has built a strong track record of results in a traditionally male-dominated industry, and has done so through hard work and a disciplined focus on building expertise in her field. In addition, one of the keys to her success has been developing as many relationships and connections as possible, and then focusing on both learning from them and keeping them close as part of her personal network. "Whatever role you're in, you can find people at all levels — managers, peers, direct reports and clients, who will be integral to your journey." As she has seen firsthand, these connections will help open doors throughout your career and can ultimately lead you to the perfect role.
Building a Career of Entrepreneurial Ventures within Established Firms
After graduating from NYU Stern, Campbell began her career at Bank of America, handling prime brokerage multi-strategy accounts, a new business for the bank at the time. One of her accounts was Citadel, and her efforts and dedication contributed to the firm inviting her to help launch the sales effort for a new hedge fund administration platform in 2007.
"It was a unique and exciting opportunity to build a new business for such a reputable, respected firm," Campbell says, and the beginning of an interesting career working for "start-up" divisions within the larger firm.
She worked in that business for four years before it ultimately was sold to Northern Trust.
She then worked briefly in business development at another hedge fund, but a year later returned to Citadel as Head of Sales for a technology business within Citadel.
"I had loved working at Citadel and helping to build a business for the firm before, and because I kept the relationships strong and doors open, Citadel invited me back to lead the sales effort for its technology business at the time," she says, ultimately handling it for over three years.
In 2015 Campbell was internally recruited to work on the FICC Sales and Relationship Management team at Citadel Securities, the firm's market-making business, which was another new venture for the firm. Launched in late 2014, it rapidly ascended to top market share, becoming a top 3 dealer of USD interest rate swaps on the Bloomberg SEF (the largest trading platform for those products) in under a year. Campbell needed to learn the business in short order to make immediate inroads with clients and prospects.
Skyrocketing Growth
Citadel Securities' fixed income business has seen tremendous growth in the past 18 months. In response to client demand, in less than two years the division has expanded from a single product – vanilla U.S. dollar interest rate swaps (IRS) – to a fuller fixed income offering, including an array of USD IRS products, EUR IRS, U.S. Treasuries and CDX. The team continues to aggressively roll out new products, including a comprehensive product pipeline for the year ahead. "Our greatest successes come from listening to our clients, which helps us develop products that meet their liquidity needs," Campbell said.
The FICC market making business brought on hundreds of clients in what she calls an "intense, challenging, but successful first two years." Its efforts were recognized when Citadel Securities was named "Interest Rate Derivatives House of the Year" by both IFR and Risk Magazine, the first time that these prestigious honors have been awarded to one firm in the same year. "It's exhilarating to be part of the team that has earned such notable recognition in such a short period of time," she says, adding that she feels proud to work with a team comprised of several women in senior roles and benefits extensively from their experience.
The industry as a whole is evolving, as fixed income markets continue to transition to electronic trading. This trend plays to Citadel Securities' "sweet spot," she says, giving the firm an edge over traditional market participants.
Confidence That Comes with Experience
Looking back on her career, Campbell says she wishes she had always been as confident as she is now, though she realizes that comes with time, as you hone your expertise.
In a traditionally male-dominated industry, women have to learn to find their voices and expect to be treated as equals from the outset. According to Campbell, one of the keys to professional growth is conducting yourself with honesty, integrity and passion.
"The key is to find something you really care about so you can be authentically passionate," she says. "Think long and hard about the roles you take and leverage mentors who can help you make the career choices that are the best fit for you."
A Satisfying Life Involves Interests Outside of Work
Campbell says it is important to find a firm that supports you both inside and outside of the office. Whether training for a marathon or planning a wedding, she appreciates the flexibility that Citadel has always provided. "Ahead of my wedding last year, I was juggling hundreds of new clients and looming projects, but the firm still gave me the time I needed," she said.