Voice of Experience: Susanna Charlwood, Partner, Shearman & Sterling's Litigation Group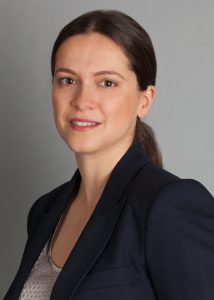 While it's easy to lament the disparity between the number of men and women in senior positions at law firms, Susanna Charlwood says that it does have a positive effect. "Since there are fewer senior women, it can help you stand out". That attitude has been a source of confidence as she has built her career. Charlwood adds that she has not encountered difficulties or been treated differently as a woman in law.
Charlwood began her career at one of London's "Magic Circle" firms and joined Shearman & Sterling three years ago as counsel in the Litigation Group. She was promoted to partner at the end of last year.
A Time of Change in the Field of Law
Currently Charlwood is involved in the final stages of a two-year investigation into certain activities at a European bank. Assisting clients in long term projects and counselling them through difficult times is something she particularly enjoys about her area of the law.
Contentious antitrust is an area where there has been significant recent legislative change in the UK. "For the past year or so we've been dealing with a lot of queries as our clients seek clarity on the implications of this new framework for them. The idea of the changes was to facilitate the recovery of damages for breaches of anti-trust law, bringing our process closer to that in the US. We are now waiting to see the effect of these changes."
Lending a Helping Hand
Reflecting on her career, Charlwood remarks on the importance of building your network from the outset. "As well as being a great lawyer, it is key to understand the value of professional relationships and invest in making and maintaining them." She recalls how many of her peers left private practice after a few years, and several today hold senior positions in the legal teams of major banks.
Charlwood also observes that junior lawyers sometimes are unaware of the scope to impress. "As the junior member of a team it may sometimes feel like you are not noticed, but you are – both internally and by clients. I have often had clients comment at length on how pleased they have been with the work done by particular associates."
Charlwood says that while the number of women in senior positions in private practice may not have changed very significantly during her career, her impression is that there has been an increase in women in senior positions at her clients. She also comments that there is a lot more being done to encourage and facilitate women in pursuing long term careers at law firms. She says, "There are so many fabulous young women working at our firm and I really hope to see them flourish. I believe it's my responsibility to them to help them fulfill their capabilities and to navigate the particular challenges that women may face in managing work and family."
She believes it's important for more seasoned women to show they can be dedicated to and successful in their job but also have a balanced life. "We have to model work/life balance so younger women see it as something achievable and enjoyable."
Shearman & Sterling has many formal programs but Charlwood comments that informal mentoring relationships can be equally important. The advice she gives to younger women is, if they enjoy the profession, to have a plan and work towards it. "Be strategic, be confident and seek out opportunities."
A Supportive Family
Charlwood's husband is also a lawyer and so understands the demands of the profession and is very supportive. She also has a two-year-old daughter and says she feels having a family has increased rather than undermined her professional confidence. "You have to be very organized and efficient but, somehow, I feel the different perspective being a mother has brought me has been a positive thing professionally."
Save
Save