Voice of Experience: Jennifer A. Johnson, Partner & National Leader, Risk Assurance Services, PwC Canada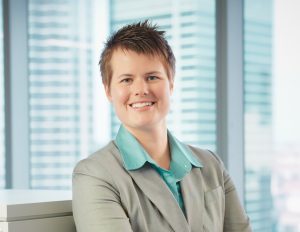 "Diversity of thought comes from having a diverse set of team members – so you have to attract and welcome them so they feel valuable and heard," Johnson says. "Although there are not many GLBT partners at PwC Canada, my visibility sends a clear message to staff at all levels that you can be your authentic self. I've had men and women say that seeing me and my example has been encouraging to them; that they feel PwC is a safe place to be out and it won't negatively impact their careers. I've personally found PwC to be very open and welcoming."
Successfully Climbing the Ladder at PwC
As national leader of the Risk Assurance practice in Canada, Johnson oversees about 400 risk professionals across Canada and works with peers across the world. A "lifer" at PwC, she joined the Hartford, CT, office at the age of 22, spending her initial four years largely on the road for client work and enjoying the travel experience. She came out during that time, and decided she wanted to try a bigger city with larger clients, more specialized practices and a more liberal culture. She spent the next six years with PwC US in Boston in the same practice area, ultimately becoming a director.
Her girlfriend at the time, now her wife, Ashleigh, was from Toronto and they moved there due to Ashleigh's desire to obtain an advanced degree and the fact that gay marriage wasn't yet recognized nationally in the United States. Johnson took an international transfer in July 2008 as a director and became a partner in 2012, ultimately becoming the national leader Jan. 1, 2016.
Johnson says that is the professional achievement she is most proud of so far, being asked to take on a national leadership role only 17 years out of school and also while juggling a young family at home.
"I'm excited to continue to see the practice evolve as we think strategically and help shape a refreshed vision. My goal is to motivate and drive the entire practice and support the personal growth and achievement of each member," she says. "Some people are wary of the idea of change, but it drives me."
Much of that constant change is evident in the dynamic, evolving nature of the spectrum covered by the Risk Assurance practice, helping clients identify, understand and manage risk from regulatory compliance to environmental and technological issues. Her team needs to stay on the forefront.
Setting Yourself Up for Success
Johnson says she always saw herself as a "Type A" personality with a long-term plan, but she now sees that it's impossible to predict what's going to come your way and doggedly pursuing a focus means you could end up with blinders on.
"Interesting things that weren't even on your radar might appear, and you might end up disregarding them if you aren't open to the possibilities," she says, citing the opportunity she seized in Toronto. "Moving to another country meant I had to join a new team where I had to re-establish myself and work my way back into a position to be seen as having partnership potential, yet it's one of the best things I've done."
It can be a challenge for women to step up and take opportunities when they don't believe they have all the necessary attributes, but that can hold you back.
Earlier in her career, she herself felt that she had demonstrated she was ready for the next promotion even before the traditional time table, but she says that the one step she missed was asking. "I didn't receive that first promotion and was devastated, but in hindsight I believe I probably should have advocated more and been more vocal." Even today she reminds her peers to make sure they're advocating for themselves within the partnership.
She recommends that young women (and men) see themselves as sponges, to take in all the people they meet and models they can emulate. "You will look back and realize that you have learned so much about your career, and yourself personally — what you're good at and what you're motivated by and also what you're not as good at," she says.
A Welcoming Culture
Johnson appreciates the safe and inclusive environment at PwC. She came out in her second year with the firm to the people with whom she worked closely, which was welcome since she didn't have the same level of support from her family and friends. "That gave me a lot of self-confidence that has also paid off in the corporate sphere. I am now more likely to voice my opinion, no matter what the subject."
At PwC, she serves as the executive sponsor of Canada's GLEE (Gay, Lesbian and Everyone Else) network and is an active champion of HeForShe – UN Women's movement for gender equality – for which PwC is a founding Impact Champion. She also participates in the PwC Women in Leadership program that supports female professionals who have aspirations to achieve more senior roles within PwC. The group is sponsored by both male and female senior partners, and they also bring in external female professionals to share their experience and perspectives.
A Life Outside of Work
With three kids, including five-year-old fraternal twin daughters Teagan and Quinn, and a 12 week old son, Logan, Johnson appreciates the support of her wife Ashleigh, a nutritionist and stay-at-home parent.
A big believer in finding time for family, career and self; she tries to structure her days so that she begins with some time at the gym for herself, goes to her busy workday, and then arrives home in time to read stories and put the kids to bed.
"You need to know your limits and protect your family and 'you' time," says Johnson.
Save
Save