Voice of Experience, Hila Goldenberg, Head of Ultra – High Net Worth Clients in Israel, UBS Wealth Management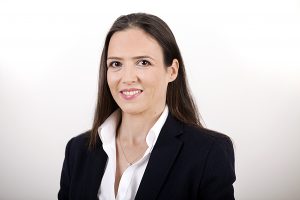 By Cathie Ericson
"Ask for more," advises UBS' Hila Goldenberg. "Women often expect to be promoted or be included on a high-profile project, but are too shy to speak up and ask for what they want. It won't just happen; they need to ask for professional development and define their career goals, then express these plans to their superiors as they strive for more."
Throughout her career, Goldenberg has seen the benefits of being open about a desire for increased responsibility. She began her career at a law firm in Israel and then went to work as an assistant to the General Director for the Israel Antitrust Authority, a unique experience that allowed her to meet a wide variety of business, parliamentary and government leaders.
Realizing she had an interest and aptitude in business, she went back to school and earned her MBA at INSEAD in Fontainebleau and Singapore, ranked as the best global MBA program in the world. After graduating, she joined Citi Private Bank in London as part of the team that covered Israel, later moving back to Israel when they opened an office there. She stayed there until 2014 when she was invited to UBS to form and lead its ultra-high net worth team in Israel.
Helping Her Clients Make a Difference
This decision to join UBS to start a new venture and create a new coverage team is a professional achievement of which she is particularly proud. In her role, she is able to help wealthy individuals with a full array of services far beyond asset management, everything from philanthropic endeavors and impact investments to next generation wealth transfer and art selection. "We are partners in their endeavors and work with them to help develop the legacy they want to leave, such as creating a tangible impact on society or helping disadvantaged socioeconomic groups," she says. "Many have concerns that the next generation must not rely solely on the great wealth they are inheriting. We advise them on best practices for setting personal and professional milestones and provide assistance on structuring their wealth for the generations to come."
The other part of her role that is meaningful to her is overseeing the Social Impact Bond UBS has launched in Israel to help fight diabetes. The funds will be used to identify and work with high-risk populations on lifestyle changes they can implement to help prevent diabetes, work that she says will make dramatic differences. "Impact investing provides a vehicle that has a social effect and also offers solid financial benefits for investors," she says. "We have seen much interest from clients in this theme."
Diversity Creates Success
Goldenberg has been involved in an annual Women in Wealth networking forum at UBS that allows participants to learn about other cultures and best practices. She appreciates that UBS has a focused emphasis on diversity and inclusion and views it as an asset in the organization's recruiting endeavors. "Whether it's diversity of gender, culture or even just a different educational expertise, such as arts and sciences, we look to hire people from various backgrounds," she says, adding that the goal is always to look at the individual to find the best talent.
"We benefit from these different viewpoints because they lead to more quality decision making as we consider perspectives of people who can share a broader variety of input," she says.
Travel as an Integral Part of Work and Family
With a partner and two boys, ages three and four-and-a half, Goldenberg strives to balance the challenge of a successful, fulfilling career with the needs of her family. Her position requires extensive travel, so while she finds it hard to leave, she is proud to articulate to her family that she loves what she does, even though she misses them.
And they are able to share in adventures with frequent travel as a family, both around Israel and abroad. They take a trip to Asia every year and are currently preparing for a trip to Thailand. "We love discovering different cultures and history and immersing ourselves in the entire experience," she says.