How Digital Could Deliver Workplace Gender Equality in 25 Years
By Aimee Hansen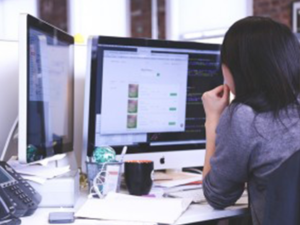 An increasingly digital workplace may have brought debatable impacts such as the 24/7 work week and scattered listening, but according to Accenture's latest findings, it also has the potential to bring global workplace gender equality a lot closer to reality.
Earlier this month, we wrote about how the United Nation's International Women's Day 2016 effort emphasized accelerating gender equality. A new report from Accenture entitled "Getting to Equal: How Digital is Helping Close the Gender Gap at Work," asserts that digital is a key factor in accelerating gender equality in the workplace.
Accenture's report finds that doubling the pace of "digital fluency" among women could double the speed of gender equality at work.
Rather than waiting until 2065, doubling the pace at which women become frequent users of technology would bring workplace gender equality in developed nations by 2040.
Rather than waiting until 2100, workplace gender equality could be brought forward in developing nations by 2060.
The Relationship Between Digital Fluency and Gender Equality
Accenture's report comes as global talent shortages are being highlighted by the World Economic Forum as well as Manpower Group, while women remain an underrepresented presence that could become part of an evolving and flexible workforce increasingly enabled via technology.
Combining survey data (nearly 5,000 men and women in 31 countries) with published data on digital usage by country to create an econometric model, Accenture analyzed the effect of digital fluency on gender equality throughout the career cycle for an individual. Researchers also looked at the relationship between gender equality and digital fluency across nations.
In their report, digital fluency was correlated with women's career achievement. The U.S., Netherlands, UK, and Nordic countries have both the highest digital fluency and rank among the top performers in workplace equality.
Large gender gaps in digital fluency exist in Japan, Singapore, France, and Switzerland, and closing them would increase gender equality in the workplace.
In countries like India and Indonesia, generally low levels of digital fluency, and gender gaps within them, are holding back women's progress.
Nations like Saudi Arabia and Japan illustrate that digital fluency is not the only factor at work, since deep-seated cultural factors also hold gender gaps wider than expected based on the model.
Though it may be argued that over time digital, and its ability to amplify the voices that are so often disenfranchised, could play into challenging the cultural factors that disempower women.
Digital Fluency as an Accelerant, Especially For Women
Accenture concludes that digital skills are helping to narrow the workplace gender gap and level the playing field and that digital fluency acts as an accelerant in every stage of a woman's career from education and employment to advancement because technology removes many of the barriers that prevent women from working more flexibly. Digital fluency helps men and women but the
the researchers of the report found that being digitally fluent held even stronger positive effects for women than for men.
Accelerating Education
The report showed that when men and women have the same level of digital fluency, women have achieved a higher rate of education.
Women are not simply becoming better educated than they were before. They've become better educated than men in 16 of the 31 countries.
Digital fluency played the greatest role in enabling women to access education in developing nations – with 68% of women saying Internet was important to their education (versus 44% in developed nations).
Accelerating Employment
Digital fluency allows for more flexibility in the workplace, which is helping to close the employment gap between men and women in many countries, as more women are more able to find and participate in work.
The report found that "While men and women alike are liberated by the balance that work flexibility affords, women appear to derive greater value from it."
In the survey, 72% of women (and 68% of men) said that women's employment opportunities increase as digital fluency increases, with nearly half of women reporting they used digital to access job opportunities and work from home.
Accelerating Advancement
While digital fluency also proved to help accelerate women's career advancement, the relationship was less significant. The report found that "while digital fluency is having a positive impact on pay for both men and women, the gap in pay between genders is still not closing."
What is changing is the expectations that it's possible to close the gap within a foreseeable future, as nearly 60% of Millennial women aspire to be in leadership positions and feel skilled for it, and nearly 3/4 of respondents agreed "the digital world will empower our daughters." Mind you, those digitally native daughters with better education than their male peers and expanded access to work of many forms across many countries.
According to Julie Sweet, Accenture's group chief executive for North America, "This is a powerful message for all women and girls. Continuously developing and growing your ability to use digital technologies, both at home and in the workplace, has a clear and positive effect at every stage of your career.And it provides a distinct advantage, as businesses and governments seek to fill the jobs that support today's growing economy."