Rising Star: Kavita Joseph, Lead IT Business Manager, TIAA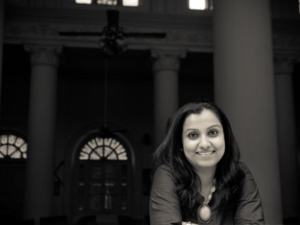 "My primary aspiration in life is to pay it forward," says Kavita Joseph. "Breaking the stereotype takes more than a little nudge and I want to be that voice for women standing at the all-too-familiar crossroads in their lives. My mentors empowered me and I want that for others."
Forging Her Own Path
Joseph, a Lead IT Business Manager at TIAA, had a nontraditional upbringing compared to many of her peers. Although women were encouraged to attend school and have a job where she grew up in India, they were rarely expected to pursue a career. Even in light of this cultural challenge, Joseph was successful in overcoming the stereotypes and pursing her dream of having a fulfilling career.
"When I was 20, very few girls in India moved out of their parents' homes to live in the big city, but my parents supported my decision to live independently and pursue higher education. I am proud and happy that I was able to break the cycle because it inspired my younger sisters and cousins to do the same thing," she says. "The whole concept was unusual at first. But my proudest realization came years later when I noticed that not only my family, but my small community in general, had turned a corner in viewing women's careers as not just an indulgence, but as something very essential."
Joseph credits her mother for being an exceptional role model. In a society where women were mostly home makers, her mother was the head mistress of a reputable school and also largely in charge of raising her and her two sisters since her father traveled frequently. "Looking back on those years, I can see that my mom was always on top of her professional game, was very sought after in the academia, and through it all she modeled an excellent work/life balance. So growing up as her daughter, observing her tenacity, passion for life and constant pursuit of excellence, influenced me heavily."
Joseph began her career on an inside sales team, which she describes as "trial by fire." "I made the classic mistake of not speaking up enough and owning the outcome. I struggled initially because I did not know how to navigate that. Eventually I asked for help and found my very first mentor. That was the beginning of really understanding and realizing the importance of reaching out, building relationships and that it is okay to step outside of your comfort zone."
After a different role in operations, Joseph joined UBS's Wealth Management division in Marketing Strategy and Development, before eventually moving to IT. She says her biggest accomplishment was being part of the team that built the first mobile platform for UBS Wealth Management's field staff, a disruptive program that redefined the way things were done and won the CIO award for technology innovation.
"Due to security concerns, financial services firms are typically conservative when taking technology risks. It was exciting to find the balance between pushing barriers in providing mobile access and allowing our financial advisors to untether themselves from their desks so they could spend time in front of their clients." Joseph went on to become the program manager until joining TIAA in 2015 in a position in the IT Business Office working on strategic programs.
Mentors Make the Difference
"It was a fairly challenging transition to IT, and I was successful due to my hard work and because I had a mentor who invested in me. Even though my mentor wasn't a tech person, she made sure that I had the support and tools that I needed to make the transition and that made a big difference," Joseph says.
Based on this positive experience, Joseph made a conscious effort to coach and mentor others: to be there for them as others had for her. "Diversity programs are great platforms to meet people and learn from their experiences. When I joined TIAA, one of the first things I did was to sign up as a member of one of the local diversity council chapters. Very quickly, I had built relationships with a number of people outside of my group, and that was an investment that will pay off in time."
She is currently active in TIAA's IT Women's Council and helped to spearhead the launch of an IT Group Mentoring Program. This program facilitates visibility, mentorship and coaching for program participants as they aspire toward growth. Although the Group Mentoring Program only has been in existence for a little more than a year, there has already been excellent feedback from the first group who completed the six month-long coaching cycle. "The program has introduced a positive change in the culture of the organization" she says. "I feel like a proud parent."
Learning to Balance
The Group Mentoring Program is not her only baby, as Joseph also has a five-year-old son. "Work-life integration is all about prioritizing on a daily basis because they are both real commitments. Your personal brand is at play every day. This is something I really appreciate at TIAA – that the culture recognizes you on a personal and professional level."
She and her husband love to travel, but these days tend to stick closer to home, spending time exploring Manhattan and local Jersey haunts together with their son.
Joseph remains active in philanthropic endeavors, sponsoring a program with her family that provides artificial limbs for children in India.
Giving back to others, whether via these activities or through mentorship, is what brings Joseph joy.