Voice of Experience: Marie Louise Kirk, Partner, Goldman Sachs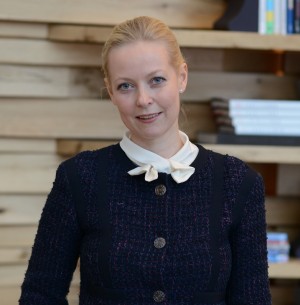 "If you're surrounded by inspiring people, junior or senior, you'll be able to work through complex problems," says Marie Louise Kirk. "They become your source of energy and creativity." She recommends that professionals develop friendships with the colleagues around them and notes that the relationships she has cultivated throughout her career at Goldman Sachs have helped her succeed. "We all have tough days once in a while, but you have to move on and not let those frustrations inhibit your success. My office friends always help me do that," Kirk advises.
As Kirk puts it, she is "Goldman Sachs born and bred," initially joining the firm as an intern. She is now head of FICC Client-facing Engineers for the Americas, responsible for client strategies and solutions. Kirk also serves on the Firmwide Technology Risk Committee and the Securities Division Client and Business Standards Committee.
Originally from Denmark, she was the first in her family to attend university abroad, after being accepted to Harvard. "I come from many generations of Vikings so it was a huge deal when I got a scholarship to attend Harvard from the Crown Prince of Denmark." She also ended up meeting her now-husband as a classmate at Harvard University.
She describes her experience at Harvard as "eye opening and life changing," and now serves as a trustee on the board of the Crown Prince Frederik of Denmark Fund for Harvard University.
Although many companies came on campus to recruit, Kirk says that she was won over at her first Goldman event hosted on campus, because of a connection she made with a senior female professional at the firm. "She was so relatable and passionate about her work," Kirk said. After interviews in Boston and London, Kirk was offered an internship in London on the trading floor. She began working full time as an interest rate derivative trader following graduation. "Trading was at the heart of where things were happening," she says, describing it as very dynamic, though with a steep learning curve, where she received lots of opportunities to learn.
Data Shows the Way
After several years on the trading desk, Kirk realized that she wanted to become a financial engineer because she enjoyed the quant work, but also wanted to work with clients. Reflecting on this role Kirk says, "This is what I'm passionate about."
In 2006, Kirk transitioned to the engineering team, and in 2008 she was asked to move to New York to lend her expertise. She arrived in New York two weeks before Lehman Brothers went under and at the time there was a need for her derivative skill set: "Quant skills come in especially handy in tough times," she says.
In her current job, she appreciates that the role allows her to find solutions for clients – she says she does her best to help clients make money and manage risk and their businesses better.
The advancements in data science and machine learning for how the firm services its clients better are exciting aspects of her work. "We are really figuring out how we can be more relevant to our clients at the right time with the right content." Kirk notes that her team lets "data be a leading indicator to help guide us and give clients the best and most relevant service possible."
Although the firm's risk-management activities have always been driven by data, Goldman Sachs is now starting to apply data to a much larger extent in other areas. Data can create huge efficiency improvements, Kirk says, as well as smarter, more scientific decision-making in areas that were previously driven by more subjective analysis, anecdotes and gut-feeling.
"The change that has taken place in the last couple of years and what's predicted for the near-term is mind blowing," she says. "Through data and technology there will increasingly be ways that machines can perform the more manual functions that humans have had to do. It will allow all of us to focus more on the high-value activities in our business."
Proudest Achievement is Facilitating Success for Next Generation
Kirk says she was proud to be named a managing director in 2009 and partner in 2012, but that she's most proud of her role in building next generation. "Recruiting talented people, coaching them with the right mix of support and push and ultimately seeing them flourish is wonderful," Kirk says. "Helping create the next generation of successful leaders is a true legacy. And now seeing them naturally turn around and start supporting and pulling up the generation behind them makes me even prouder and, frankly, quite emotional."
As Kirk says, "It's gratifying to know there is a virtuous cycle that will benefit generations that will last way past any one person's time at Goldman Sachs."
Savvy Advice on Perfectionism
When asked what advice she wishes she'd known earlier in her career, Kirk notes that no great advice can replace the personal growth that comes from a journey of ups and downs. "No life is perfect. No career is perfect. The sooner you find peace with that truth, the sooner you will find your path to success." She cites Winston Churchill's quote: "Success is not final; failure is not fatal; it's the courage to continue that counts."
She sees that many people in the workforce, especially those of us with Type A tendencies, become obsessed with perfection and the perception of perfection, but she advises peers and junior employees to be comfortable with not always trying to be perfect.
"To be really creative and innovative, you have to push boundaries and give it your all," she says. "You have to keep the right balance between being on your toes, but not so obsessed with perfection or fear of failure that you become scared of your own shadow." Managers are critical in providing the psychological safety to help overcome some of these issues and create an environment of authenticity and ability to be your own diverse self, she says.
Kirk warns that when you apply that same standard of perfectionism to marriage, kids and friends on top of work, you will break.
"If you aim for perfection, you may feel you have to choose between being the best at work and in your personal life and that you can't do both. But if you change your attitude and approach, you may end up doing both better."
Throughout her years at Goldman Sachs, Kirk has been involved in many of the firm's internal programs, and she has found that one element they have all had in common is the social glue of community and connectivity, which have helped her remain excited to go to work every day.
A Full Life Outside of Work
Currently expecting her third daughter, Kirk says she has her hands full with two other girls, ages 10 and 5, and a husband with a thriving career of his own.
Yet she still finds time to nurture girls on the path to STEM careers. "It's upsetting when I see them lean out, and often at such a young age, all because of stereotypes," she says. "It's fine to make a conscious choice at 16, but sometimes they start opting out at age 6 before they understand their true talent and interests."
In her family, it's easy to focus on women who are successful at math. "We good-naturedly ridicule dad, who's not a math guy," she laughs. "For now my daughters think math is a girl thing."