Theglasshammer.com 6th Annual Women in Tech Event: How Pursuing Your Passion and Taking Career Risks Can Help You Thrive
By Melissa J. Anderson (New York City)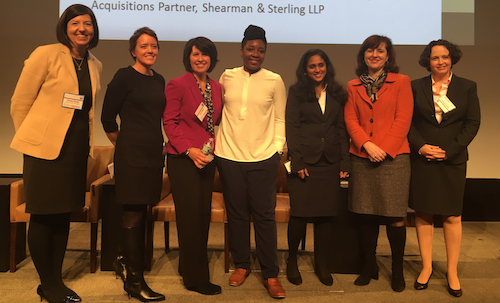 The women speaking at our 6th annual women in technology event last week emphasized the importance of taking risks to advance in your career.
"There is an infinite number of paths to a rewarding career in technology," said moderator Dana Kromm, a senior partner in the Private Equity/ Mergers and Acquisitions practice in San Francisco at Shearman & Sterling.
"It's up to you to pursue your own passion and take your career where you want to take it," she added.
The panelists included Maureen Erokwu, founder and CEO of Vosmap and an advisor to Lesbians Who Tech; Lori Fellela, Senior Director of End User technologies at TIAA-CREF; Mary T. McDowell, former EVP and Head of Mobile Phones at Nokia and now a director on several corporate boards; and Sinead Strain, global head of Fixed income currencies, and commodities technology (FICC) at Goldman Sachs.
They shared stories from their own careers in tech and offered advice to the women in the audience on how to advance and thrive. Several of the panelists took risks on projects and even promotions changes early in their careers, which, they said, ultimately helped set them on the track to career growth and great learning even if in the moment, it didn't feel that way.
Career Advancement- how can following your passion take you further?
Erokwu described how her passion for photography led to her to found Vosmap, a digital mapping company that has a contract with Google Street View. Similarly, Fellela began her career working in tech support, "climbing under desks," before she decided to pursue a more creative path as a developer. She then switched into roles where she could interact with people more as well as work with technology. Fellela shared with how she believes hiring great people is really important to both enjoy and and advance at work.
McDowell described how she began her career developing products that began to become commoditized at Compaq and HP. When she got a call from a headhunter about an opening at Nokia in the completely different field of Telecoms, she jumped at the chance.
"Maybe it was hubris," she said with a laugh. "I thought, I don't know much about telecoms but 'I'm smart – I'll figure it out." She did figure it out to become head of an entire business.
Strain also took a several risks in her career, including two big moves. The first time she moved from Dublin to London and then, later, she moved to New York City, for what was supposed to be a three month project. Instead, she found her new home.
Mentors and Sponsors
The women discussed how mentors and sponsors have also shaped their career paths. In turn, the panelists described what they look for in a mentee or someone who can mentor them.
Strain said she looks for passion, and someone who is looking for advice and is open to feedback.
"That's the most powerful thing you can get," she said, adding that sometimes feedback can sting but that's the most powerful conversation someone can have.
McDowell said she looked for people with ambition.
"It's more rewarding to help take the rough edges off someone who is pushing hard than to light a fire under someone," she said.
Similarly, several panelists described how clients also helped them advance in their careers.
"Clients can be your biggest advocates," Erokwu said. Relationships and referrals can help build business, and talk up your skills before you get the next job.
Networking
The panelists all agreed that both internal and external networking can be valuable to career advancement since it opens up opportunities to you build relationships with people who can help you in your industry and beyond.
my advice to women is to get out there, get away from your desk and meet people – Lori Fellela
For example, Strain described how she had initially approached her company's women's network with skepticism. But she quickly learned that it was a good way to find support from colleagues. Moreover, she said, participating in the group taught her a lot of organizational skills as well.
"It's not enough to just come – it's not like watching TV," Fellela agreed. "You have to participate, my advice to women is to get out there, get away from your desk and meet people".
Networking outside work can also help women advance. Fellela described making a business connection with a woman she met while volunteering with her daughter's sports boosters club. Erokwu said being part of the Lesbians Who Tech community had also helped her grow in her career and make new connections that literally has given her product and firm real exposure which has translated into business.
"Inviting other women to those communities ultimately makes those communities stronger," she said.
Additionally, advised McDowell, it's important to build relationships with peers, not just people who are more senior.
"You never know where people are going to advance to," she said. McDowell got her first board seat because one of the board directors was someone she had gone up against in an intense negotiation years earlier. He remembered her when he saw her name on a slate of candidates for the opening and recommended her for the job.
Advice
Finally, the panelists shared the advice they wish they'd heard earlier in their career.
"I wish someone had told me to find someone who's been to where I'm going," Erokwu said, adding that she thinks she has finally found that person.
"My advice is to get out and go meet people. Talk to people and make connections," Fellela said. "Have those relationships before you need them."
Kromm agreed. "The sooner you start building your network the better it can be," she said.
McDowell discussed the importance of culture fit in an organization.
"Can you be your best self? Will your work be rewarded? Think of yourself as a valuable resource, ask yourself 'what's the best ROI' for you"? she said.
Strain emphasized the importance of pursuing risks.
"When you're confronted with two options where there is a safe one and a risky one, consider choosing the risky one if it makes sense, she said. She added with a smile, "It might be more fun."
All panelists agreed that using networks like theglasshammer and technology specific organizations like Anita Borg Institute (ABI) are a great way to find support and strategies to advance as a woman in technology.