Women in China: Chutes and Ladders of Professional Women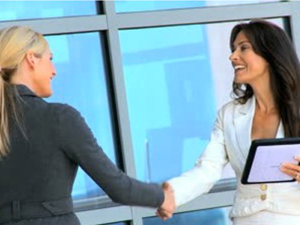 How easy is it for Chinese woman to climb the corporate ladder in modern day China? Deborah Dunsire, Chief Executive Officer and President of Millennium says, "We have a very well-educated set of women in China who can contribute to the economic dynamism of the country, yet there does still seem to be a gender gap. It's not a disparity in education anymore and hasn't been for decades, and it's not a disparity in the legal framework of work." Evidently, the main barriers to women in professional services are not educational.
Women in China also occupy a number of high profile business and government positions. China recently put its first female astronaut into space and is encouraging more women to join the police forces and People's Liberation Army. Women are also slowly becoming more represented in China's influential "nouveau riche" with 10% of the world's richest women in 2014 being Chinese. But despite these public successes, many cite on-the-ground discrimination as China's biggest barrier to women in professional occupations.
Top 10 Chinese Women in Business
According to the popular ranking by Chinese wealth tracker Hurun, half of the world's wealthiest female billionaires are Chinese.
Yang Huiyan
Huiyan is China's wealthiest independent woman and the 11th richest person in China with a net worth of 7.3 billion USD. She is also one of the youngest on the list at 33 and made her fortune from the South China real estate market. She graduated from Ohio State University just 11 years ago.
Chen Lihua
Chen Lihua built the super successful industrial investment company, Fu Wah International from the ground up in the late 80's in Hong Kong. Her company is worth 6.7 billion USD and was also voted as one of Time Magazines 100 most influential people because of her wide ranging philanthropic pursuits.
Zhang Yin
Zhang Yin is the owner of Nine Dragons Paper, paper and packaging company. Her 4.8 billion dollar self-made fortune put her ahead of such self-made women as Oprah Winfrey and J.K. Rowling in 2010. Zhang is also a member of the prestigious Chinese People's Political Consultative Conference which acts as a political advisory committee for the Chinese government.
Wu Yajun
Wu Yajin is the current Chairperson of real estate giant Longfor Properties. Her 4.3 billion USD fortune and influence granted her the title of 41st most powerful woman in the world by Forbes in 2014. She is also involved in the Peoples Party of China as a member of the National People's Congress.
Zhu Linyao
Zhu Lingyao is the secretive owner of Huabao International Holdings, a fragrance and flavoring company. Zhu made her early fortune in tobacco flavoring but has since diversified into food flavoring and taken her company public on the Hong Kong Stock Exchange. With a net financial worth of 2.8 billion USD, her personal life is at present a mystery as she tends to shun the public eye.
Chen Jinxia
Chen took hold of the reigns of Yongjin, a pharmaceutical investments company in 2008 after her husband's suicide. Since then she has grown the company into one of the biggest investor groups in China at an estimated 1.8 billion USD.
Huang Xi
Huang Xi is widely known as the richest woman in the Chinese province of Fujian which lies along the Eastern seaboard. She is the founder of Goodfirst a finance and real estate company which is estimated to be worth 1.7 billion USD. She was ranked 28th on Hurun's "China's Female Rich List" in 2014.
Wang Laichun
Wang Laichun is the Chairwoman of Luxshare Precision, a computer connectors company. In 2014 her company saw an 80% increase in Luxshare's stock price and counts Apple as one of her main clients.
Lei Jufang
In the early 1990's Lei was a physicist in Lanzhou, Gansu province. She turned her passion of healing into a 1.1 billion dollar pharmaceutical enterprise with Qizheng Pharmaceuticals in 1995. The company is based in China's relatively poor Tibetan Prefecture which has provided a significant economic boost for the area. Lei also displays her passion for philanthropy with a charity fund established in 2007.
Zhou Yaxian
Zhou increased her stock holdings of the sausage casing company Shenguan Holdings to 64.86% in 2013. Their customers include 2 of China's biggest meat processors and Zhou heads a workforce of 3775 employees. Her self-made fortune is estimated to be valued at a cool 1 billion USD.
The present reality and the future progress
In Xun Zeng's influential, "Enforcing Equal Employment Opportunities in China" a survey was cited within which pools of recent graduates with identical qualifications were tracked. The men in the survey were 8% more likely to be hired in their field. Huang Yizhi, a Beijing based lawyer says, "Although we have a law to ensure women enjoy the same right as men to obtain jobs in reality you can see many companies write 'women not wanted' openly and brazenly in job adverts. It is very strange. No government department supervises it and no government department punishes them."
This culture of workplace discrimination combined with deeply imbedded cultural ideals of women as homemakers has led to China's biggest barrier to female professionalism; A significant lack of women in senior management positions. In 2014 women only held 34% of senior management roles. Hong Mei of the Sunflower Women's Workers Centre says, "The management system … does not consider women's working conditions, because management lacks female leaders." The hurdles of discrimination and social pressure are not being addressed within the Chinese workplace because the complaints of professional women are not being addressed within companies themselves.
Another huge hurdle for Chinese women entering professional and financial services is the lack of incentive for companies to hire women who want to start families in the near future. Female job applicants are often told to declare their relationship status and marriage plans during interviews. Employers also frequently ask female applicants to sign to illegal contract conditions such as routine pregnancy tests or agreements about an employee's plans for marriage or pregnancy in the near future. Recently a number of highly publicized cases were brought forward by pregnant professionals demanding greater maternity rights. Bao Yating, a senior level public relations executive who was fired without compensation in 2013 after announcing her pregnancy recently won a lawsuit with her former employer, a popular online shopping company. Sadly many think that these highly publicized lawsuits have left many companies feeling that hiring young female applicants can be more trouble than they are worth.
But things are getting better. In a 2014 survey, favourability among Chinese business leaders for female management quotas has risen 8 points to 47% from a poll in 2004. And in early 2014 a woman named Cao Ju won China's first ever gender discrimination case. After being turned down for the post of executive assistant for a Beijing based tutoring firm because the company explicitly informed her they were looking for a man, Cao sued and won. She told reporters, "Women need to improve their awareness of their rights and to be more independent." These sentiments seem to characterize the current feeling of many professional women in China. Cao's lawyer Huang Yizhi believes that courts will adopt the ruling as a reference point and hopes that the case will inspire other women to come forward. It seems that things are slowly getting better for women in financial and professional services in China. Perhaps at an even faster rate than Western nations.
Ben Rozon