Making the Grade in Women Entrepreneurship: Gender-GEDI Shows Countries How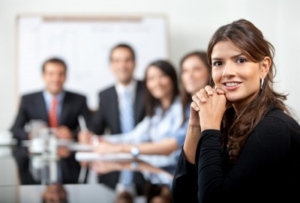 By Michele Drayton
As the fall season begins, it's a good time to check the progress of how countries are faring in removing the hurdles that hamper women entrepreneurs from reaching their full potential.
Look no further than the 2014 Gender-Global Entrepreneurship and Development Index (Gender-GEDI) funded by Dell. This one-of-a kind global study identified and analyzed factors that influence whether a woman's business stays small to middling or expands into a powerhouse. That is, it becomes an integral part of a region's economic fabric, creating well-paying jobs, sought-after products and cross-border trade opportunities.
For this second annual release of the GEDI, researchers studied 30 countries, up from last year's 17, with respect to factors such as business climate, access to education, capital financing, and cultural attitudes toward women in leadership.
The Gender-GEDI showed that even the highest scorers could do better and like any good progress report, identifies strengths and weaknesses that government officials, policy makers and the private sector can utilize to help women entrepreneurs reach substantial scale.
The Grades
At the top of the class, based on a rating scale of 0 to 100, were the U.S. with a score of 83; Australia (80); and Sweden (73). The next highest-scoring countries, France and Germany, were tied at 67. The United Kingdom, Chile and Poland scored above 50.
Seventy-three percent or 22 of the 30 countries surveyed ranked below 50, and the lowest scorers included Uganda and Bangladesh, where women's access to education and basic legal protections remain elusive.
Importantly, the GEDI emphasizes that even the countries ranked at the top of the scale can learn from countries with lower scores, underlining the fact that no country has arrived at the appropriate formula that multiplies high-growth, women-led businesses.
The Impact
Marsha Firestone, Ph.D., founder and president of the Women Presidents' Organization offers evidence of the impact of such high-growth, women-led businesses. WPO members run multi-million-dollar enterprises and those attaining the highest membership-tier levels run businesses generating at least $10 million in revenues or up to $50 million in revenues.
Firestone appreciates that the Gender-GEDI study offers a framework for this level of success. She recalls a time when the phrase "women's business" connoted very small organizations. No more. The WPO issues its own annual list of global entrepreneurial stars, the "50 Fastest-Growing Women-Owned/Led Companies," and those winners generated $4.9 billion in combined 2013 revenues and altogether employed 22,000 people.
"This study is very important because it clearly indicates that there are women who are succeeding who are not a small business, a young business or a microbusiness," Firestone said. "Women are starting and growing substantial companies. We are seeing very substantial businesses grow and develop — and they are making an impact on the economy."
Overcoming Barriers
How much more of an economic impact they could make with fewer barriers concerns Geri Stengel, author of Forget the Glass Ceiling: Build Your Business Without One. Her book uses the Gender-GEDI as a foundation to study the experiences of 10 women helming thriving businesses.
"Economists and research findings concur that women entrepreneurs are an untapped force that can rekindle economic expansion worldwide," Stengel wrote in an email. "The book uses Gender-GEDI as its foundation so policy makers, the financing community, the media, support organizations and large corporations have the data they need to determine what they can do to foster conditions that allow more women to start and grow high-potential businesses."
Based on her interviews for the book, Stengel suggests that male angel investors and venture capitalists seek out promising women entrepreneurs. Likewise, women who have attained the means to invest should invest in other women. She also supports teaching entrepreneurship not only in high schools, but also in elementary schools.
Firestone applauds the corporate programs and private-sector support that have bolstered growth of businesses owned and led by women. She also favors access to more business education, but not in the conventional sense. Her organization employs a peer-advisory system that enables members to mentor other members in a confidential setting. The sessions led by a professional facilitator are designed to "bring the genius out of the group," Firestone said.
The Gender-GEDI also presents a course of action for countries that want to improve their performance. For example, the study discusses the persistence of barriers that pigeonhole women into service-sector industries and as a consequence "benefits some specific groups by reducing competition for the most desirable occupations."
The report further states: "There are too many women competing for jobs in a few sectors, driving wages down, while other sectors lack female competition, resulting in higher wages for a smaller pool of primarily male competitors."
This phenomenon carries over into the sectors where women chose to start businesses. In the Gender-GEDI, and elsewhere, the tech sector bears that out. The common denominator for nearly all countries surveyed was a low level of women-led tech start-ups.
Moving Forward
But the index also referred to encouraging steps being taken to integrate women into traditionally male-dominated sectors. In high-ranked Sweden, the metals mining company Boliden's set a target of reaching 20 percent of women in its workforce by 2018. A similar effort is reportedly afoot in the mining industry in South Africa, which scored 42 overall.
If government agencies, policy makers, and the private sector can utilize resources such as the Gender GEDI and implement the changes recommended for women-led businesses to grow, the combination of their work with the outstanding efforts of the women themselves just might lead to greater parity.