Choosing Leaders for the Wrong Reasons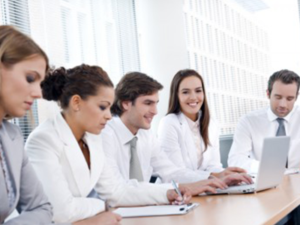 By Nicholas Pummer
One of the most important decisions that any organization makes is who to name manager. However, according to a recent report by Gallup, companies are alarmingly bad at identifying managerial talent. According to the results published in the Gallup Business Journal, companies select the wrong candidate a staggering 82% of the time. Very few individuals – just 10% says Gallup's research – possess the natural skill set necessary to become effective managers.
As if companies did not already face a difficult task in identifying the precious few with the potential to lead, the conventional selection process could be systematically overlooking female candidates based on preconceived notions about what a manager "should" look like.
A long line of research in management has identified gender role stereotyping as a major barrier for women. The association between gender role stereotypes and perceptions about requisite management characteristics could be a decisive factor in limiting the number of women in management positions.
Good managers are hard to find
The Gallup report identifies five principle characteristics that great managers display, including the following:
1. They are assertive;
2. They are motivational;
3. They create a culture of accountability;
4. They are skilled at building relationships;
5. They make decisions based on productivity, not politics.
The authors note that while many individuals display some of the above characteristics, only one in ten employees have all of the characteristics necessary to give them the potential to be great leaders within the organization. The stakes are high for companies, as great managers, says Gallup's report, lead to a higher level of employee engagement, which ultimately results in a more successful organization.
The question remains why companies have so much trouble identifying the right candidates. Part of the problem, according to researchers, is the conventional selection process where little science is applied. Candidates are typically evaluated using a heuristic approach that considers factors such as tenure and success in a non-managerial role.
When considering candidates with similar profiles, a decision can ultimately depend on whether the candidate "looks the part." This subjective criterion could cause more women that have the requisite skills to be overlooked.
Think manager, think male
It is well-documented that women often face an uphill battle when trying to climb the ranks within their organization. A large body of academic research confirms that one of the biggest barriers to the advancement of women in business is psychological – specifically the perception that the characteristics of a successful manager are more commonly found in men than in women.
Academics first began to consider the idea of the gender typing of managerial roles with the pioneering management studies of Virginia Schein in the 1970's. Her research, which in the decades since has been replicated many times, demonstrated empirically that managerial positions were gender-typed as male occupations. Using a sample of male and female managers, she showed that both sexes perceived that the characteristics required of a successful manager were more commonly viewed as being held by men than women.
The obvious implication that follows this unfair perception is that the decision-makers influenced by stereotypical thinking are more likely to 'think manager' and consequentially 'think male.' The imbalance is evident in the data. Despite an increase in the percentage of women in management roles in recent years, and although they account for about 47% of the labor force, women are still underrepresented in all levels of management – most notably at the higher levels, where they hold just 22% of upper management roles.
Breaking the managerial mold
To improve upon the poor success rate in the search for managers, Gallup suggests the use of analytics to find those potential managers. According to their metrics, employees in any role have similar talents and recurring patterns of thought, feeling, and behavior that naturally equip them to excel. Using predictive analytics, they argue, can help identify them. It is possible that such an approach could lead to a less biased selection process that is free of stereotyping and could better identify the best candidate – male or female – for the job.
An equally important factor that could lead to a more balanced representation of women in the management ranks may be even more obvious. Recent research has suggested that gender typing of managerial roles was weakest in organizations that employ many female managers. Put another way, those who worked alongside female managers were less susceptible to the perception that males make better managers and also more frequently tended to think of management roles as gender-neutral.
Properly identifying leaders within an organization as well as greater inclusion in the selection process can bring tremendous benefits. More effective managers lead to more employee engagement and a healthier organization. Incorporating more female members in the highest ranks, in particular, has been demonstrated to improve overall firm performance. If managers have such a powerful impact on an organization's success, it is in the interest of every company to invest more in uncovering talent within their ranks.
Think manager, think leader
Despite some advances, the old 'think manager, think male' attitude has proven very persistent. Women's success in overcoming entry barriers suggests that the threshold requirements of education, skills, and commitment have been met, but barriers to their advancement within their organization persist.
Using modern analytics can help identify better leaders, yet is still not a solution that is widely used. Greater inclusion of female candidates can be helpful in breaking down stereotypes in the long term, but there is still a long way to go. These changes offer promise for the future, but they do little to help the many qualified female candidates that are trying to advance their careers right now.
The most important message of the Gallup research is that the managerial traits that it has identified are not by any measure male or female traits, but rather the traits of effective leaders. The best strategy for women seeking to advance is to present an image that reflects their role (or their desired role) within the organization. Focusing on crafting the five characteristics of great managers identified by Gallup for your own professional toolbox will put you ahead of the 90% of competition that are ill-suited for the job. Women that have already ascended the ranks should encourage the women that they mentor to do the same. For aspiring female managers, displaying your leadership characteristics will help your own cause, and also contribute to the erosion of old and harmful stereotypes.