The Glass Hammer's 7th Annual Top Women on the Buy-Side Breakfast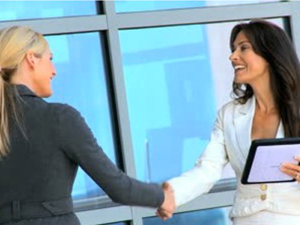 The main discussion at last week's Top Women on the Buy-Side event for senior women in investment management focused on the evolution of the industry following the 2008 financial crisis and subsequent market recovery. But perhaps the strongest statements centered on the importance of networking for top-level women in the space.
The sold out event – hosted in New York by The Glass Hammer – was the 7th annual networking breakfast and panel in the popular series and was moderated by Donna Parisi, partner and co-head of the asset management group at the law firm Shearman & Sterling. Panelists included Nanette Buziak, managing director and head of equity trading at Voya Investment Management; Daphne Karydas, senior equity analyst and co-portfolio manager at The Boston Company; Vivian Lau, partner at Serengeti Asset Management; and Susan Soh, partner and global head of marketing and client services at Perella Weinberg Partners.
Challenges and Opportunities in 2014
Donna Parisi opened the dialogue by commenting on the low yield environment and noting that just the day before the event the Fed announced that amid declining unemployment, it would keep short-term interest rates low for the time being.
Liquidity was on the panelists' minds, as well as market competition and when asked what challenges and opportunities lay ahead, the panelists eagerly began the discussion.
"There's still a lot that needs to be repaired in the US, but US equities look cheap on a valuation basis compared to other asset classes on a global basis" Buziak said. She continued, "There's a lot of pressure on fees right now, and in equities, we're seeing competition from ETFs and index funds."
Speaking from the alternatives perspective, Soh said, "While ETFs may pose a challenge for some, we believe it's been an interesting opportunity because it's created more demand for alternative products in the form of liquid alts, which is great for firms like ours." Meanwhile, she continued, "In light of the low interest rate environment we're seeing, hedge fund managers are finding it more difficult to generate the outsize returns that they have historically. There's a greater focus on yield, current income and niche opportunities where one can generate outsized returns."
Karydas noted that, especially in a difficult environment, being creative is important. But she encouraged attendees to avoid what she called "style drift," where some portfolio managers are pursuing new strategies to drive returns even though they might be outside the bounds of what clients initially signed up for.
"You have to be true to what you say you are doing, especially in a bad year," she said.
Customers are demanding more transparency, Lau agreed. "Investors want to understand what they are paying for," she said. Heightened regulations are part of this trend, but so is the desire for differentiation. "They want to know: are you delivering returns in a fashion I can't get anywhere else?"
The panelists also noted bright spots. For example, Lau was enthusiastic about changes in asset allocation in Japan. "For the first time, they are willing to take currency risks in the US market," she said.
A healthcare specialist, Karydas also mentioned she is seeing more stability in the industry. "For a few years people didn't want to touch healthcare because they didn't know what they were getting into," she said. "Last year was a starkly refreshing time because we could finally start to invest on fundamentals."
Cultivating Focus
Finally the panelists discussed success in the increasingly information-rich – and some might say distracting – environment.
"It's no longer good enough to be a specialist," Soh said. "We all need to be nimble. Women are good at being opportunistic but we have to be creative too."
Buziak suggested that participating in expert groups like SIFMA or SEC committees can help busy professionals stay at the forefront of the industry. "We have to do more about managing our careers than ever before," she said, noting that as you climb to higher levels, "you start realizing how small the world really is."
Meanwhile, Karydas suggested, having too narrow a focus can be detrimental. "We all have busy lives and want to be focused on our careers. But especially if you're a specialist, there's a ton of information – more than you can possible read or chew on."
"You have to step out of your day to day obsessions and we have to be aware of what's going on around us," she said.
Lau agreed. "We get a lot of information and it takes just as much to put the information into perspective as it is to know the information," she said.
"But it's also important to do something you are passionate about, and for me that's something where you're always learning. What makes us better is the desire to learn."
Donna asked "What should women be doing to ensure their own career progression?"
Soh referenced a recent survey on senior women who have been displaced during the financial crisis and how very few of them have re-entered the workplace, thus underscoring the importance of being opportunistic, networking and finding sponsors.
Karydas wondered what the industry would be like in a few decades if there are fewer women in leadership.
"We don't see the funnel of women at the top at the same rate as men," she said. "I worry about the role women will have at the top of the industry."
Meanwhile, Buziak said, women operate differently than men, bringing a sense of balance and composure that can improve trading. Companies would benefit by working harder to foster more diversity. "We react differently in times of pressure," she said, looking back on 2008. "We can stay more calm under periods of pressure. We do a better job of taking a step back."
By Melissa J. Anderson (New York City)