Voice of Experience: Lisa Opoku, Chief Operating Officer for the Securities Division in Asia Pacific, Goldman Sachs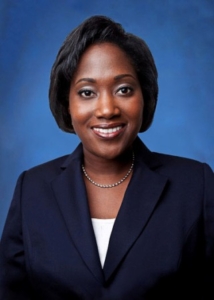 In 2003, Lisa Opoku came to Goldman Sachs for what was supposed to be a three-month assignment, but her stint became a stay. In 2009, she became Chief Operating Officer for the Securities Division of Goldman Sachs Asia-Pacific and in 2012, she was promoted to partner. She came to the multinational investment banking firm from Richards, Kibbe & Orbe and says that her background as a lawyer gave her an advantage, even becoming partner at the firm while still on assignment at Goldman.
"When I started my career I was all about hard work. My parents are from Ghana and I have inherited an immigrant's work ethic. My parents taught me that if I put my head down and work hard, the rewards will come," Opoku said. "The corporate world is much more complex than that. You can do an excellent job and it can sometimes be invisible if you are not careful. You have to be vocal about what you contribute, network with your colleagues and clients, and make sure that you are an advocate for your career."
Team Work
Currently, Opoku's favorite project is the team she is building in Bangalore, focused on system enhancements and improvements to global processes.
"I am most proud of the team that I have developed in Asia Pacific; you are only as good as your team. I trust my team with many difficult strategic projects and they always deliver the highest quality product," the COO said. "It is not easy to learn to delegate when we are all 'Type –A' people but, it is the only way to truly gain leverage and be more strategic about your work. Every day we can see the impact. The talent in Bangalore is so impressive and the team there is adding a ton of value to our Global Management and Strategy priorities."
Right now, Opoku is very focused on changes in technology, with Goldman's trading desks partnering with its technology professionals to enhance performance and efficiency.
"As regulatory reform continues, if we are thoughtful in implementation, we also can find ways to turn these technical enhancements into a competitive advantage for our clients," she said.
Challenges To Success
Opoku doesn't believe there are barriers to success for women in the industry, but acknowledges there are challenges, citing work-life balance as one of the biggest challenges for every working woman who has a family. Which is why, Opoku says, it is very important to prioritize effectively.
"Early in my career I found it hard to say no to certain meetings. Now, I am much more careful about how I spend my time. Women also tend to have a lot of guilt about being unable to handle everything perfectly. I had an excellent coach named Dr. Susan Mistler who told me, 'You just have to stop feeling guilty. You choose to feel guilty. It is your decision to stop.' Now when my daughter asks me why I have to go to work I use it as an opportunity to encourage her to be ambitious about her future instead of feeling guilty."
Treasure Opportunities to Lead
This past year Opoku co-chaired the Female Retention and Development Committee in Asia Pacific, saying it was an excellent experience because she had the opportunity to get feedback from many women about what binds them to the firm. She says she learned that most people's happiness is greatly correlated to the effectiveness of their direct manager, which is why she says managers have a unique opportunity each day to come to work and engender loyalty to the firm with their words, actions, and attitude. Opoku says that being a manager is a very powerful and important role and managers "should treasure the opportunity to have such a positive impact on their people."
Accepting Honesty is the Best Policy
Opoku says it's very important for young women entering the industry to seek out candid feedback about their performance and their colleagues' perceptions of them.
"Once you have that information from a trusted source, take concrete steps to make noticeable changes," she says. "Women sometimes have a difficult time getting candid feedback and it is critical to professional development. If you embrace the feedback – instead of being defensive – you are much more likely to get the genuine feedback you need to improve your performance and reputation."
Giving Back
Opoku is on the board of directors for FOCOS, the Foundation for Orthopedics and Complex Spine, which provides life-saving orthopedic surgeries to children suffering from the effects of scoliosis and other spine deformities. The organization was founded in 1998 by Dr. Oheneba Boachie-Adjei, who is a world class orthopedic surgeon at the Hospital for Special Surgery in New York. Opoku has been a volunteer fundraiser since the organization's inception.
"The way in which Dr. Boachie established FOCOS is very near and dear to me because he took his talent and expertise home to Ghana, his country of origin, and found a way to bring his skills for the benefit of his community."
Being a first generation Ghanaian-American, Opoku says she wanted to give back in the same way and FOCOS provided her with an opportunity to donate her time and efforts to an organization that saves lives in her parents' home country.
There is an African proverb that says, when you make it to the top, send the elevator back down for others. FOCOS is sending the elevator back down to save lives. "It doesn't get better than that," she said.
By Tina Vasquez, Editor