Voice of Experience: Nina Long, Senior Vice President of Trading Strategies Development, CoreCommodity Management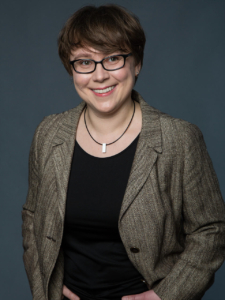 Being out at work can change your entire dynamic, says Nina Long, senior vice president at CoreCommodity Management. "It's so vital because then you can concentrate on your work and clients, rather than spending mental energy trying to figure out how to answer simple questions like, 'What did you do on your vacation?' or "What are your holiday plans?' without revealing that you have a same-sex partner. You can be so much more productive when you are not trying to maintain elusive answers." Now she feels free to discuss the adventures she shares with her partner Bella, a clinical psychologist.
An Unconventional Career Path
Long attended university in Belarus where she studied physics and enjoyed learning to code, even though at the time she was unsure what the business application could be. It didn't take her long to find out: In 2002 when she immigrated to the United States, her coding prowess helped her get a job in a marketing firm where she optimized schedules for TV ads. She soon learned that physics and mathematical tools played an integral role on Wall Street and decided to find out how she could apply her knowledge in programming and science to finance. After completing a Carnegie Mellon certificate program, she joined UBS in the commodity group in fixed income, where, as she says, her diverse experiences and broad knowledge came together in a way that equipped her for the job entirely.
"I could code faster than I could speak and my experience in marketing allowed me to compile excellent pitch books," she says. From there she joined CoreCommodity Management, an independent commodity firm serving global clients, where she heads the strategy development team that develops models and profiles that inform investment processes.
"I'm proud that I have become an essential part of the firm and have grown to be in charge of quantitative strategy development team," she says. Its rapid growth from a boutique firm has brought challenges, including the realization that she has to manage her team efficiently, rather than opting to do everything herself. "I'm still excited about my daily work fine tuning models and applying new methods and techniques to figure out how to separate information from noise. This work makes me happy," she says.
As new businesses like Uber or Apple Pay disrupt existing models, she believes that finance as an industry won't be immune. "We need to anticipate and plan for disruption." She also sees that as the U.S economy moves to more of a service economy from a manufacturing economy, it will have impacts on inflation and individual investors. "How do you hedge your risk and exposure to inflation in a shifting environment?" she asks rhetorically. "Those are the types of questions that I find fascinating."
Confidence, Even When You Don't Feel It
Looking back over her career, she wishes that she had been braver and that she had realized at the time that she was not the only one lacking confidence. "I was not in a unique position at all, but I assumed that everyone knew more than I did." She says that even something as simple as joining an industry 5K race seemed daunting – that perhaps you had to be a professional runner, but she soon learned that anyone who was willing to spend the time could do it. And, she says, participating in those types of events has an added bonus as it earns you exposure and access to people in the firm at a different level.
She advises women starting their careers to volunteer and join networks, but not just the ones that you think you should. She encourages women to keep trying different groups until they find that one that really interests them, and in which they are looking forward to participating.
Expanding the Ranks at the Top
Long emphasizes that the industry still lacks sufficient numbers of women in top executive positions and how noticeable it is when you see more than one women in any given setting. "If you walk into a client meeting and greet a team of men, it will seem ordinary, but if you open the door and see a team of women, you will notice the gender of the people in the room," she points out.
And Long reminds her peers that to keep growing you have to keep learning. "As an intern, you did a rotation every few months to learn new products and tools, which was great. However, as you progress, it can be easy to stop learning as many new and different ideas, which is actually a barrier for growth. I am really keen to keep learning."
A Supportive Culture Toward LGBT
Long has an especially insightful perspective on LGBT issues and acceptance, due to her weekend volunteer work with RUSA LGBT, a group that helps newly arrived LGBT asylum seekers to adjust. They help with practical matters such as information about insurance and housing and then connect them to community support.
And, one of their highlight moments is participating in New York Pride Month.
"It's amazing to help people from Ukraine, Georgia and Russia spend time here in a more accepting environment," she says, noting that in many Russian speaking countries, unless you work in a creative industry, you are still as risk to be fired due to being LGBT. When they come here and see JP Morgan, Goldman Sachs and other financial firms marching in the parade, it makes such a difference for them to know that there can be a supportive corporate culture.
"Despite progress, we are reminded all the time when we talk to our friends back home that there is still a long way to go for equality worldwide and the recent tragedy in Orlando reminds us that even here in the USA there is still work to do also."
Save
Save
Save