Voice of Experience: Natasha Granholm, Partner, PwC US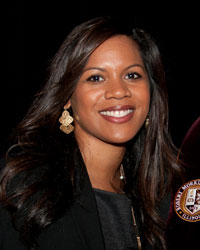 Natasha Granholm began her career at PwC (PricewaterhouseCoopers, LLP) as an intern and is now a partner and though she's clearly a success in her field, she laughs when admitting that her interest in accounting was by happenstance. She was really only looking for an "easy" honors class in high school that would allow her to boost her GPA, but her teacher saw something in her and decided to enroll her in accounting competitions. "There is such a thing as an accounting competition, I promise," Granholm laughed.
Once in college, she didn't have an "absolute desire" to enter accounting, but knew it was worth exploring given her propensity for the field.
"The real appeal to me was that it wasn't just about computing numbers. Accounting is theoretical; it's not just about being good at math," the partner said.
Early in her career, Granholm did a little of everything, from serving clients in the tax-exempt sector to M&A, an area she was particularly drawn to because of the dynamic and fast-paced nature of the work. She even did a "tour of duty" with PwC's national M&A group in Washington, D.C. where she says she grew both personally and professionally.
"It opened up my point of view and gave me a more global perspective," Granholm said.
Redirecting
Not too long after Granholm returned to Chicago from D.C., the economy began to decline and when the US economy fell into a recession in late 2008, the deal markets came to a halt. At this time, she was pregnant and decided to take some time off from work to focus on her family. When she returned in 2010, the economy hadn't fully bounced back and Granholm wasn't sure which direction to take her career in, though she did know she wanted to continue at PwC.
Not knowing when the market would rebound, Granholm asked for advice from several mentors and it was suggested she move into the financial services sector.
"It was a very big transition for me," Granholm said. "Making partner was a professional goal of mine. But personally, retooling myself to move into a new area required a lot of effort and work. So jumping into the unknown and being successful in this space later in my career, was definitely my proudest moment."
Accounting Has Come a Long Way
When first starting out, Granholm says she wishes she would have known just how much change public accounting would see over the course of her career. The industry has come a long way in terms of focusing on the advancement of women and creating an inclusive workplace, the partner says, and knowing that it was on its way would have been helpful.
"Now, the right level of support is given, but it wasn't there when I started. It was a true struggle for me, the lack of women and the lack of diversity. If I'd known change was coming, it would have been very comforting to me," Granholm said.
Advice for Young Women
Given that accounting is a very different world now, her advice for young women focuses more on how they should approach their careers.
"I would tell any young woman entering the field today not to limit herself. Use your network and coaches to see the bigger picture," she said. "So often young women try to plan for three or five years down the road. While I encourage planning, there are some things you just can't plan for – like when you'll find Mr. or Ms. Right or have kids or what your needs will be when these life events happen. It's perfectly fine to aspire to have a relationship with someone or start a family, but don't make rash decisions about your career in anticipation of those things."
PwC has a number of programs in place for women at various stages of their career. Granholm is particularly interested in what she refers to as the "true sponsorship of women," which the partner says is about being proactive in your desire to help women advance professionally.
"It's about more than lip service. You need to be willing to fully invest your political capital to help other women get to the next level," she said
Family Ties
Like many successful women, Granholm's career takes up a considerable chunk of her life, but when she's away from the office her life revolves around her family. Granholm is the mother of twin, four-year-old daughters who already have passports. She and her husband love to travel as a family, which includes their extended family as well.
"My family is everything to me," she said. "It's important to me that my kids are around their cousins. On many weekends, I'm being a very-involved aunt attending sporting events and hanging out with my family. Quality time is very important and I'm fortunate to work at a company that makes work-life flexibility a priority."
By Tina Vasquez