Movers & Shakers: Stephanie Weimer, Regional Vice President, ING U.S. Investment Management (ING U.S. IM)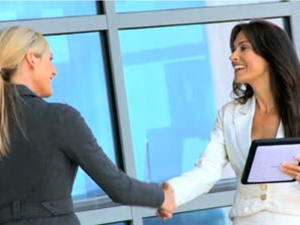 While attending Pennsylvania State University, a friend's father, who was President of Sun Life Financial Distributors, told Stephanie Weimer that she absolutely had to get into financial services. "I looked at him like he was crazy," Weimer laughed. He said, "'You're smart and there aren't enough women in the industry. If you enter it, you'll be really successful.'"
He was right, of course.
Weimer is now Regional Vice President where she wholesales various mutual funds and separately-managed account products throughout the New England area. This is Weimer's sixth year in the role and she has consistently ranked as one of the top salespeople for the company, despite covering one of the smaller regional areas.
From CIA to ING
Even upon entering the industry in 2006, Weimer still had no idea that financial services would be her career path. She had every intention of being a field agent in the CIA. When her friend's father – the same man who urged her to enter the industry – offered her a job as an internal wholesaler with Sun Life, she gave him a one-year commitment as she waited for a background check with the CIA to clear. The problem was that her clearance went through quickly. As a woman of her word, she decided to maintain her commitment with Sun Life.
"It worked out for the best. I don't dwell on it and I'm truly happy with where I am – and I've really come to love this industry," Weimer said. "I learned the ropes with Sun Life, beginning as an internal wholesaler. In less than two years, I was offered a job as an external wholesaler with ING U.S. IM. That's a quick move from internal to external."
Interestingly it's the skills that Weimer believed would make her successful in the CIA that have proven to be the most helpful in her success in financial services.
"I love to figure out what makes people tick and find out what they need and help them find a solution. Effective communication has proven to be one of my strongest assets," Weimer said.
The Business of Golf
Weimer says that when first starting out in the industry, she wishes she would have understood the importance of having a good golf game. In first grade, her mom enrolled her in a junior golf league, but she had no patience for it.
"I specifically remember my mom saying golf would be good for business one day – and I rolled my eyes and said, 'Whatever, mom.' In first grade, it's hard to care about what will be good for you in 20-years," Weimer said.
In hindsight, Weimer says, it all makes sense. "Golf helps foster integrity, trust, and a competitive spirit. It's a self-policing game. It's a game that truly promotes the values which I think are the most critical in not just the financial world, but in life in general," Weimer said.
Now that she's in the industry, Weimer says she's stunned as to how much business takes place on the golf course. Though it's still predominantly men taking part, Weimer says that when you're "welcomed into the circle" it creates a strong bond, one that is mutually beneficial.
"You get to know your clients so well over a five-hour round of golf," Weimer said. "You get clear answers. You get to know them as people in a less formal environment and that is so important to building relationships and developing an understanding of what they want and what they require of you. So absolutely I encourage women to play golf. It's more than just a game."
An Industry For Driven, Talented Women
While growing up, Weimer's father told her she could do anything and that she shouldn't be afraid to pursue her interests, no matter how different they may be. She credits her father's encouragement with the reason she played on the boy's football team from 7th grade through high school and was named to the All Conference Western Pennsylvania Interscholastic Athletic League three of her four years at Serra Catholic High School. Ultimately, she tried out for the Penn State football team and in doing so, became a part of the football program
"It never occurred to me that I couldn't do certain things and it was instilled in me to fight and claw for everything that I wanted," Weimer said.
No doubt this attitude, at least in part, is the reason why Weimer has been so successful in a relatively short period of time. Since beginning her career at ING U.S. IM, Weimer has consistently ranked amongst top wholesalers within the National Partners Channel.
"The financial services industry is merit-based. I believe if you're a woman who has the skills to be in this industry and you are driven and talented, you will be successful," Weimer said. "I think for women, getting ahead just looks different or takes a different shape. Women tend to move laterally; we're not as hierarchal as men. Mentoring and developing networks is incredibly important to us. We put down roots before we take our next step. There is room for all of us, but there's especially room for women to make a big impact. If more women were to enter this industry, I suspect you would begin to see a power shift."
By Tina Vasquez, Editor