Mover & Shaker: Emily O'Daniel, CFA; Vice President, Intermediary and Retail Specialist; PineBridge Investments
---
---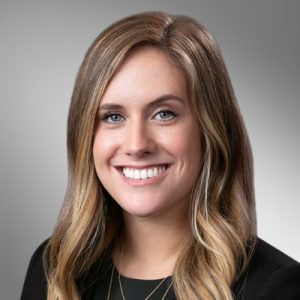 When you start from the bottom and move up, it can be hard to figure out how to make your way, says Emily O'Daniel. The best strategy is to always be willing to take on responsibilities and be vocal about what you want. "People can't read your mind, so ask for opportunities and get more comfortable saying no to requests that no longer fit in your job description if you are spread too thin.." 
And she adds, it's hard to know what roles are out there and "what you want to be when you grow up" so you always have to ask questions, attend conferences and do your research to  find out what other jobs are like in order to determine what suits you best. 
A Growing Company, A Rising Career
That can-do spirit has served her well.
Spending her whole career with one employer has been fulfilling for O'Daniel, if a bit unusual in her generation, she points out. However, it's given her the chance to wear many hats and take on diverse roles, all at one firm. While she had been offered a position at PwC following an internship in forensic accounting, she liked the possibilities she was offered at PineBridge as she believed working at a smaller firm would be more fruitful and lead to more opportunities faster. 
Her first position was as the only analyst covering the Americas institutional sales team.  After gaining some experience supporting the larger team as the sole analyst, she asked take on a specialized role within the intermediary & retail team  —an area she deliberately chose since it was a channel she knew the least about so the learning curve was steep.  That channel has grown since then, as has the company, with four analysts now on the sales team.  
Eventually O'Daniel was promoted into her own sales role and for two years has been an independent sales woman focusing on identifying new business.  In addition, she supports the firm's sub advisory business, which she says is much like being a teacher. "You're working with clients and helping them understand the investment strategy we've developed. Often it can be easy to get stuck in your day-to-day job and not see the end result so it's rewarding to have insight direct impact as you watch people save for retirement and know you're helping them." 
However, in terms of the professional achievement she is most proud of so far, it doesn't even have to do with that rapid ascension, but rather in earning her CFA designation, given the challenge inherent in the three-level test, where each level only has about a 30% pass rate. She was able to juggle that massive responsibility with working full time, but she believes that accomplishing that has made a big difference in her career. 
Strong Mentors Support and Teach
When O'Daniel began her career, she had expected that the corporate world would be far more competitive in terms of interpersonal relationships, which would make it hard to be yourself, especially as a novice. She has been pleasantly surprised to find that while there are all kinds of people, , by and large people have been friendly and helpful. "Even when I am in meetings with competitors, you get the sense that people want to collaborate and be friendly."
She has been fortunate along the way to have had several role models—starting with her father, who was in sales and reminded her to always find the fun in what you're doing. "If you like what you're doing, you'll be better at it," she says, adding that he also taught her that cutting corners is never the way to succeed.
In addition, she was inspired by a women with whom she interned, who ran a successful business while maintaining a caring and kind demeanor. And she's learned from many other colleagues, both male and female, informally and formally, through the robust mentor program PineBridge offers where you are matched annually with someone new. She says her PineBridge mentors have not only given her great advice, but advocated for her. "It's been a great way to gain exposure to people outside of my group," she says. 
O'Daniel is also active in a recently developed PineBridge Women's Network, which is an internal resource group to network and talk about challenges in professional and personal development. And, she's a member of an external group, the Defined Contribution Institutional Investment Association (DCIIA), that is currently focusing on diversity and inclusion.
Since her role is largely numbers driven, outside of work O'Daniel enjoys exercising her creative side, from knitting to painting, making jewelry and handling any number of DIY projects. In addition she enjoys spending time with her family, frequently traveling to visit them in the Washington D.C. area.