Voice of Experience: Melandee Jones Canady, Delivery Executive, AARP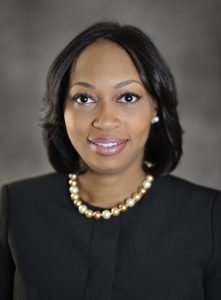 Over the years, AARP's Melandee Jones Canady has learned that if you're not upfront about letting people know your accomplishments, it opens the door for others to create your narrative on your behalf. "I wish I had been more vocal early on; I was a doer quietly performing my work, until someone pulled me aside and said I needed to start broadcasting more of my achievements." That helped raise her profile, which is paramount to success in any career.
A Career Based on All Paths Taken
The unifying thread behind Canady's career is that she believed in seizing opportunities and seeing where they could take her. The result has been a successful marriage of technology and business skillsets, aligned toward making life easier for the customer.
An IT executive with 20 years of experience, she follows in the footsteps of her father, who sparked her interest when he would discuss his work with data centers and mainframes at the dinner table. She studied law and technology, and subsequent internships at IBM, Lockheed Martin and Allstate solidified her interest in technology, while opening her eyes to all the different opportunities in the field.
She started her career with Enovia , which had a rotation program that exposed her to a wide variety of skills, from client/server development to software testing.  It was testing where she discovered "that she was great at breaking things and handing them off for someone else to fix them." Eventually she left for the world of consulting, then worked on an international project for a reinsurance company and finally settled into financial services.
Canady joined Ally Bank, where she was impressed with the innovative ideas they were launching. She was part of its rebrand as a direct bank, where she was able to use her skills to create seamless and secure technology, which she realized was the only chance to make an impression on customers when there's no brick-and-mortar presence.  While there she earned her MBA and moved from systems analysis to a business-oriented role that bolstered her understanding of voice of the customer as she partnered to find out their needs and desired outcomes.
Soon she was recruited by a consulting company to support TIAA (then TIAA-CREF) which also wanted to set up a direct bank, as she was one of the few with the skillset. Eventually she decided to move to Washington, D.C., and worked with Deloitte Consulting specializing in systems integration, which she says was among her most satisfying work stints, given the many new experiences and opportunities to adapt what she had learned over the years in a client-facing role.
Almost four years ago, she was recruited to AARP where she interfaces between the technology departments and business partners to bridge gaps. "Working for an association gives you a fascinating view into how you can serve your 37+ million members, compared with working for shareholders," she says, adding that it perfectly combines her background in voice of the customer and business outcomes as she serves its members and the community at large.
Today she is helping launch programs around artificial intelligence (AI), specifically working on the first level of Robotic Process Automation (RPA) to help make AARP more efficient. "With almost 38 million members and only 2,400 employees, it's a puzzle to figure out how to support everything. RPA can automate rote tasks to allow staff to work on more exciting projects," Canady explains.
While she's had a number of satisfying professional experiences, she also counts among her achievements some of the programs she's been involved with outside of work, such as testing software with the United Nations, along with a wide variety of mentoring and training efforts she's helped with, including both formal and informal affinity groups.
One that she has particularly enjoyed is Black Data Processing Associates (BDPA), along with a Women in Technology group set up by her former boss at AARP. "As a female CIO, her goal was to show how others can follow in her path, which has opened doors and created conversations that otherwise wouldn't have happened," she says.
Helping Others Grow
And that often leads her to give advice to younger professionals. One of the first things Canady tells them is that it's OK to stand out. "I've been on numerous teams where I'm the only woman, the only African American, or even the only American." She finds there is still a persistent perception of what a "technologist" looks like. "People expect you to look a certain way or have a certain background, so I work to dispel that myth and emphasize we are all different," she says. And she adds, that's important for business success, too, since the more diverse teams are, the better the outcomes.
She also thinks it's important for women to realize that career pivots are not just normal, they are often better. "It's fine to remember what you wanted when you were first starting, but it's wise to realize that your end game might change—and it might end up even better than you expected.  The key to that is perseverance: Don't let others discourage you; if there's an assignment you want, raise your hand," she says.
With her husband and two small children—a two-and-a-half year old daughter and nine-month-old son—Canady stays busy on the homefront, traveling and just being together. But she still finds time to give back, participating in a Giving Circle where they pool money to make more of an impact for local charities, and as a member of the Junior League.