Black History Month 2020: Celebrating Amazing Women!
Here at theglasshammer.com we are happy to honor and celebrate Black History Month 2020 by curating some of our favorite articles on the topic.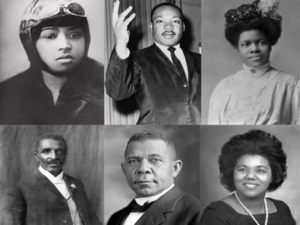 Research such as Catalyst's work on the "Concrete Ceiling" on African American women in Corporate America, would show that there are specific systemic issues hindering the progress of this group.
Back in 2016, we wrote about how a person can individually think about their privilege, with trends being very much about a "check your privilege" that year. Surveys examined it, we navel gazed it with writers reflecting hard. But, did it matter? Has it mattered? Oscarssowhite then is proving to be the same now in 2020 despite amazing talent and hard work by African American artists with Janelle Monae even going to lengths to talk about it at the Oscars (with good allies.) We cannot seem to get past awareness and keep giving the biggest prize to the white guy. Watch Election 2020 for same results. Donald, Pete, Joe, Bernie, Mike? Not sure we will ever see a 5 person line up with names like Donna, Petra, Joanna, Bernadette and Mekayla. Nevermind Shonda or Sharifa in there.
There are certainly parallels present when it comes to the explicit resistance of people who have traditionally held all the cards of power with can be seen all day every day with on social media with the defense of the status quo with "Not all white people" as well as "Not all men" or "All lives matter." When this happens, people need to ask themselves what are they feeling when they choose to defend an entire societal group with unknown people in there? Why do that? What is the cognitive emotional process that drives that behavior because if you know that you are trying to be a good person and do the right thing, why not focus on your own actions only individually and institutionally instead of defending people you do not know?
The Corporate Context
2017 saw losses in black female leaders at the top And, where are we now? It is hard to see the real progress down the ranks for pipeline. And, each firm and each industry certainly have degrees of effort and robust integrated talent processes to change the situation. We do know that black women are rising their hands for leadership.
Visibility continues to matter so here are some of our favorite profiles over the years of amazing women who identify as African American.
Publisher's Pick:
1) Erika Irish Brown, Chief Diversity Officer at Goldman Sachs shares,
"If you expose people who are smart and hard working to opportunities – and provide them with an access point to begin a career – success follows."
2) Ursula Burns (then CEO, Xerox) speaks at Catalyst shares,
"You have to moderate your voice so people can pick out the important things. You have to understand when it's important to speak. I had to learn to kind of shut up. Not all of the things that are happening are important to me. I have calmed down about the areas that are not that important."
3) Paula Anderson, Partner Litigation, Shearman and Sterling shares,
"Access to the pathways to success also means dealing with some of the unconscious biases that may exist,for example, there are certain preconceptions some people have with respect to women not having boardroom presence or not being aggressive enough. Particularly in the litigation field, there are certain ideas of what a successful and capable litigator should look like, and that's often something akin to a Perry Mason."
4) Valerie S Peters, SVP, and Head Relationship Management Services, Abbot Downing shares,
"When I entered the corporate world over 20 years ago, I believed that it was possible to achieve anything with hard work and discipline, and I still believe those are key ingredients to success,"
5) Susan Reid, Chief Diversity Officer, Morgan Stanley shares,
"Like many younger people I focused quite a bit on building technical skills and getting the work done, but if I had an opportunity to start over, I would focus on cultivating relationships earlier and sustaining those relationships over time,"
6) Kimberly Bryant, Founder and CEO, Black Girls Code shares,
"I spent 20-plus years as a woman in a male-dominated field and underwent struggles throughout my career as part of it. I was able to forge my path, but there were not many role models and I had to constantly prove my ability to thrive and compete in male-centric environments. That's one of the key drivers for me – I want to to create a different environment for the girls coming behind me."
7) Avis Yates Rivers, CEO Technology Concepts Group International shares,
"There are some technical women who want to be technical ICs. You need to find the environment to foster that. For women who have the vision or leadership – we need more CIOs in corporations. Find a mentor and let your interests and desires be known and have someone pushing you along the way."
8) Lisa Davis, now Managing Director, Citi shares,
"Many people are afraid to network," she continued. "I for one am a typical introvert and I'm not always comfortable taking the initiative to meet people and interact – but when you talk about true networking, that's what you do! Its not just about meeting people, it's about developing relationships rather than just collecting business cards."
9) Carly Scales, Managing Director, Goldman Sachs Technology Division shares,
"Throughout your career, finding your true north and being comfortable in your own skin is really important. Having authenticity and being able to bring your full self to the office is an important component to ensure you can do your best work and contribute to your team at the highest level."

Enjoy these and so many of our excellent profiles over the years.