Voice of Experience: Claudine A. Chen-Young, Partner, Katten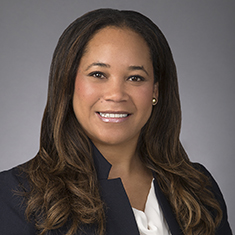 "What drives me is the impact I can have on other people," says Katten's Claudine Chen-Young. While she notes that there are very few people like her—a woman of color—who have achieved the rank of partner at a large law firm and in the male-dominated financial sector, it wasn't until her appointment was announced that she grew to realize the significant impact she had on others.
"It was remarkable how many young female associates even from outside of my group sent emails or called to congratulate me. It was really an 'aha' moment because I hadn't recognized just how much of a role model I was for them," she says.
That led her to focus her attention toward mentoring and sponsoring women associates in meaningful ways on a broader scale, an emphasis she continues today.
Ability to Pivot Leads to Success
Currently a structured finance and securitization partner at Katten, throughout her career Chen-Young has successfully navigated industry highs and lows—from surviving the financial crisis to developing and executing sophisticated deal structures and innovative transactions. She credits her professional resilience and ability to thrive during economic downturn to the personal relationships she had built and her track record for providing valued counsel, combined with a willingness to reinvent the types of transactions she could handle.
"Very quickly I was able to provide different services that were broader in scope than what I'd been doing before, and that ability to adapt and reinvent myself was critical to my success," she says.
As partner, Chen-Young has extensive experience with securitizations of all types of residential mortgage loans and mortgage-related assets. In addition to securitizations, she advises issuers and underwriters in connection with a range of asset financings as well as asset purchase and sale transactions.
Looking at Diversity Through a Broader Lens
To Chen-Young, diversity means cultivating a culture of inclusion and empathy, which starts by looking past similarities and differences in one another. "We can understand others' experiences without them being exactly like ours," she says.
To that end, she says there is a propensity to try to get matched with a mentor who's just like you, but that's not always necessary. Instead, she believes that others should follow in her footsteps: "I wanted the mentor who would take me under his or her wing and champion my development substantively and professionally, regardless of our other similarities."
She acknowledges that while having mentors and sponsors is important, she says that women should go a step further and search for a "champion." Chen-Young said, "Especially at a large law firm, it is critical to have someone with a high profile either internally or externally facing with clients who takes an interest in you—that's the type of person who will propel you forward in ways that others cannot."
Community Outreach Enriches
Chen-Young is proud to be a 2019 Fellow of the Leadership Council on Legal Diversity (LCLD), an organization of more than 300 corporate chief legal officers and law firm managing partners committed to diversity in the legal profession. In her involvement with LCLD, she also mentors first-year law students in their 1L LCLD Scholars Program, underscoring the value of pairing more experienced legal professionals who can share their advice and help aspiring young lawyers avoid pitfalls.
Among the wisdom she shares with younger professionals is the importance of speaking up, rather than waiting to be asked. "It might seem safer to stay under the radar rather than taking a risk, but you elevate yourself by being proactive," she says.
And she adds, it's not just what you say, but how you say it. "Your delivery alone can change whether someone perceives you as competent or skilled. Unfortunately often we think we're being polite when we apologize or take ownership of a mistake, but we're really just highlighting it in a way that men wouldn't," she says.
Chen-Young is an avid supporter of Katten's participation in The Mansfield Rule, a program that aims to increase representation of female and diverse lawyers in law firm leadership. She is also an active member of Katten's Women's Leadership Forum, which supports the advancement and retention of female attorneys by offering mentoring, skill-building opportunities, external and internal networking, and career development programs.
Outside of the firm, she sits on the nonprofit board for the DC Youth Orchestra Program, which is primarily focused on providing access to music education across the Washington, DC metropolitan area.
"I find that networking within your community is very valuable," said Chen-Young, adding that she's learned a great deal from meeting professionals in various industries. "Community service gives you a different perspective and keeps you engaged with the underserved beyond the field of law," she says. "Ultimately, it's important to be a citizen of both my legal and geographic communities."
Finding Longevity in Finance
When reflecting on her legal career, however, Chen-Young is most proud of how she makes her business clients feel like she is part of their team—not an easy feat in the world of "Wall Street" finance. She accomplishes this by taking the time to understand her clients' business and objectives from their point of view. She said taking this approach makes her more successful and efficient at the negotiating table.
"My advice to women looking to advance in traditionally tougher fields is to turn yourself into a strategic partner to your colleagues, your clients, and everyone you come in contact with professionally," said Chen-Young. "But, above all, deliver high-level, solid, superior quality work."
Chen-Young knows she is a testament to the fact that if you rise above, stay focused and work hard, you will ultimately be judged by your substantive skill and overall professional service.
"In that regard, I am lucky to say that my clients view me as a valuable, critical and strong business partner to the team," she said.