The Power of the Word No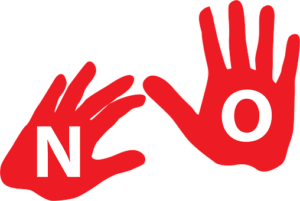 Guest Contributed by Janelle Bruland
Isn't it funny that one of the most important words to say is also one of the hardest? One simple word: no.
Yet, to say it brings up a flood of feelings – guilt, defensiveness, a fear of offending. Sometimes the feelings flash by so quickly we don't even notice what they are. We just know that we don't want to say that one little word. Yet, the ability to say "no," to set boundaries and build a structure that works for us, is one of the most important tools we can add to our arsenals to successfully create our best lives.
The word "no" should be one of the most important words in a leader's vocabulary. Here are two strategies to be more productive and have space in your life for the things that matter:
1. Recognize What is Holding You Hostage
2. Break the Chains by Learning How to Say No
What is Holding You Hostage?
There is no doubt about it. It is becoming increasingly difficult to separate ourselves from the onslaught of incoming communication and ceaseless activity that seems to come along hand in hand with success. Demands on our time stack up. People who need us invite us to their meetings, ask us to sit on this committee or that board, and ask our opinions. For a minute or two we feel good about being able to help. We continue to say yes, and add just one more thing to our calendar. But then, there comes an inevitable breaking point, when we find ourselves held hostage by our own schedule. Suddenly we find ourselves overworked, overcommitted and overwhelmed.
Today, the average knowledge worker is interrupted every 10-12 minutes by some form of communication. And, during those 10-12 minutes we tend to interrupt ourselves at least twice to check email, phones, etc. If we were already headed that way, technology has added jet fuel to the journey. This barrage can derail the best laid plans and even keep us from making them in the first place.
I'll be the first to admit that I am a leader who has struggled with creating boundaries myself, another area where we can hold ourselves hostage. After all, who doesn't love saying yes? Who doesn't enjoy the look of gratitude, or relief on the face of the person who has asked the favor? Besides, saying yes can at times almost be a matter of pride. With the high bar we set for ourselves and our "I can do it all" attitude, it really makes you think you could do it all.
You Can Learn to Say No
High achievers are driven and want to accomplish things, and because of that, it is easy to get caught up in doing more and more. However, if we aren't careful, we will miss out on the very things that matter most to us. Saying yes to everything is not the path to true success. In fact, if you aren't careful, it could become your undoing.
This realization came for me unexpectedly. I was working in my office on a project when I received a call from a good friend that I hadn't seen in a long time. We both had very full schedules with our work and family responsibilities. "When can you get together?" she asked me. "Just a moment. Let me pull up my calendar," I responded. I looked at the next week – nothing available. Then the following week – nothing either. The seconds became minutes as I scrolled through my calendar, finding it so jam packed that between my schedule and hers we couldn't find a time to get together for two months. Two months! After some juggling we finally nailed down a time, and laughed together about how ridiculously busy we both were.
Such a simple story, and a big realization. I had said yes to so many things, that I didn't have time for something I really wanted to do. What a tragedy it would be to get so caught up in saying yes to everything that comes along, that without knowing it you take away precious time from your most important priorities. Yet this happens so easily that oftentimes we don't even notice. Can you relate to this?
Let's face it: there is only so much time in a day. We all have the same 24 hours– it is up to us to be intentional in how we use them. Part of this intentionality is learning how to say no. I have adopted the discipline in my own life to eliminate unnecessary tasks and narrow down my "to do" list to my top priorities. Saying no doesn't mean you don't care. Saying no doesn't mean you are not capable and able to help. It simply means you can't help right now and still do all the things you have already committed to.
To have the successful life you desire, you must be disciplined to say "no" more than you say "yes." Prioritize. Figure out what really matters. Then build your life and schedule around those things and those things only.
What do you need to say "no" to?
ABOUT THE AUTHOR
Janelle Bruland is an entrepreneur, author, speaker, and high-performance coach who inspires others to live impactful and successful lives. She is Founder and CEO of Management Services Northwest, a company she started in her living room in 1995 and has grown into an industry leading company, named one of the Fastest Growing Private Companies by Inc. magazine. The CPO of Microsoft, Mike Simms, describes her as a true pioneer in her field. Janelle is also the Co-Founder of Legacy Leader, a leadership development company that teaches business professionals how to build a legacy, transform their leadership, and love their life. She is the author of The Success Lie: 5 Simple Truths to Overcome Overwhelm and Achieve Peace of Mind.
The opinions and views expressed by guest contributors are their own and do not necessarily reflect those of theglasshammer.com