Voice of Experience: Marianne Bachynski, Chief Transformation Officer
Always be networking, suggests Marianne Bachynski.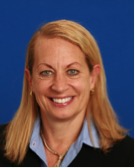 "Men are so good at this, and often we as women are so busy trying to deal with the work at hand that we don't make the time to engage. But you must always treat your career as a project. Ask yourself if you are in a promotable position, and if not, determine what you have to do to get there."
The reason is simple, she says. "My father always reminded me that you are the only person who knows your entire history and can best tell your story. Make it known what you're good at, what you have achieved and what you want to do. Build a personal brand." For example, she found that people would make assumptions about what roles she might like as a working mom. It's up to you to dispel inaccurate assumptions and voice your interests, particularity to new managers.
Finding Her Niche in Technology
As Bachynski explains, she "grew up at Morgan Stanley" where she spent 25 years from the start of her career. Always focused on technology, she began as an application developer, supporting many different businesses on the sell side and then pivoted to the buy side. The technology on the investment management side wasn't nearly as mature as the sell side, so she found it to be an ideal opportunity to spur growth and innovation.
When she was moved to support investment management, she found they had so much capacity to evolve, making it akin to a startup embedded in the bigger firm. She built it out, front to back, creating a team from zero to 700. Since some of them came from acquisitions along the way, she learned about integrating companies both technically and culturally. "We had to design a Brady Bunch-style blended culture that could work well together because we couldn't execute or communicate effectively if we didn't have a common way of working," Bachynski explains.
She eventually moved to Citibank, providing technology solutions to external clients for whom they covered investment management, private equity and hedge funds. She reveled in the fact that it was such a global company, with clients in 160 countries. She then became COO of North America Wholesale Banking at Rabobank, which specialized in food, farming and agriculture. She then spent a year at a fintech company, FIS, which supports banks of all sizes with banking and payments and brokerage technology. She enjoyed her role creating products that serve multiple clients and being more directly tied to revenue.  But when Marianne was offered the lead role in a multiyear transformation program working for the CEO of the #1 most innovative InsureTech firm, she couldn't resist.
Bachynski helps transform companies to become more agile. She recognizes the importance of speed, which in many ways is replacing size and scale as the key metric.
More Gains To Be Made
Bachynski finds it sobering how little has changed for women in technology from when she began. For instance, her daughter, who is 25 and went to MIT, works at Instagram as a data scientist, and she is still many times the only woman in the room.
"Women need to come together and support each other and have meaningful dialogue," Bachynski says, adding that she has had few tech peers who were women.
She advises women to take the advice she heard early on from one of the few senior women she worked with. "Don't ever apologize. If you must leave early, just walk out the door." In other words, take control of defining the critical parameters for your work-life balance.
Bachynski is a big believer in mentor programs, where you are assigned to someone more senior outside of your purview. Mentorships are an opportunity to gain a different perspective and a chance to glean valuable insights on what really goes on in senior management. "It's so enlightening to create a line of sight to the big picture," she says.
Her routine has always included one hour a day all to herself, which she typically devotes to working out. In the past she has run marathons, which she found helped build both physical and emotional stamina for the work roller coaster you often ride on; and the discipline allows you to think calmly and look to the long term.
Even when her work was calling, Bachynski made the effort to be home at a decent hour every night to spend time with her children and held sacred time each year to take a trip. "We intentionally chose to travel internationally, because it allows you to experience and learn about so many ways to live your life, and it's invigorating to step out of our element and focus on each other. Vacations are critical to reenergize."